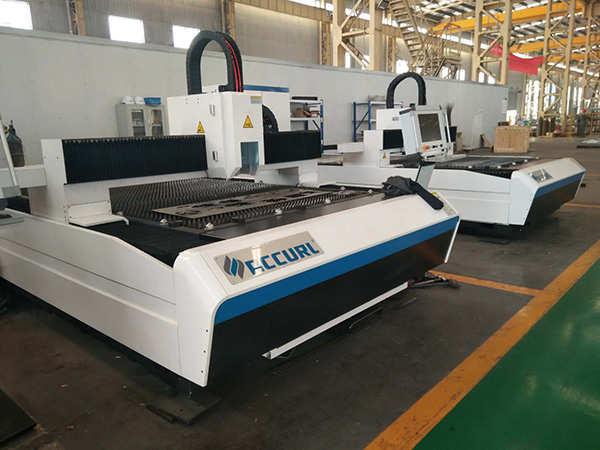 Product Introduction
---
The fiber laser cutting machine is a laser cutting machine using a fiber laser generator as a light source.
Fiber laser is a new type of fiber laser that is newly developed in the world. It outputs a laser beam with high energy density and collects on the surface of the workpiece. It instantly melts and vaporizes the area on the workpiece that is irradiated by the ultra-fine focus spot, and moves the spot through a numerically controlled mechanical system. Irradiation position and automatic cutting, high speed and high precision.
Laser Source Power/Cutting ability
---
Laser Source Power/Cutting ability
CS(mm)
SS(mm)
Alumium(mm)
Brass(mm)
500W
Max cutting thickness
8
4
2
2
Max processing thickness
5
3
700W
Max cutting thickness
10
6
3
3
Max processing thickness
6
5
1000W
Max cutting thickness
14
8
4
4
Max processing thickness
8
6
1500W
Max cutting thickness
16
10
6
5
Max processing thickness
12
8
2000W
Max cutting thickness
20
12
8
6
Max processing thickness
16
10
2500W
Max cutting thickness
22
12
10
8
Max processing thickness
20
10
3000W
Max cutting thickness
25
14
12
8
Max processing thickness
22
12
Technical Specifications
---
| | |
| --- | --- |
| Model | ACCURL-LFD3015 |
| Laser source medium | Fiber |
| Cutting range (L*W) | 3000 mm * 1500 mm |
| Z axle stroke | 250 mm |
| Max. positioning speed | 120 m/min |
| X, Y axle Max. accelerate speed | 1.2 G |
| Cooling form | water cooling |
| Laser wavelength | 1070nm |
| Output power of laser source | 500w |
| Min. cutting gap | ≤ 0.1 mm |
| Positioning accuracy of X, Y and Z axles | ± 0.03 mm |
| Repeated positioning accuracy of X, Y and Z axles | ±0.01mm |
| Thickness of cutting material (according to material) | 0.2 - 25 mm |
| Drive model | Imported servo motor |
| Power requirement | 380 V, 50/60 Hz |
| Working temperature | 5 - 45ºC |
| Continuous working time | 24 Hours |
| Machine weight | About 5850Kgs |
| Outer dimension | 8500 mm * 3800 mm * 2000 mm |
| Total protection level of power supply | IP54 |
fiber laser cutting machine features
---
1) The perfect fusion of cutting-edge fiber laser technology and numerical control technology represents the most advanced level of laser cutting;
2) The professional laser cutting machine control system, computer operation, can guarantee the cutting quality, make the cutting work more convenient, the operation is more simple;
3) machine gantry structure, high damping bed, good rigidity, can withstand high speed and acceleration;
4) exchange workbench configuration, shorten standby time, effectively improve work efficiency by more than 30%;
5) Fiber laser cutting machine adopts inflow servo system drive and imported drive system, linear guide guide, to ensure high speed, high precision and high reliability of the equipment;
6) Rack and guide rails adopt full-sealing protection device to prevent oil-free friction movement and dust pollution, increase the service life of transmission parts and ensure the precision of machine tool movement;
7) The laser cutting head is equipped with non-contact height system of imported capacitors. The reaction is sensitive and accurate. It avoids the collision between the cutting head and the processing plate, and can ensure the cutting focus position and ensure the cutting quality is stable.
8) The machine has an automatic partition exhaust system, the smoke exhaust effect is good, and the pollution is small;
Suitable materials
---
Mainly used for cutting carbon steel, silicon steel, stainless steel, aluminum alloy, galvanized sheet, pickling plate, aluminum plate, titanium alloy and other metal materials for rapid cutting.
Industry application
---
Application sheet metal processing, aviation, aerospace, electronics, electrical appliances, subway accessories, automobiles, machinery, precision parts, ships, metallurgical equipment, saw blades, elevators, elevators, household appliances, craft gifts, tool processing, decoration, advertising, metal external Processing, various metal manufacturing and processing industries.
Pre -sale service
Welcome to send your sample to our company for testing. We will supply testing report with video and photos together for your consider. And find the best solution way for your products.
Welcome your special requirement of machine also, we are ready for provide all kinds of professional programs and auxiliary equipment to meet your demand as much as possible.
Our best hope is that welcome to visit our company!
In-sale service
We can supply engineer go to your country to help you install machine and do training after-service together. This is the optional service item. And welcome your engineer come to our company learn how to operate machine also. It is free.
After-Sale Service
Our after-sale network is all over the world which will provide the comprehensive after-sale service to our customer.