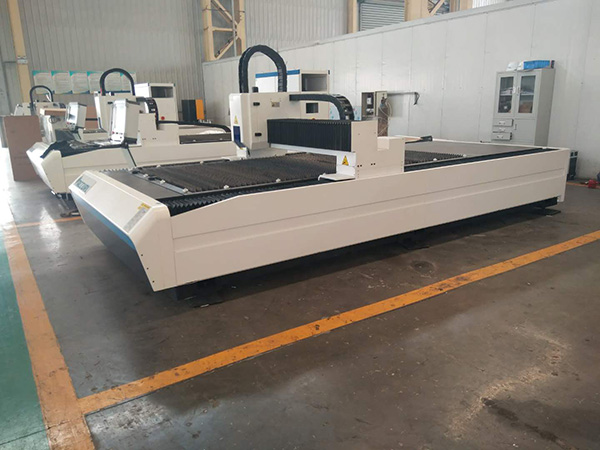 Product Description
---
fiber laser cutting machine adopts the most advanced fiber lasers for industrial applications leader supplier RAYCUS / IPG new advanced fiber lasers. It represents the development trend of lasers which is widely used in various sheet and high-speed processing of non-ferrous metals.
Fiber laser cutting machine products, using fiber laser generator, the output of high-quality, high-density laser beam through an optical fiber transmission, the output of the laser, and then brought together by import optical focusing lens on the work piece surface, so that the area irradiated with a light spot on the work piece local instantaneous melting and gasification, controlled by a computer numerical control system moves the spot irradiated sites and automatic cutting.
Power

1000W

Cutting area(L*W)

3000mm*1500mm

Cutting thickness

0.2mm-8mm

Total electric power consumed

10kw/h

X axis route

3050mm

1525mm

Z axis route

120mm

X, Y Axis Orientation Precision

±0.03mm/m

X/Y Axis Repeat Precision

±0.02mm/m

Weight of the Machine

7000kg

CNC system

Germany Beckhoff or customized

Laser

RAYCUS/IPG Laser

Reducer

Germany STOEBER

Rack and pinion

Reddy Linden

Linear Guides

Taiwan HIWIN

Cooling system

Water cooling

Cutting head

American lasermech

Appliances

France Schneider

servo motor

Matsushita

Dimension(L*W*H)

6000x2500x1800
Main Features
---
1) Laser cutting is nowadays people mastered various cutting techniques best cutting method compared with conventional cutting
2) laser cutting advantages: thermal distortion, high cutting precision, low noise, no pollution, easy to implement automatic cutting
3) Although the initial investment large (inferior), but the processing cost than machining costs 50% less.
The main features of fiber lasers:
• fiber laser electro - high light conversion efficiency, conversion efficiency of over 25%, with little power fiber lasers without chillers, air-cooled, can greatly save power at work, savings in operating costs, to achieve maximum production efficiency;
• only run when required laser power, without generating additional gas laser, with the lowest operating and maintenance costs;
• fiber laser using semiconductor modular and redundant design, the resonant cavity without optical lenses, no start-up time, with adjustment-free, maintenance-free, high stability, it reduces the cost of parts and maintenance time, which is the traditional laser can not be compared;
• fiber laser output wavelength of 1.064 micron, 1/10, the output beam quality, high power density, highly conducive to the absorption of metallic materials, with excellent cutting and welding capability, so that the processing of the lowest CO2 wavelength;
• the whole optical fiber transmission route, and so no complex mirror light guide systems, the optical path is simple, stable structure, maintenance-free optical path;
• The cutting head contains a protective glass, so that the focusing mirrors and other consumables precious little consumption;
• optical fiber by exporting, to make the design of the mechanical system becomes very simple and very easy to integrate with robots or multi-table;
• After the laser shutter can be combined with a Multi machine, via optical fiber splitter, split into multiple simultaneously multiple, easy to expand functionality, easy to upgrade, easy;
• fiber lasers, small size, light weight, position of the movable, small footprint;
---
Metal cutting, electrical switch manufacturing, aerospace, food machinery, textile machinery, engineering machinery, locomotive manufacturing, agriculture and forestry machinery, elevator manufacturers, special vehicles, household appliances manufacturing, processing tools, IT manufacturing, oil machinery manufacturing, food machinery, diamond tools, welding, welding gear, metal surface treatment, decorative advertising, laser external processing services and other kinds of machinery manufacturing and processing industries.
Quick Details
---
Application: Laser Cutting
Condition: New
Laser Type: Fiber Laser
Applicable Material: Metal, aluminum,stainless steel board,carbon steel
Cutting Thickness: 0.2mm-8mm
Cutting Area: 3000mm*1500mm
Cutting Speed: According to the thickness
CNC or Not: Yes
Cooling Mode: Water Cooling
Control Software: American Extrotec
Graphic Format Supported: AI, BMP, DST, DWG, DXF, DXP, LAS, PLT
Certification: CCC, CE, ISO, SGS, maquina de corte por laser
After-sales Service Provided: Engineers available to service machinery overseas
Power: 500-5000W
Machine structure: Dual drive
Total electric power consumed:10kw/h
X axis route: 3050mm
Y axis route: 1525mm
Z axis route: 120mm
Cutting head: American lasermech
servo motor: Matsushita
Rack and pinion: Reddy Linden
CNC system: Baichu or customized
laser cutting machine supplier