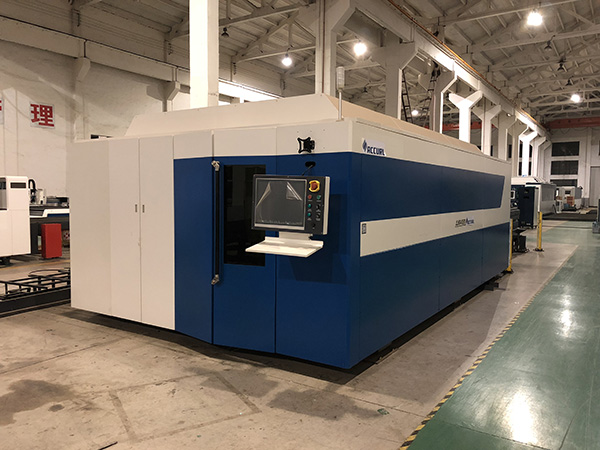 Overview
---
Laser cutting equipment researched and developed by our company is constituted with the high quality fiber
laser generator, high precision double drive gear rack transmission and advanced automation control system,
which has reached a new height of laser cutting and high precision mechanical NC technology. With realizing
the perfect combination of high speed, high precision, high efficiency and low cost, it can be the best choice
for bulk metal materials cutting job.
Specification
---
Laser Power

                            2000W

(optional500W/700W/1000W/3000W)

Laser Wave Length

1070nm
Working Area
1500x3000mm
Maximum Cutting Thickness
16mm
Maximum Idle Running Speed
80m/min
Maximum Idle Running acceleration
0.8G
X.Y axis Location Accuracy
≤±0.03mm
X.Y axis Repeat Location Accuracy
≤±0.02mm
Laser Device
Raycus/IPG
Transmission System
Double drive gear rack
Control System
BOCHU/Germany PA8000
Drive Mode
Japan Yaskawa motor (YASKAWA)
Power Supply
Three-phase 50Hz/60Hz AC380V
Gross Power
18000W
Graphic Format Supported
BMP, DST, GIF, TGA, AI, PLT, DXF, LAS,etc.
Compatible Software
CorelDraw  AutoCAD  Photoshop
Type Of Cooling
Water cooling
Construction Features
---
1. Laser
Adopting the world's top fiber laser, stable performance, high efficiency and low cost.
2. Mechanical structure
With double drive closed-loop structure displacement, Y direction has a strong driving force and high speed,
which can give full play to the high speed characteristics of fiber laser.
After two times of aging treatment, the structure of bed body is strengthened to ensure the stability and precision
of bed body for a long time.
3. Control system
By using open CNC system provided by the top suppliers and integrating the company experience in laser industry
for many years, the man-machine interface is so simple and more convenient to operate.
4. Follow-up cutting head
By using the follow-up cutting head of international famous brand, the laser is always in the focus position, can
ensure the cutting effect.
5. Metal nesting software
The optimized software algorithm can save the material to the maximum extent. Integrated a variety of specialty
metal cutting technology such as common edge,bridge and micro connection,the difficulty of operation is reduced,
so that improves the material management function, make full use of waste materials and meet the management
needs.
6. Auxiliary air blowing system
System combines high and low voltage conversion gas path and three gas source structure composed of high
pressure air, nitrogen and oxygen, so customers can select the auxiliary gas according to the processing quality
requirements and cost.
7. Lubrication system
The whole machine is equipped with lubrication system, which reduces the wear of moving parts and ensures the
movement speed of the whole machine.
8. Editing system
The software supports the input and output of the general CAD format file (PLT, DXF, DST, AI, BMP, etc), as well
as graphics editor (zoom, rotate, array, etc)function.
Advantage
---
1. The laser cutting process is controlled by the computer, the cutting precision and the artistic effect can be guaranteed
due to the stable power and uniform cutting seam.
2. Import transmission parts and servo motor, high dynamic movement performance and high cutting precision.
3. Compared with the CO2 laser cutting machine, the photoelectric conversion efficiency of the fiber laser cutting machine
is three times, as high as 25%—30%.
4. Can be compatible with AutoCAD, CorelDRAW, Photoshop and other software output, support HML, DXF, PLT, DST,
BMP, WXZ and other image formats, can directly use TF, SHX characters.
5. Cutting workbench and laser power can be configured according to the needs of users,which can meet the needs of
different users on the objects processing, so achieve the purpose of saving and giving full play to the performance
of the equipment.
---
Industries
Kitchen cabinets, sheet metal processing, advertising lighting, food machinery, automobile
manufacturing, environmental protection equipment, elevator manufacturing, agricultural
machinery, signs production, medical equipment, wind machine, hardware tools, arts and
crafts etc.
Suitable
Materials
Stainless steel, carbon steel, galvanized plate, various alloy, organic glass, architectural
models, rubber, wood products, glass panel, billboards, crystal characters, furniture
and other toys etc.
---
Pre-Sales Service
Whether you are a dealer or an end user, as long as you are interested in our products, once you contact us, we will
arrange a particular professional sales representative at your service to help you have a deep understanding of us
and our products or answer your questions on marking machines and applications.
Production Process
Machine will be carefully test and adjust before package. We run the machine for a few days, and then use customer's
materials for test, most of the parameters will be set. After making sure machine is the best performance, so customer
can use the machine directly without adjustment.
On-Time Delivery
After you confirm the order, we will figure out the delivery date according to the model and production schedule. Once
deals were settled down, we will confirm you the exact lead time and shipping time.
After-Sales Service
1.Installation Service
our technicians will provide on-site service. According to the specific circumstances, we will arrange technicians go
abroad to install the machine. (Customers only need to pay the airfare and hotel )
2.Training Service
Our technician is available to your factory and offer training of how to use our machines. As well, you may send your
technician to our company to learn how to operate machines.
3.Quality Guarantee
We guarantee the quality of machine, and the whole machine warranty for one year.(quick-wear parts not included)
Once malfunction occurs,We guarantee we will give you a clear reply within 24 hours. Customer service staff will assist
and guide you to analyze the malfunction in order to locate the cause and solve the problem as soon as possible.
---
laser cutting machine supplier