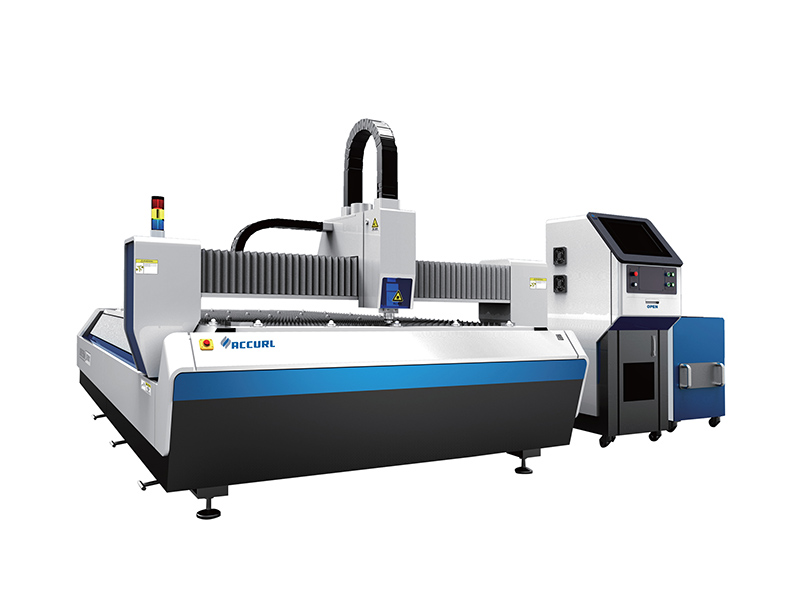 Detailed Product Description
---
| | | | |
| --- | --- | --- | --- |
| Model Number: | KJG-1530DT-700W ACCURL | Working Range: | 1500x3000mm |
| Laser Type: | USA NLIGHT Fiber YLS-700w | Reduction Gears: | French MOTOREDUCER |
| Transmission: | Taiwan YYC Gear And Rack | Laser Head: | Swiss Raytools Auto-following |
| Table-driven System: | Japanese Yaskawa Servo Motor & Driving System | Chiller: | S & A For Laser Source And Cutting Head |
| Total Power Consumption: | Accurl Laser Professional Laser Cutting Software | Keywords: | Tube Cutter |
700w Metal Pipe and Tube Fiber Laser Cutter Machine Made in China
LASER TUBE CUTTING
Accurl's introduces its newest generation in tubes and profiles processing technology – the Fiber Laser Tube Cutting System. With over 30 years of experience in design and manufacturing experience in tube cutting technology, Accurl is specialized in solutions for the Tube and Pipe industries, and the new Laser Tube Cutting Line is the ultimate solution for joining multiple machining processes in one system for maximum flexibility, automation and performance.
Main Features
1. Excellent Path Quality: Smaller laser dot and high work efficiency, high quality.
2. High Cutting Speed: cutting speed is 2-3 times than same power CO2 laser cutting machine.
3. Stable Running: adopt top world import fiber lasers, stable performance, key parts can reach 100,000 hours;
4. High Efficiency for photoelectric conversion: Compare with CO2 laser cutting machine, fiber laser cutting machine have three times photoelectric conversion efficiency.
5. Low Cost: Save energy and protect environment. Photoelectric conversion rate is up to 25-30%. Low electric power consumption, it is only about 20%-30% of traditional CO2 laser cutting machine.
6. Low Maintenance: fiber line transmission no need reflect lens, save maintenance cost;
7. Easy Operations: fiber line transmission, no adjustment of optical path.
STANDARD EQUIPMENT
1. 3 Axis (X, Y, Z)
2. FAGOR 8055 CNC control unit
3. Servo Motor
4. Auto - focus cutting head
5. Laser Source
6. Chiller Unit
7. Clean-dry air system
8. Safety Cabinet
9. Automatic-Dual Shuttle Table
10. CAD/CAM Software
11. Conveyor
12. Warning Lamp
13. Nozzle Set
14. Nozzle cleaning and height calibration table
OPTIONAL EQUIPMENT
1. Linear motor technology
2. IPG 0.5 kW, 1 kW, 2 kW, 3 kW, 4 kW and 6 kW laser source options
3. Extraction unit.
4. Light protection barrier
5. Pneumatic sheet support system for easy sliding
6. Air conditioner for automation panel
7. Metalix, Almacam etc. CAD/CAM software
8. Nozzle changer
9. LCM (laser cut monitor) sensor for piercing control and cut-loss control
10. Automatic sheet loading system
11. Momentum Gen-3 G Force
12. Full Automatic sheet loading – unloading system (TOWER)
Dual Function Fiber Laser Sheet Metal & Tube Cutting Machine Main Features
1. Open design provides easy loading and unloading.
2. Single working table saves space.
3. Drawer style tray makes easy collecting and cleaning for the scraps and small parts.
4. Integrated design provides dual cutting functions for sheet and tube.
5. Gantry double driving structure, high damping bed, good rigidity, high speed and acceleration.
6. The world's leading fiber laser resonator and electronic components to ensure machine superior stability.
Product Features
1. High output power, 500-2000 watts is optional.
2. Can cut inclined truncation surface at the end of tubes.
3. Can cut intersection line of branch pipe, which is intersected with circular main pipe.
4. Can cut off square pipes and do 360 degree turning cutting.
5. Can cut square holes, waist type holes on tubes.
6. Can do various graphic cut on square tube, oval tube, U tube and rectangular tube etc.
Detailed Images
1. Machine Parts
Name: Machine Body
Brand: ACCURL
Original: CHINA
1.the steady gantry framework provides an open worktable.
2.Synchronous X/Y/Z axes: The Z-axis can run 150mm, suitable for cutting many varieties of metal sheets.
3.High quality guarantees its durability and easier maintenance
2. Conveyor System
Name: Conveyor System
Brand: ACCURL
Original: CHINA
A special hard steel construction conveyor system, standard on our machines, is located under the workspace. The conveyor removes slag and small parts during the cutting process. The operator can choose the movement direction of the conveyor.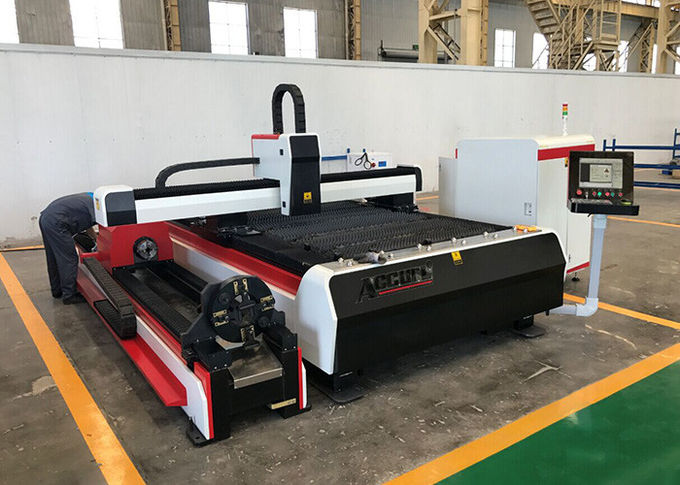 SPECIFICATIONS
Model
KJG-1530 / IPG 700w
Maximum cutting capacity
Mild steel
8mm
Stainless steel
3mm
Aluminyum
2.5mm
Copper
1.5mm
Laser Power
YLR-700Watt
Max running speed
40/min
Work piece dimensions
1500 x 3000mm
Rapid traverse (X and Y axis)
105 m/min
Acceleration
1.2G (12m/s2)
Absolute positioning accuracy
± 0.03 mm
Max. load capacity
1550 kg
Fume extractor
1000 m3/hour
Laser Cutting Head
RayTools BM110 from Switzerland
Feed rate
Programmable up to 30 m/min.
Applied Materials
Thin mild steel, Stainless steel, Aluminum, Copper plate
metal tube laser cutting machine
,
square tube cutting machine