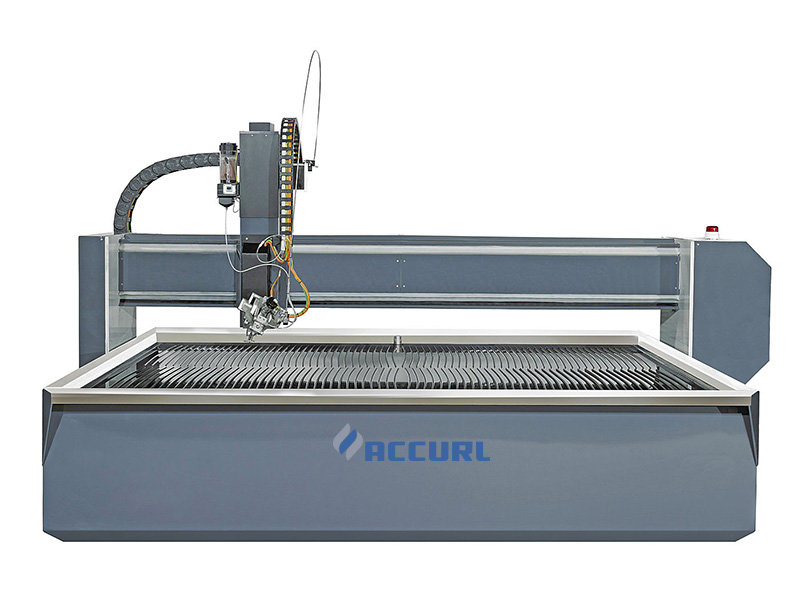 Description
---
Water jet cutting, ultra-high pressure water jet cutting machine is to ordinary water through an ultra-high pressure presses, the water pressure to 3000bar, and then through the channel diameter of 0.3mm water nozzle produces a water jet about 3 times the speed of sound, Under the control of the computer can be easily cut any graphics soft materials, such as paper, sponge, fiber, etc., if added to increase the cutting power of sand, you can cut almost any material.
Water jet cutting machine consists of four parts,water jet cutting table( cnc controller),water jet cutting head,water jet abrasive feeder system and waterjet intensifier pump.
Specification
---
Cutting table
model
1313
2015
3020
4020
6020
customized
size
Structure
gantry water cutting platform/cantiler series cutting platform
Travel
X axis
1300mm
2000mm
3000mm
4000mm
6000mm
Y axis
1300mm
1500mm
2000mm
2000mm
2000mm
Speed
Max.move speed (x axis and y axis)
6000mm/min
Max.move speed (z axis)
1000mm/min
Accuracy
Positing Accuracy
0.127mm
Repeat Accuracy
±0.076mm
Water tank maximum Loading Capacity
300Kg/m2
Cutting head
3 axis / 5 axis
Movement : Linear motion/Rotary motion
CNC
Controller
15 inch LCD montior
Support DXF and NC code file
Software: Windows XP
Resistance of the shoch and electro-magntic
The key function
Forward & Backward processing function
Even pace control function
Small arcs speed auto processing function
Circle processing function
Partial and smooth processing modes
Abrasive
Feeder
Max. inlet air pressure      0.2-0.4 Mpa
Min. inlet air flow           0.028m3/min
Abrasive capacity           170 L
Features
Air valve to prevent jams and breakages      Self sealing
Auto control with CNC auxiliary function        Slightly adjust the FLOW
Intensifier pump/
direct drive pump
intensifier pump 
direct drive pump
Reted power : 50HP (37 KW)
Max.pressure : 60000psi (4137 bar)
Control voltage and cuttent : 24DC,10AMPS
Reted power 30HP (22KW)
Output pressure : 55000psi
Max.pressure : 60000psi (4137 bar)
Ambient temperature : 5-40 ºC
Fuel tank capacity :114L
Cooling flow : 11.4L/MIN
Air: 80-120psi
Operating voltage and power:210-240/360-420V 50HZ
Ambient temperature : 5-40 ºC
Attenuation : 1L
Long : 1473 MM
Width : 1205 MM
Min.inlet water : 60psi 1 gallon/min.
Pump speed: 720 rmp
Fuel tank capacity : 2.6 L
water jet maintenance kit
high pressure repair kit
low pressure repair kit
switch rapair kit
check valve repair kit
pcv repair kit
dynamic seal repair kit
minor maintenance kit
major maintenance kit
Water jet cutting table
cutting table,water tank and cnc control system
Water jet cutting head
3 axis ECL abrasive cutting head/ 5 axis water jet cutting head
Company Product
Major Products
water jet cutting machine
water jet intensifier pump
water jet cutting  head( 3 axis and 5 axis )
waterjet intensifier (60k and 87k)
waterjet spare parts
water jet maintenance kit
high pressure tube
Tee,Blbow,Coulping,Insert,Plug,Adapter
Superior product
94 ksi high pressure waterjet parts
waterjet direct drive parts
waterjet direct drive pump
Customize cutting table
Packing and Shipping
Water jet cutting machine spare part package : soft packing inside ,carton packing outside.
water jet cutting machine package : wooden package
The package ways is also can according to the requirement of customer
Basic Info
Model NO.: 3020
Type: Three-Axis
Code: Yh3020
Weight: 3700 Kg
Certificate: Ce
Warranty: One Year
Cutting Thickness: 6-200mm
Rated Power: 37 Kw
Max. Pressure: 60000psi
Voltage: 220V/380V
Cutting Material: Rubber, Foam, Plastic, Composite, Stone, Metal
Trademark: ACCURL
Transport Package: Wooden Packing Outside
Specification: 3000mm*2000mm
Origin: Anhui,China
---
high pressure water jet cutting machine
,
water jet foam cutting machine