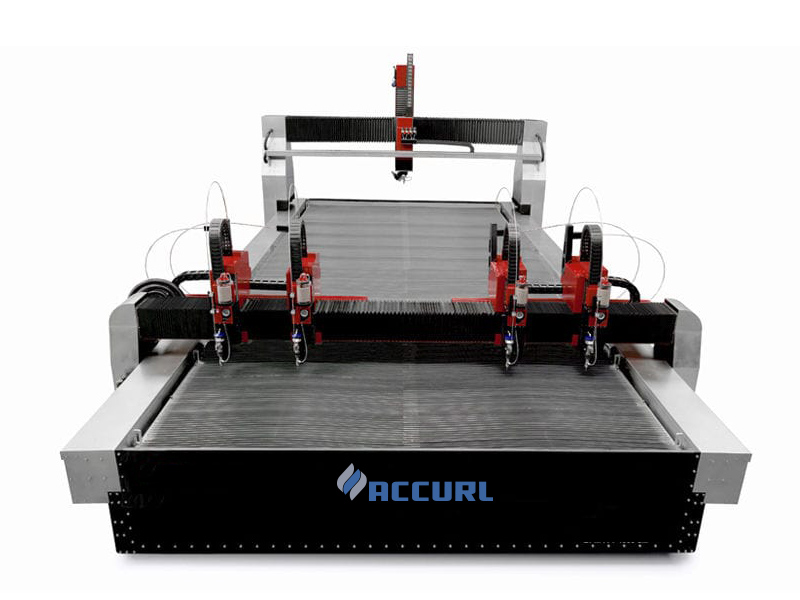 Detailed Product Description
---
Mini Water Jet Cutting Machine for metal marble granite tile leather and compound material
Product Description
The ACCURL abrasive waterjet machine is a high-pressure waterjet machine that utilizes straight water cutting or abrasive waterjet cutting to cut several types of material. The ACCURL Water-Jet is a heavy-duty precision, ground ball screw designed system for maximum precision and rigidity.
Perfect Waterjet Cutting:
ACCURL® Waterjet machining is achieved by forcing a large volume of water under high pressure through a small orifice in the cutting nozzle. The accelerated steam of water leaving the nozzle impacts the material and starts the cutting process. Kerf from the accelerated stream of water is extremely narrow. This pressure is then concentrated in a small area on the material which starts to erode the material. Softer materials can be cut with water pressure. Harder materials require the use of an abrasive feed system, such as metal cutting. The abrasive is introduced into the high pressure water stream, which then starts the erosion of the harder materials. Although waterjet machining is the slowest cutting process, there are definite advantages that outweigh its' pace:
1. No Heat-Affected Zone
2. No Mechanical Stresses
3. Very Narrow Kerf
4. No need for Secondary Operations
5. Smooth Surface
6. Can Cut Various Materials
7. Can Process Extremely Detailed Parts
8. Minimal loss of material
9. Environmentally Friendly
Main Features
1. Can be transfer the drawing to cutting quickly
2. Quick position-some or few fixing equipments
3. Hing accuracy-reduce the recutting
4. Quicker cutting speed
5. In no need of fabrication for the working parts
6. Safer for the operator and circumstance osteam,dust,smog etc
7. Cool cutting-no heat will be prouduced
8. Clear processing,in no need of clear the working parts again
9. Good cutting finishes-in no need of trimina the cutting finishes again
10. Narrow cutting gap
11. Quick calibration and easier versatility way of cutting. It has been proved that it can be used in mass production in the ideal system
12. Fit for CAD/CAW software
13. Waterjet cutting machine can cut almost all the materials.It can cut the foilat the thickness of 200mm
System
Hp System: WJPOWER-420D(Dual-intensifier HP System)
Max.Pressure: 420Mpa
Max.Flowrate: 7.4L/min
Electrical Power: 75KW/100HP
Voltage: 220V~480V/50,60HZ.3PH
Intensifier assembly is fully imported from KMT(H20 USA)
HIGH PRESSURE SYSTEM
Experience a new level of uptime and productivity with the WJ POWER 500, your total cutting solution. Combining unmatched accuracy with the fastest acceleration in waterjet, the WJ POWER 500 will elevate your cutting production and performance levels.
MAIN FEATURES
1. Control: PLC
2. Shifting: electro-hydraulic control
3. Cooling: cooler/oil heat exchanger
4. In let water filter accuracy : ≤ 0.45μm
5. Oil-return filter accuracy: 20μm
6. Working temp:0-60℃
7. Outlet:UNF3/8''
8. Cooling in/out-let:NPT 1''
9. Max orifice size:0.33mm
characteristic
1. Functional characteristic
1. The cutter head inclined at an angle in any direction,eliminating the phenomenon f concave convex and uneven cutting surface(to eliminate phenomenon of small surface and large bottom).To make the front junction smaller, reduce grinding link,can tile diretly.Reducing the polished and the production cost greatly.
2. Make the complex graphics more delicate and beautiful.
3. It turning without pause,no turning dot,make cutting speed faster.The cutting surface roughness wil not affect the collage.
2. Processing characteristic
1. CNC forming complex patterns.
2. Environmental pollution,no toxic gases and dust.
3. Can process a variety of high hardness material ,such as :glass,ceramics,stainless steel,or relatively soft material ,leather,rubber,diapers,etc.
4. Cutting smooth,no slag,doesn't need secondary processing.
5. Save the cost.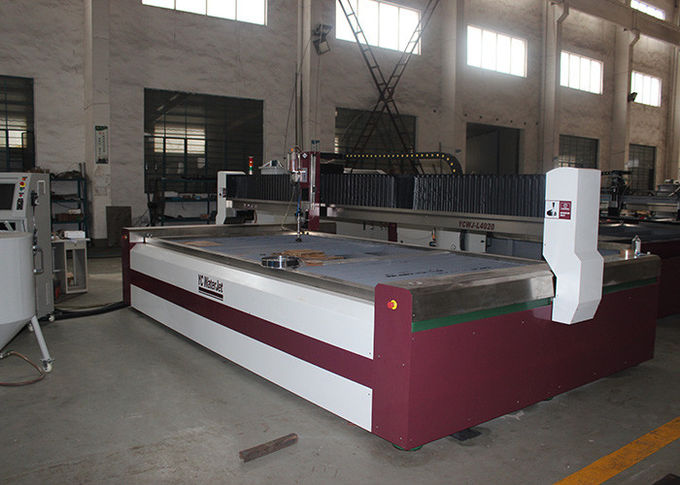 Specification
Model
ACCURL-1515L
working table
mm
1500 x 1500
X-axis
stroke
mm
1500
Speed
m/min
0~15
Y-axis
stroke
mm
1500
Speed
m/min
0~15
Z-axis
stroke
mm
150-180
Speed
m/min
0~12
Control accuracy
mm
± 0.01
Positioning accuracy
mm
± 0.02
High Pressure System
Max Pressure
Mpa
380
Power
Kw
37(50HP)
Total electric power
KW
38
Max load of working table
Kgs
1000
Format supported
AI, PLT, DXF, etc
Machine weight
Kgs
2550
Outside dimension
mm
2050x1850x1850
Product Name
Mini Water Jet Cutting Machine
cost of water jet cutting machine
,
granite water jet cutting machine
,
high pressure water jet cutting machine
,
water jet steel cutting machine