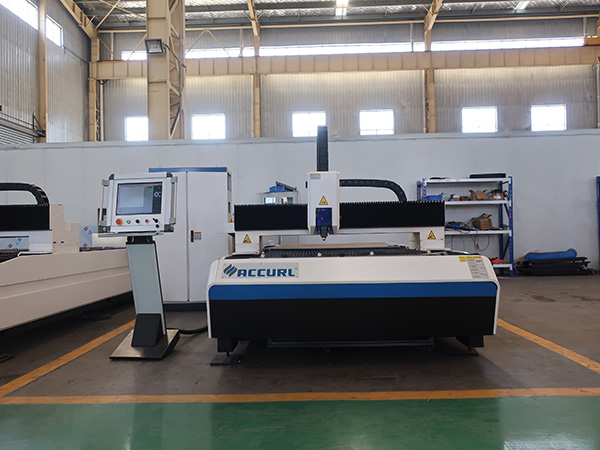 Laser Cutting machine is widely used in cutting and shaping for metal plates, pipes (pipe cutting plus pipe cutting device can be), stainless steel, carbon steel, galvanized sheet, electrolytic plate, brass plate, aluminum plate, manganese steel, all kinds of alloy plates, rare metals etc.
Product Parameter
---
Fiber laser cutting machine adopting world famous Germany fiber laser source and USA laser mech cutting head and dynamic focus system, it can cut and punch different kinds of metal material with high precision and high speed. Since laser is transmitted by fiber , it is no need to maintenance or adjusts the laser optical path , it greatly reduces the machines fault rate and prolongs the working life. Large format cutting area meets the demands of various kinds of metal processing .
It is widely used for carbon steel, stainless steel, aluminum and other metal materials cutting and forming, with high speed, high precision, high efficiency, cost-effective and energy saving. It is the first choice of the metal processing industry.
| | |
| --- | --- |
| Laser type | fiber-optic laser |
| Laser working medium | optical fiber |
| Laser wavelength | 1060-1080 nm |
| RATED OUTPUT POWER | 300W, 500W, 750W, 1000W, 1200W, 1500W, 2000W, 3000W, 400W,5000W, 6000W, 12000W |
| Beam quality | <0.373mrad |
| X-axis distance | 1500mm |
| Y-axis distance | 3000mm |
| Z axis distance | 120mm |
| Effective cutting range | 3000*1500mm |
| Positioning accuracy | ≤±0.02mm/m |
| Repeat positioning accuracy | ≤±0.02mm/m |
| Max. Moving speed | 120m/min |
| Support graphic format | PLT,AI,BMP,DST,DXF format (support for CORELDRAW, AI,PHOTOSHOP, AUTOCAD) |
| Power Supply | 3P, AC 380V/50Hz/16A |
Product Features
---
1.Excellent beam quality: Smaller focus diameter , high work efficiency, better processing quality.
2. High cutting speed: 2-3 times faster than YAG and CO2 laser .
3.High Stability: Adopt superior quality fiber laser, stable performance, key parts can reach 100,000 hours.
4. High efficiency for photoelectric conversion : Compared with CO2 laser cutting machine, Fiber laser cutting machine has 3 times photoelectric conversion and with energy saving & friendly environment .
1. Low cost: The whole power consumption is only 20-30% of traditional CO2 laser cutting machine.
2.Low maintenance cost: It is with Optical fiber line transmission, no need reflector lens, can save a lot of maintenance cost.
3.Easy Operation : Fiber Line transmission, no adjustment of optical path.
4.Super-flexible optical effect : small volume, compact structure, easy to flexible manufacturing requirements .
Product Application
---
Automobile manufacturing, machinery and equipment, electrical equipment, hotel kitchen equipment, elevator equipment, advertising logo, car decoration, sheet metal production, lighting hardware, display equipment, precision parts, hardware products, subway accessories, decoration, textile machinery, food machinery , Construction machinery, ships, tooling, metallurgical equipment, aviation, aerospace and other manufacturing and processing industries;
Laser Cutting machine is suitable for variety of metal plates, pipes ( with special device ), stainless steel, carbon steel, galvanized sheet, pickling board, brass plate, aluminum plate, manganese steel, all kinds of alloy plates, rare metals etc.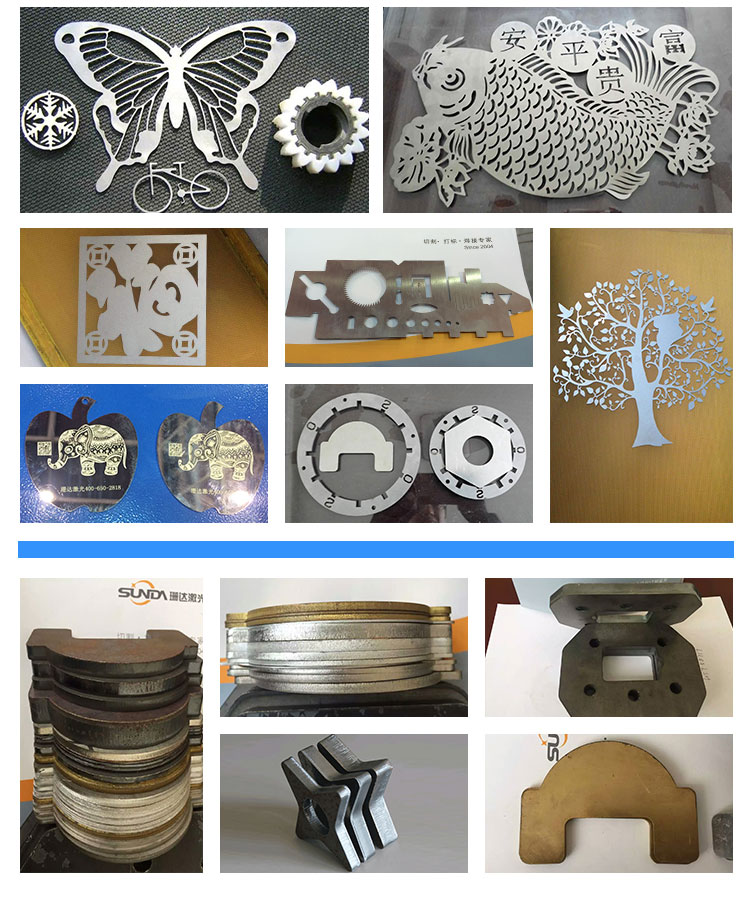 Installation & training:
After the machine reach the buyer's site,the engineers from the seller are responsible for machine installation and commissioning by using the special tools under the help of the buyer. Buyer should pay for our engineer visa fee, air tickets, accommodation, meals etc.
Training:
The common protection knowledge of laser safety
The basic principle of laser module and the structure of laser cutting machine
The operation skills of fiber laser cutting machine
Equipment operation and the application notice
Skills of equipment daily maintenance,laser module adjustment and spare parts replacement.
Installation & training time is about 5 to 7 days.
Warranty & Service:
1). 2 years warranty for the whole machine
2). 2 years warranty for the fiber laser source
3). Life-long maintenance
4).In the warranty period,if it break down or some parts damaged(Except the human factors and the factors of force majeure),the seller should be responsible for repair for free,the parts need to be replaced will be provided from seller for free(Except the quick-wear part).
5)After warranty we will still supply lifetime maintenance in free. Just if parts broken, we will replace with charge.
6).After sales service response time: quick response within 8 working hours,after receive the repair call, our after sales engineer will reply as soon as possible.