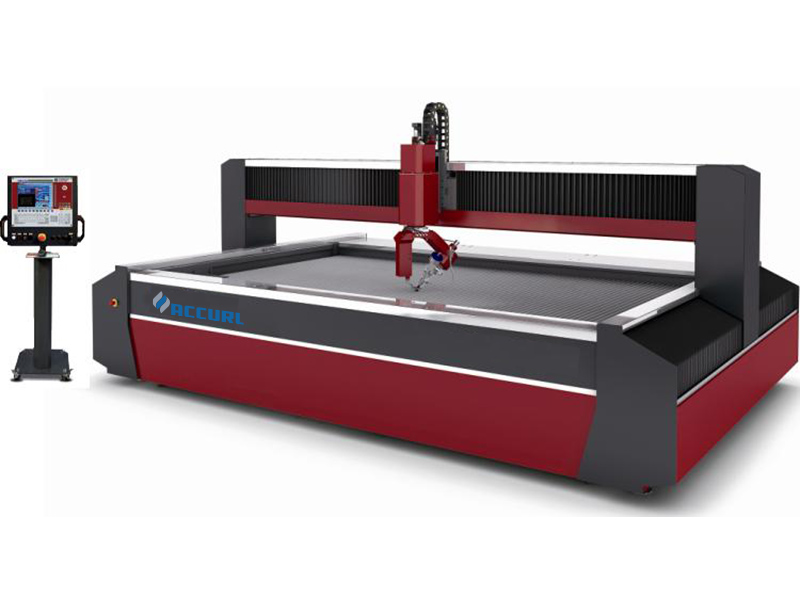 Product Description
---
Name:Flying-arm 4.0*2.0m Water Jet Cutter Motion System with CE,ISO,SGS certificated
Cutting area: 4.0m×2.0m×0.15m
Main Parts:
CNC system, Flying-arm cutting platform, high pressure generator, sand hopper, oil-cooling tower, portable pulse controller, attached accessories, complimentary accessories and special tools.
Applications:
CNC water jet cutting machine can flexibly process (cut off, engrave, make hole, drill) virtually all materials with consistent quality. It has found great application in glass, glass craftetc..
Parameters:
Form of machine: Gantry type/Cantilever type
Running speed: 0-10m/min
Control system: servo motor(YASKAWA Japan),ESA CNC control system
Control accuracy: ±0.02mm
Cutting accuracy: ±0.1mm
Bevel angle: ±5°
C axis rotating speed: 3600°/min
Max pressure: 400Mpa(60000psi)
Flow rate of UHP water: 3.8L/min
Power of oil pump: 30KW/37KW
Power supply: 220V/380V/415V 50Hz/60Hz
Our Sample
---

Our Services:
After-sale service commitment of  ACCURL
We desire to furnish after-sales service better by persistently improving and perfecting the quality of service with our utmost efforts for customers' satisfaction and trust.
1. We sell all products with a one-year warranty. In such period free on-site service is available (breakdown or destruction caused by human factor or irresistible natural phenomenon is an exception).
2. Installation and adjustment of machines should be accomplished within 4 workdays after arriving at user's site.(Actual implement per contract, large machines accords with quota or contract).
3.After receiving the repair notice, and during the warranty period, post service will be available no later than 8 hours within Nanjin, 12 hours within 150kms, 24hours within 150-300 kms, 48hours within 300-600 kms and 72hours beyond 600kms. (Telephone consultation and purchasing extra accessary are exceptions).When warranty period is overdue, we will contact you proactively with regular call-service to foster a healthy Corporate image and to maintain good customer-relationship.
4. Users can obtain explicit solutions of relevant technical problems through tel-service consultation. After-sale service receptionists should properly handle any inquiry with enlightened pleasure, specified words, gracious attitude and no disputes. Patience is obviously required for answering any question. The after sale hotline is 025- 57324298-834/841 400-600-4298.
5. We pledge here the above services when breakdown appears under users'normal operation of equipment. Otherwise, for applicable country laws and regulations explicitly stipulated, we will comply with correlated provisions.
6. Within the warranty period, the following maintenance should be paid:
(1) Damage results from man-made factors or force majeure.
(2) Breakdown or damage results from disoperation.
(3) Breakdown or damage results from improper self-alteration, disassembly or assembly towards products.
(4) Breakdown or damage resulted from using non-original accessory.
(5) Maintenance and service during the process of normal use.
Basic Info
Model NO.: ACCURL4020-BB
Layout: Coaxial
Automatic Grade: Automatic
Cutting Mode: Waterjet Cutting
Y-Axis Max. Speed: 2000mm
Max.Travelse Speed: 20m/Min
CNC Control System: Esa/Fagor(Optional)
Transport Package: Standard Package
Origin: Anhui, China
Customized: Customized
Cutting Material: Copper, Carbon Steel, Iron, Aluminum, Metal Alloy, Stainless Steel
Power Source: Electric
Working Voltage: 4000mm
Z-Axis Max. Speed: 150mm/Min
Linear Accuracy: +-0.10mm
Trademark: ACCURL
Specification: 4.0*2.0m
HS Code: 84648010
---
cnc water jet cutting machine price