Detailed Product Description
---
China Accurl Brand Gem Water Jet Cutter machine for stone pattern design With High Quality
Product Description
The ACCURL® abrasive water jet machine is a high-pressure waterjet machine that utilizes straight water cutting or abrasive waterjet cutting to cut several types of material. The ACCURL® is a heavy-duty precision, ground ball screw designed system for maximum precision and rigidity. The ACCURL® is built to the most stringent standards in the machine tool industry.
The ACCURL® using the water jet high-pressure cutting process to cut material thicknesses from gauge up to 8".
The ACCURL® will cut material such as Aluminum, Armor Plate, Brass, Carpet, Copper, Glass, Granite, Leather, Marble, Mild Steel, Plastic, Stainless Steel, Stone, Tile, Titanium.
Perfect Waterjet Cutting:
ACCURL® Waterjet machining is achieved by forcing a large volume of water under high pressure through a small orifice in the cutting nozzle. The accelerated steam of water leaving the nozzle impacts the material and starts the cutting process. Kerf from the accelerated stream of water is extremely narrow. This pressure is then concentrated in a small area on the material which starts to erode the material. Softer materials can be cut with water pressure. Harder materials require the use of an abrasive feed system, such as metal cutting. The abrasive is introduced into the high pressure water stream, which then starts the erosion of the harder materials. Although waterjet machining is the slowest cutting process, there are definite advantages that outweigh its' pace:
1. No Heat-Affected Zone
2. No Mechanical Stresses
3. Very Narrow Kerf
4. Can Cut Various Materials
5. Can Process Extremely Detailed Parts
6. Minimal loss of material
7. Environmentally Friendly
Main Features
1. Can be transfer the drawing to cutting quickly
2. Quick position-some or few fixing equipments
3. Hing accuracy-reduce the recutting
4. Quicker cutting speed
5. In no need of fabrication for the working parts
6. Safer for the operator and circumstance osteam,dust,smog etc
7. Cool cutting-no heat will be prouduced
8. Clear processing,in no need of clear the working parts again
9. Good cutting finishes-in no need of trimina the cutting finishes again
10. Narrow cutting gap
11. Quick calibration and easier versatility way of cutting. It has been proved that it can be used in mass production in the ideal system
12. Fit for CAD/CAW software
13. Waterjet cutting machine can cut almost all the materials.It can cut the foilat the thickness of 200mm
System
Hp System: WJPOWER-400(Semi Imported Configuration)
Max.Pressure: 400Mpa
Max.Flowrate: 3.7L/min
Electrical Power:30KW/40HP
Voltage: 220V~480V/50,60HZ.3PH
Some Key Parts Adopt Imported Parts
Our Service
Pre-Sales Service
1.Technical solution.
2. Online video authentication machine work.
3. Cutting samples provided by DHL.
After-Sales Service
1. Supplier will provide detail manual for software, hardware
and trouble shooting, also supplier should give necessary
guidance online if Buyer need. If it's necessary, Buyer
should send regular his technical staff to Supplier for technical training.
Detailed Images
1. Machine Frame
The MAX series features a body with electric
components built securely into the body of the machine.
This unique monoblock design allows for simple
installation and the flexibility for the system to be relocated to a multitude of locations.
2. Servo Drive & Motor
The imported servo motor (Y-axis driven by two servo motors) along with the sophisticated planetary reducer ensures steady, precise and reliable drive.
3. Ball Screw with Rotary Nut
Precision ball screws feature high reliability and repeatability that increase performance and accuracy.
4. Cutting Heads USA Hypertherm
The IDE head is a single, easy to use piece. The single cuttinghead piece consists of a body, diamond orifice, and mixing chamber. It has a 90 degree inlet that keeps abrasive from building up at the head. It has a flat seal even to the nozzle tube which eliminates risk of breaking the orifice. It is very useful for companies with multiple waterjet operators.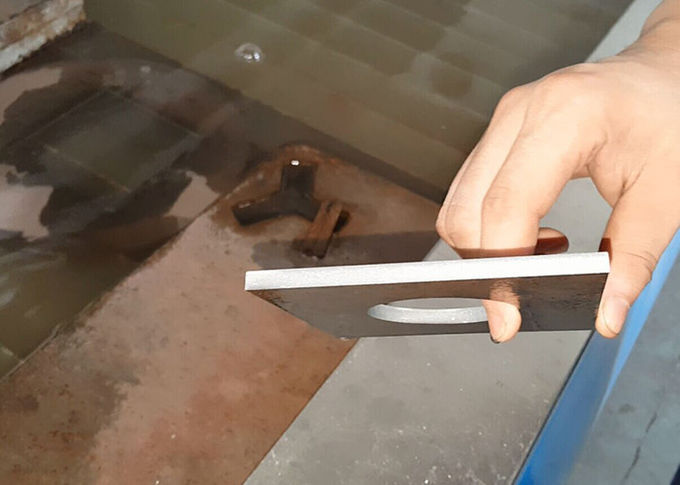 Specification
Model
ACCURL-4020L
working table
mm
3000 x 1500
X-axis
stroke
2000
3000
Speed
0~15
0~15
Y-axis
stroke
1000
1500
Speed
0~15
0~15
Z-axis
stroke
150-180
150-180
Speed
0~12
0~12
Control accuracy
mm
± 0.01
Positioning accuracy
mm
± 0.02
High Pressure System
Max Pressure
380
380
Power
37(50HP)
37(50HP)
Total electric power
KW
38
Max load of working table
Kgs
1000
Format supported
AI, PLT, DXF, etc
Machine weight
Kgs
5650
Outside dimension
mm
4050x2250x1850
Product Name
Water Jet Cutter
granite water jet cutting machine
,
high pressure water jet cutting machine
,
water jet steel cutting machine