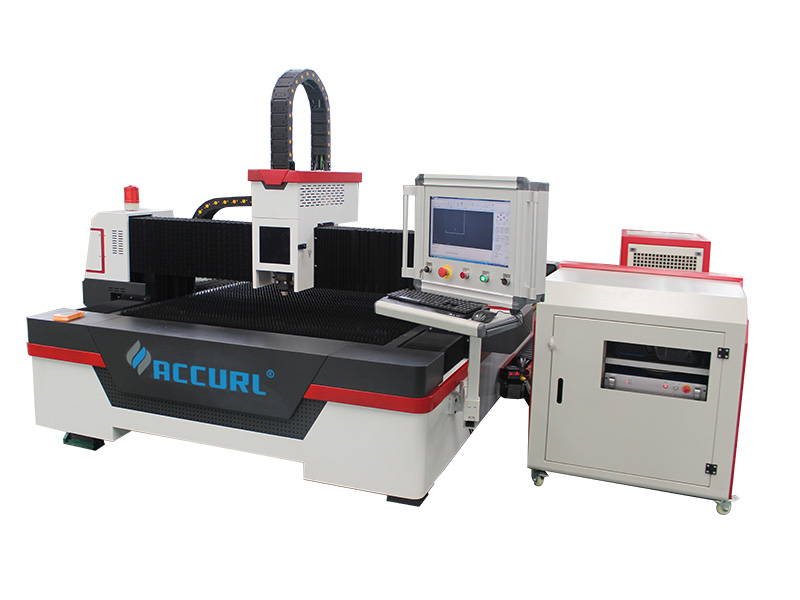 Detailed Product Description
---
| | | | |
| --- | --- | --- | --- |
| Model Number: | ECO-FIBER-1530-4KW ACCURL | Working Range: | 1500x3000mm |
| Laser Type: | China Raycus Fiber YLS-4KW | Transmission: | Taiwan YYC Gear And Rack |
| Laser Head: | Swiss Raytools Auto-following | Keywords: | CNC Fiber Laser Pipe Cutting Machine |
4000W CNC Fiber Laser Pipe Cutting Machine with China Raycus Fiber
Product Application
The ACCURL CNC Fiber Laser Pipe Cutting Machine brings a cost effective, low-maintenance, low operating cost and environmentally friendly solution to your organization. Our fiber laser machines provide quality cutting and tolerances with minimal productivity loss between jobs, equating to a higher return on investment.
1. Manufactured by people who use their own machines
2. Laser beam transmitted through a fiber optic cable rather than with mirrors and channel tubing resulting in negligible power loss.
3. The laser light source has a life expectancy of more than three times that of an equivalent CO2 laser.
4. Higher cutting speeds possible
5. Dual interchangeable tables allow for faster loading and unloading, reducing downtime
6. Laser wavelength is one-tenth of a CO2 laser
7. Reduction in cutting variables or tribal knowledge
8. Fiber Laser is extremely efficient, equates to very low power consumption
Main Features
The [email protected] Fiber Lasers bring a cost eᴀective, low-maintenance, low operating cost and environ-mentally friendly solution to your organization. Our ἀber laser machines provide quality cutting and tolerances with minimal productivity loss between jobs, equating to a higher re turn on investment.
1. Acceleration speed: 19,6 m/s2 (2G).
2. Maximum simultaneous positioning speed: 160m/min.
3. Precision: + - 0.05 mm.
4. Energy efficiency: greatly reduced power consumption.
5. Excellent cutting quality for fine thic kness and medium thickness sheet metals.
6. IPG Resonator. Power output from 1 kw to 6 kw .
7. Precitec light cutter cutting head with po wer output up to 2kw.
8. Precitec HP cutting head for po wer output of more than 2kw.
9. Fully enclosed and cabinned to ensur e máximum operator protection.
10. Effective high to low pressure gas exchange system.
11. Capacitative Sensor, high pressure cutting head.
12. TCI Cutting parameter tables.
13. Pre-cut film protector.
14. Automatic mechanized Nesting power output control function (edges, start-ups).
15. Automatic time and unit cost calculation function.
16. Network connection from external.
17. Automatic table exchanger (included in series models).
18. Smoke extraction (included in series models).
STANDARD EQUIPMENT
1. 3 Axis (X, Y, Z)
2. FAGOR 8055 CNC control unit
3. Servo Motor
4. Auto - focus cutting head
5. Laser Source
6. Chiller Unit
7. Clean-dry air system
8. Safety Cabinet
9. Automatic-Dual Shuttle Table
10. Nozzle cleaning and height calibration table
OPTIONAL EQUIPMENT
1. Linear motor technology
2. IPG 0.5 kW, 1 kW, 2 kW, 3 kW, 4 kW and 6 kW laser source options
3. Extraction unit.
4. Light protection barrier
5. Pneumatic sheet support system for easy sliding
6. Momentum Gen-3 G Force
7. Full Automatic sheet loading – unloading system (TOWER)
Product Features
1. High output power, 500-2000 watts is optional.
2. Can cut inclined truncation surface at the end of tubes.
3. Can cut intersection line of branch pipe, which is intersected with circular main pipe.
4. Can cut off square pipes and do 360 degree turning cutting.
5. Can cut square holes, waist type holes on tubes.
6. Can do various graphic cut on square tube, oval tube, U tube and rectangular tube etc.
Detailed Images
1. Machine Parts
Name: Machine Body
Brand: ACCURL
Original: CHINA
1. the steady gantry framework provides an open worktable.
2. Synchronous X/Y/Z axes: The Z-axis can run 150mm, suitable for cutting many varieties of metal sheets.
3. High quality guarantees its durability and easier maintenance
2. Main Features
Name: SINGLE CABLE SERVO MOTOR TECHNOLOGY
Brand: YASKAWA
Original: Japan
1. Accurl has 4 servo motors for all axial movements.These are the latest technology single cable servomotors.
2. Power and process data are transmitted in onestandard motor cable, significantly reducing costs.
3. This technology also gives more accurate positioningand more geometrically accurate parts.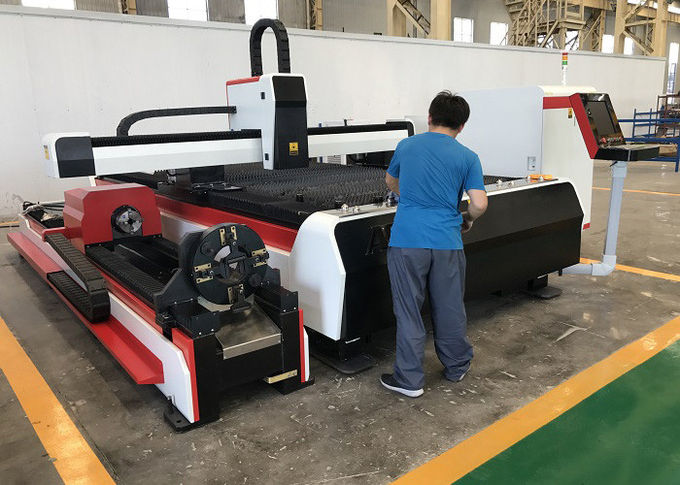 SPECIFICATIONS
Model
ECO-FIBER 3015 / 4KW
CNC Control Unit
FAGOR 8060 CNC System
X axis (Rack & Pinion)
3000 mm
Y axis (Rack & Pinion)
1500 mm
Z axis (Ball Screw)
100 mm

Maximum cutting capacity

Mild steel
25 mm
Stainless steel
12 mm
Aluminyum
10 mm
Work piece dimensions
1525 x 3050 mm
Rapid traverse (X and Y axis)
105 m/min
Acceleration
2.5G (25m/s2)
Vector speed
148 m/min
Absolute positioning accuracy
± 0.08 mm
Repeatability (X and Y axis)
± 0.03 mm
Max. load capacity
2450 kg
High Performance CNC System
FAGOR 8060 from Spain Brand
Laser power
IPG YLS-4 kW from Germany
High Performance Servo motor/drive
FAGOR from Spain Brand
Laser Cutting Head
PRECITEC from Germany
Motoreducer
STOBER from Germany
cnc pipe cutting machine
,
laser cutting pipe machine