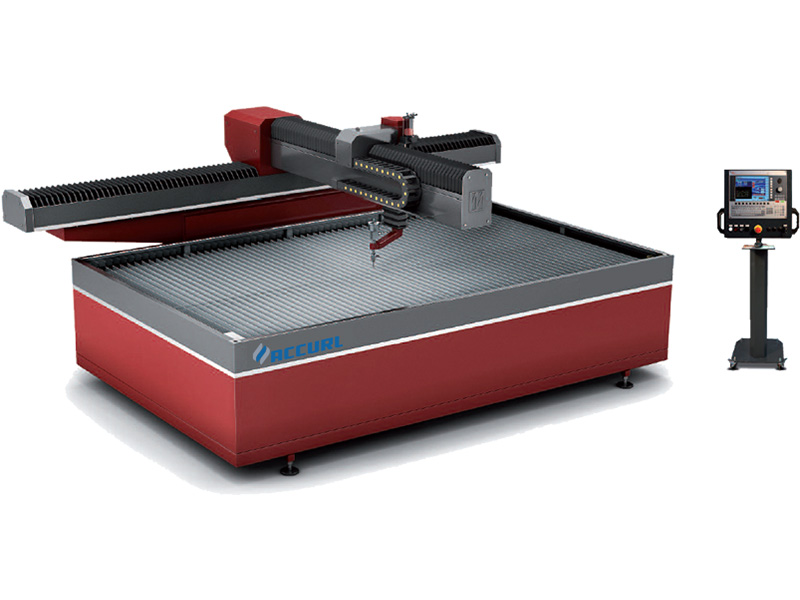 Aluminum CNC Water Jet Cutting Machine with Competitive Price for Sale
Product Description
---
The ACCURL abrasive waterjet machine is a high-pressure waterjet machine that utilizes straight water cutting or abrasive waterjet cutting to cut several types of material. The ACCURL Water-Jet is a heavy-duty precision, ground ball screw designed system for maximum precision and rigidity.
Perfect Waterjet Cutting:
---
ACCURL® Waterjet machining is achieved by forcing a large volume of water under high pressure through a small orifice in the cutting nozzle. The accelerated steam of water leaving the nozzle impacts the material and starts the cutting process. Kerf from the accelerated stream of water is extremely narrow. This pressure is then concentrated in a small area on the material which starts to erode the material. Softer materials can be cut with water pressure. Harder materials require the use of an abrasive feed system, such as metal cutting. The abrasive is introduced into the high pressure water stream, which then starts the erosion of the harder materials. Although waterjet machining is the slowest cutting process, there are definite advantages that outweigh its' pace.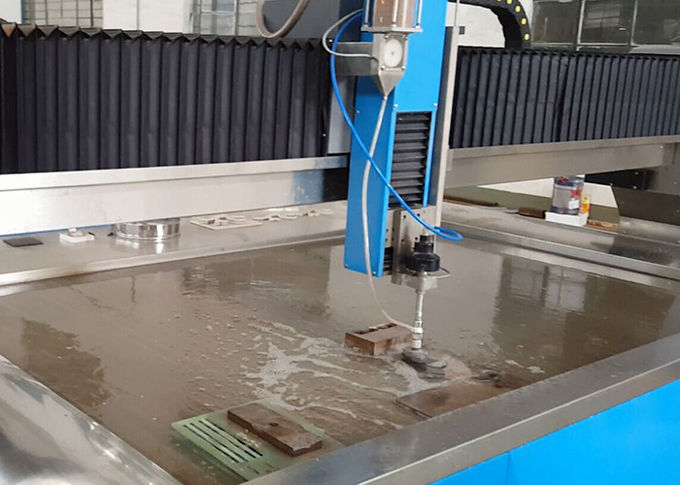 Main Features
---
The fast, efficient, and precise ACCURL® Center provides top performance in waterjet machining of complex parts from many materials. From simple metals to complex composites, the 4' 7" square cutting area of the proven is ideal for rapid prototyping and just-in-time manufacturing of small to medium-sized parts. With simple fixturing and easy access to the cutting table, setup times are significantly reduced, increasing productivity and profitability.
1. Fastest cutting speeds and best precision compared to any abrasivejet in the industry and is backed by our exclusive NAIKY PCIMC-6A® Software with real world cutting data
2. Programmable Motorized Z-Axis with a precision ACCURL® 5i Nozzle Assembly can boost cutting productivity and process efficiency
3. Tilt-A-Jet® taper compensating abrasivejet cutting head (available as an option)
4. Precision X-Y Axis rigidly mounted to the cutting table
5. Pre-loaded linear bearings and precision ball screws
6. Low maintenance, high reliability scissor-style hard plumbing
7. Drive system sealed against water, dirt, and grit
8. Easy operator access to the work area
9. High efficiency Generation 4 USA Hypertherm ® pump systems available in 30, 40, or 50 hp with operating efficiencies up to 90%
10. Robust and accurate design for tight tolerance cutting and reliable operation
11. Rapid Water Level Control for quiet and clean submerged cutting
12. Bulk Abrasive Delivery System transports garnet from the assembly's large hopper into the Zero Downtime Hopper located on the Z-Axis
13. Optional Variable Speed Solids Removal System (VS-SRS) designed for tough industrial use increases uptime through automated solids removal
14. Shipped as a completely pre-assembled and factory-tested system
System
---
Hp System: WJPOWER-400(Semi Imported Configuration)
Max.Pressure: 400Mpa
Max.Flowrate: 3.7L/min
Electrical Power:30KW/40HP
Voltage: 220V~480V/50,60HZ.3PH
Some Key Parts Adopt Imported Parts
The advantages of water jet cutting machine
---
1. Can be transfer the drawings to cutting quickly
2. Quick position: some or few fixing quipments
3. High accuracy: reduce the recutting
4. Quicker cutting speed
5. In no need of fabrication for the working parts
6. Safer for the operator and circumstance: no steam, dust, smog, etc
7. Cool cutting: no heat will be produced
8. Clear processing: in no need of clear the working parts again
9. Good cutting finishes: in no need of rework the cutting finishes again.
10. Narrow cutting gap
11. Quick calibration and easier versatility way of cutting. It has been proved that it can be used in mass production in the ideal system
12. Fit for CAD/CAM software
13. Waterjet cutting machine can cut almost all the materials
Advantages of CNC controller
---
1. Industrial control computer: high reliability, convenient man-machine dialogue, real-time control of the cutting process
2. CNC control,19 inch LCD. facilitate operators to observe and reduce visual fatigue.
3. Appropriate height of operating desk, reasonable display angle, and 180-degree horizontal rotation for easy operation and viewing
4. Replace the relay with PLC, with a computer communications, flexible control
5. Professional waterjet cutting software, easy to operate , easy to learn, and practical.
6. DXF file ,can use AUTOCAD to produce DXF file
7. IPC and the professional software based on windows XP/7
Specification
---
working table
mm
2000 x 1000
X-axis
stroke
2000
2000
Speed
0~15
0~15
Y-axis
stroke
1000
1000
Speed
0~15
0~15
Z-axis
stroke
150-180
150-180
Speed
0~12
0~12
Control accuracy
mm
± 0.01
Positioning accuracy
mm
± 0.02
High Pressure System
Max Pressure
380
380
Power
37(50HP)
37(50HP)
Total electric power
KW
38
Max load of working table
Kgs
1000
Format supported
AI, PLT, DXF, etc
Machine weight
Kgs
4350
Outside dimension
mm
4050x2250x1850
Product Name
Aluminum Water Jet Cutting Machine
cnc water jet cutting machine price
,
small water jet cutting machine price
,
water jet steel cutting machine