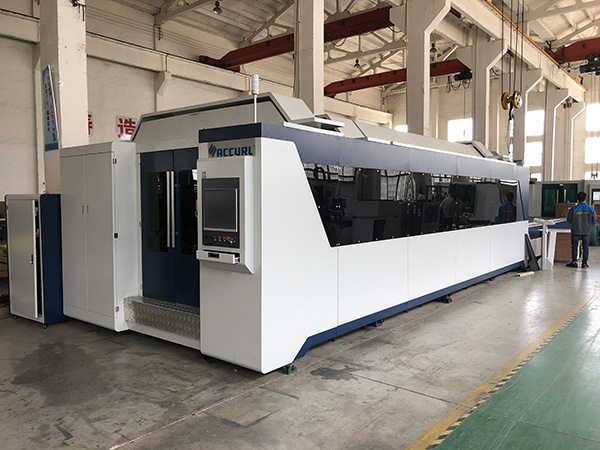 carbon fiber laser cutting machine description
---
| | |
| --- | --- |
| Cutting area | 1300 x2500mm |
| Laser power | 500W/750w/1000w/2000w |
| Laser type | fiber laser |
| Engraving speed | 0-60000mm/min |
| Cutting speed | 0-40000mm/min |
| Focus Method | Dynamic Following and Automatic Adjust Focus |
| Resetting positioning accuracy | ≤±0.01mm |
| Power supply | 380V/50HZ (Optional 220V/50HZ) |
| Operating temperature | 0 - 45°C |
| Operating humidity | 5 - 95% |
| Min. shaping character | English 1.0 x 1.0mm |
| Graphic format supported | BMP, PLT, DST, DXF, AI |
| Software supported | TAJIMA, CorelDraw, Photoshop, AutoCAD |
| Driving system | Japanese Panasonic Servo motor & Driver |
| Cooling mode | Water-cooling and protection system |
| Equipment Dimensions | 1990x1400x1470mm |
| Net Weight: | 1550kg |
| Shipping Dimensions | 2090 x 1500 x 1570mm |
| Optional Spare Parts | Up-down clump, Rotary System, Honeycomb table |
| Control Method | offline movement Control |
carbon fiber laser cutting machine features
---
1. Advanced Germany Technology: ensure most high tech in the world.
2. Advanced Laser Optical System: Ensure Excellent Laser Beam Quality Double-Xenon-lamp technology,
can strongly improve the laser power and laser beam quality.
3. Laser Path Pre-view & Pre-position Function: Laser beam is in-visible by adopting "Red Light Pointer",
Realize the laser path pre-view and Pre-position function.
4. Pre-view and pre-run function: Simulate the laser cutting path, Pre-run the cutting path in advance,
Ensure finding the accurate cutting position.
5. Unique Mirrors and Lens Cooling Technology: All mirrors and lens is cooled by water, Takes the mirror
heat during working, Prolong its' lifetime, Save future operation cost.
6. Heavy Machine Body: Adopt 100mm*100mm*6mm thick, square metal tube Stable, Heavy Loading,
Won't distortion after long-time using, Worktable Max. Load can reach 500 kgs. Adopt a funnel-type machine
bed design, Work with conveyor belt, Easy for user to get the cutting pieces from the machine front.
7. Auto transfer system: Can automatically transfer the cutted work-pieces into the front of machine, Improve
working efficiency, Save labor energy, No need user to take it by hand. Make the work-pieces neat and beautiful.
8. Auto Oil-filling system: Press for once, can lubricate the machine transmission rod for 2-3 months.
9. Red light pointer: As the laser beam is in-visible, We adopt red light pointer to indicate the real position of
the laser beam, Make cutting more accurate.
10. Dynamic Auto-focus System: Keep the same distance between the metal sheet and laser head,
Realize the accuracy of cutting effect.
11. Auto-feeding Design: Adopt feeding wheel design, Make the material feeding easier, Labor energy saving.
12. Cutting Powder and Smell Absorbing System: Absorbing the cutting power and dust out of the room,
No dust, No smell, Air-Proof, Make cutting process environmental.
13. DSP Control Panel (Optional Item): East to operate, Enable remote control.
14. Industry Computer: CPU is Intel Core i3, DDR3 is 4G, SSD is 250G.
15. 7P Powerful Water Chiller: Increase the stability of cutting power, Support water flow testing, Makes the
cutting power more stable. Avoid material cut un-completely. Enhance the working efficiency.
16. Professional Laser Cutting Software: Adopt CNC 2012 latest version, with powerful editing function,
Friendly interface, Easy to Use. Supports DXF, PLT, G-Code and many graphs.
17. Laser Source: Adopt USA imported Laser Xenon lamp, Double lamp Technology Strongly improve the
power and laser beam quality.
18. USA Dynamic auto focus system: When metal sheet is not so plain, Adjust the focusing distance automatically.
19. Saw-tooth Type Working Table: Stable, Heavy Holding.
20. Taiwan Made Ball Screw Rod: Diameter 50mm ball screw rod, High accuracy linear running guide rail,
Improve the precision and accuracy of the machine.
21. Taiwan Linear Guide Rail: High speed with, Lower noise volume, High accuracy and long life span.
22. Japanese Servo motor and Driver: Extreme precise positioning, Make moving positioning
mechanism operate smoothly, Reliably and free of maintenance.
23. 45 degree lens: 3 screws in the 45 degree lens, Easy to adjust laser path.
24. Foot Switch: Press it for cutting easily.
fiber laser cutting machine Applicable Material:
This machine is mainly used for cutting metal plates such as stainless steel,cabon steel,galvanized plate,various alloy,etc.
>>fiber laser cutting machine Applicable Industry:
This machine is widely used in various industries such as advertising decoration,kitchen ware,engineering machinery,steel and iron,automobile,metal plate chassis,air-conditioner manufacturing,metal plate cutting,etc.
---