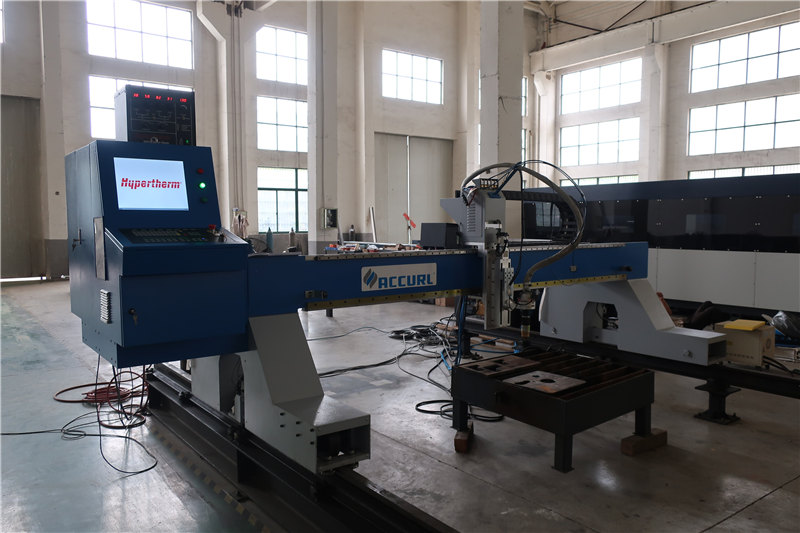 Detailed Product Description
---
| | | | |
| --- | --- | --- | --- |
| Model Number: | GSII-PS4012-PMAX-105A | Plasma Power: | Hypertherm Powermax105 USA |
| Gantry Type: | Table | Effective Cutting Area(Length): | 4200 X 12800mm |
| Flame Cutting Thickness: | 6-350 Mm | Cutting Positioning Accuracy: | ±0.5mm/m |
| No Of Torches: | According To Customers'requirement | Keywords: | CNC Flame Cutter Machine |
4200 x 12800mm CNC Flame Cutting Machine for Stainless Steel Iron Plasma Cutter
Product Description
Specifications
CNC plazma/flame cutting machine
1. gas cutting
2. plazma cutting machine, can cut different profile shape
AG series CNC plazma/flame cutting machines are the newly perfect machine style designed by Jinfeng company with many years' experiences in designing cutting machines. They have the advantages of beautiful looking, small inertia, good rigidity and stable moving. They have the different track span from 3 to 7 meters. The CNC control system is at customer's choice. These series machines have the highest performance and lowest price, which are widely applied to the different industries. For cutting of mild steel in steel structure, engineering construction and ship building.
1. Rail span: 3 ~ 7 meters
2. Rail length: cutting effective length plus 2 meters
3. Torch: Max. 4 torches
4. CNC controller: Fagor, Hypertherm, Burny
5. Flame cutting thickness: 6-150mm
6. For gas cutting
Features
1. Steel hollow beam design ensures good heat dissipation without deformation.
2. The gear-rack driving motions without engagement gap ensure the machine running smooth at high speed.
3. Fully functionalized CNC system and optocoupler device enhance the super anti-jamming capability of the plasma system.
4. World's top branded components and circuits ensure long service life.
5. Multiple cutting torches can be configured. Both flame and plasma torches are optional to meet the needs of cutting different materials in a range of thickness.
THE STANDARD COMPONENTS
1. The longitudinal, transverse drive are all use high-precision gear and rack.( Class 7 Precision) for transmission. Both longitudinal and transverse have all adopted liner guide rail are imported from Taiwan,China to guarantee the stability in moving, high-precision, durable in usage and good appearance.
2. The reducer is planetary gear reducer for precision in moving and also balance.
3. The drive system is from imported Japan AC servo drive for steady in movement, a wider range of speed transmission, short acceleration time.
The AC servo drive is the UP-TO-DATE JANPAN PANASONIC AC SERIES SERVO MOTOR
Applications
This Portable cnc plasma cutting machine can cut mild steel with flame cutting, and cut high carbon steel, stainless steel,aluminum, copper and other non-ferrous metal with Plasma cutting; can configurate as you required.,thus it is widely applied in industries such as machinery, automobile, shipbuilding, petro-chemical, war industry, metallurgy, aerospace, boiler and pressure vessel, locomotive etc.
Suitable for sheet processing, do word, etc., and other advertising equipment (vacuum molding machine, engraving machine, slotting machine, etc.,) the formation of advertising word processing line. Dozens of times higher than that of traditional craft processing efficiency.
THE MAIN CHARACTER
1. High stability and one-time cutting shape process.
2. Adopt new technology for free of maintenance supporting no lubrication, exempt from dust
3. Use South Korea's Samsung industrial level low power core to control the power consumption below 1500W to be environmental protection and energy saving
4. The machine apply HONGYUDA series arc voltage automatic height adjusting device to ensure the advantage or free of maintenance , high precision in height level control and also the reliability of the product. The machine has equipped with POWERMAX 105 plasma cutting electronic power, good in cutting effect, long life in consumptive components and material to prevent the worry for the exchange for the electrode cutting nozzle.
5. Customer-tailored service for the equipment in demand for example alternative for full step drive type or combination drive machine. And also can choose single fire, single plasma or combination with fire and plasma cutting etc.
6. Optional for wireless remote control function to easily control any emergency when the operator is far away from the machine, can control the start, stop, rise, down, forward or backward within 100M.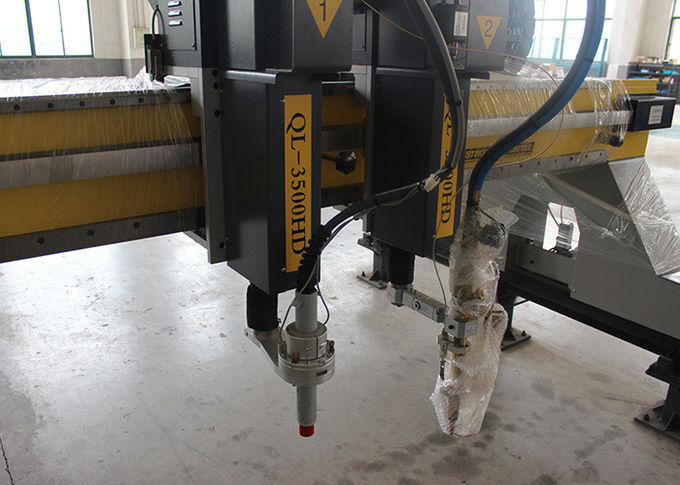 | | |
| --- | --- |
| Type | ACCURL PS - 4012 |
| Product Name | CNC Flame Cutter Machine |
| Cutting Table | 4200 x12800 mm |
| Machine Width | 6250 min-1 |
| Machine Lenght | 14200 mm |
| Machine Height | 2200 mm |
| Table Height | 750 mm |
| Table Width | 4200 mm |
| Table Lenght | 11200 mm |
| X Axis Stroke | 4800 mm |
| Y Axis Stroke | 10200 mm |
| Weight | 17000 kg |
plasma profile cutting machine