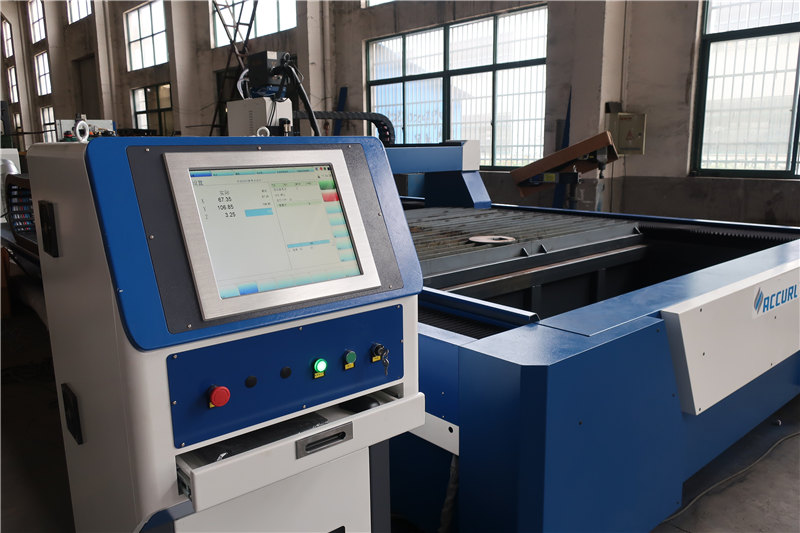 Detailed Product Description
---
| | | | |
| --- | --- | --- | --- |
| Model Number: | GSII-PS4016-PMAX-105A | Plasma Power: | Hypertherm Powermax105 USA |
| Gantry Type: | Table | Effective Cutting Area(Length): | 4200 X 16800mm |
| Flame Cutting Thickness: | 6-350 Mm | Cutting Positioning Accuracy: | ±0.5mm/m |
| Cutting Speed: | 0-6000 Mm/min | Keywords: | CNC Flame Cutter Machine |
4200mm x 16800mm Steel Plate CNC Flame Plasma Cutting Cutter Machine
Product Description
Specifications
CNC plazma/flame cutting machine
1. gas cutting
2. plazma cutting machine, can cut different profile shape
AG series CNC plazma/flame cutting machines are the newly perfect machine style designed by Jinfeng company with many years' experiences in designing cutting machines. They have the advantages of beautiful looking, small inertia, good rigidity and stable moving. They have the different track span from 3 to 7 meters. The CNC control system is at customer's choice. These series machines have the highest performance and lowest price, which are widely applied to the different industries. For cutting of mild steel in steel structure, engineering construction and ship building.
1. Rail span: 3 ~ 7 meters
2. Rail length: cutting effective length plus 2 meters
3. Torch: Max. 4 torches
4. CNC controller: Fagor, Hypertherm, Burny
5. Flame cutting thickness: 6-150mm
6. For gas cutting
Product Features
1. Tailored track acquires high-intensity, high-speed and high-precision features.
2. Human computer interface design makes the machine easy to learn and operate, and have complete functions.
3. Equipped with functions of portable CNC cutting and can cut carbon steel, stainless steel and non-ferrous metal plate.
4. Enable the conversion of the CAD into the program file which can be transmitted to the main machine by USB to cut plate into any shape.
5. With two cutting modes: Flame Cutting & Plasma Cutting.
6. Chinese, English, French, and Portuguese are ready to use.
7. Can automatically memorize and restore when power is off.
8. Plasma THC ( torch height control) device function: By automatically adjust the height of the torches
according to the feedback of the plate height changes, THC can keep good effect of cutting meanwhile,protect the torch form damage and prolong life span of the nozzles.
9. With status indication device.
10. With positioning functions of protection cover, proximity switch and dual-speed.
11. Compatibility of the domestic plasma and foreign-brand plasma.
STANDARD COMPONENTS
1. Make up of gas decompression valve and pressure gauge.Clear to check the whole machine pressure.
2. Adopt U71 heavy-duty rail by fine machining.
3. According to user's requirement,assemble CNC flame single torch,power-spray scribe torch,stamping unit,plasma mechanical torch or linear
triple cutting torch,and also fit auto igniter and auto height controller.
4. To ensure the beam won't deform,it is designed in welded square structure,tempered to eliminate mechanical stress,and then processed by precision machinery.It has high mechanical strength and good rigidity.High-precision and fine-grinded guide rail,gear wheel and gear rack in high steel quality are assembled on top of the beam.Therefore,the accuracy of latcral movement can be guaranteed.The transverse track is bolted on the beam for the convenience of replacement and adjustment.
5. Used in the tracheal cable transmission of numerical control cutting torch,it can work continuously without generating mechanical fatigue.
6. To achieve synchronous motion of two supporting plate by steel strip.
7. The primary master drive is equipped with horizontal oriented wheel to keep stable guidance in operation.There are scraping crumbs on both sides of the driving shelf.They can clear the guide rail.
Packing & Delivery
1. Our wooden case is after fumigation treatment.Needn't timber inspection,saving shipping time.
2. All the spare parts of the machine were covered by soms softmaterials,mainly using pearl wool.
3. The outmost is wooben case with fixed formwork.
4. The botton of the wooden case has firm iron jack,covenient to hading and transport.
Applications
This Portable cnc plasma cutting machine can cut mild steel with flame cutting, and cut high carbon steel, stainless steel,aluminum, copper and other non-ferrous metal with Plasma cutting; can configurate as you required.,thus it is widely applied in industries such as machinery, automobile, shipbuilding, petro-chemical, war industry, metallurgy, aerospace, boiler and pressure vessel, locomotive etc.
Suitable for sheet processing, do word, etc., and other advertising equipment (vacuum molding machine, engraving machine, slotting machine, etc.,) the formation of advertising word processing line. Dozens of times higher than that of traditional craft processing efficiency.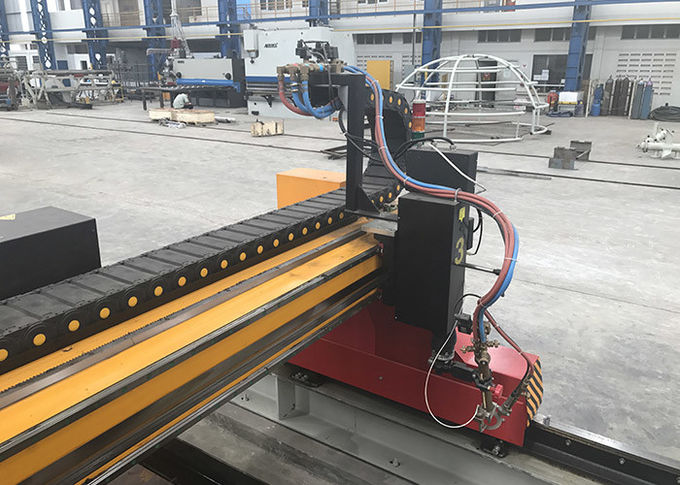 | | |
| --- | --- |
| Type | ACCURL PS - 4016 |
| Product Name | CNC Flame Cutter Machine |
| Cutting Table | 4200 x16800 mm |
| Machine Width | 6250 min-1 |
| Machine Lenght | 18200 mm |
| Machine Height | 2200 mm |
| Table Height | 750 mm |
| Table Width | 4200 mm |
| Table Lenght | 14400 mm |
| X Axis Stroke | 4800 mm |
| Y Axis Stroke | 16200 mm |
| Weight | 21000 kg |
cnc flame plasma cutting machine
,
plasma profile cutting machine