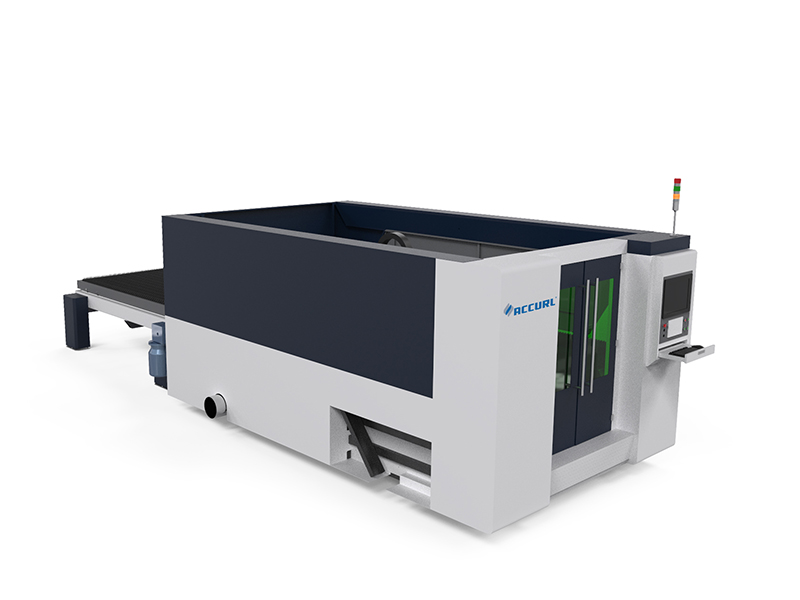 Detailed Product Description
---
| | | | |
| --- | --- | --- | --- |
| Model Number: | KJG 1530-1000W | Trademark: | ACCURL |
| Application: | Petroleum Machinery Manufacturing, Agriculture Machinery | Applicable Material: | Metal |
| Laser Classification: | Free Electron Laser | Laser Technology: | Laser Control Fault Cutting |
| Transport Package: | Standard Plywood Case | Product Name: | Sheet Metal CNC Fiber Laser Cutting Machine |
Product Description
---
1. Excellent beam quality: Smaller focus diameter and high work efficiency, high quality.
2. High cutting speed: Cutting speed is more than 20m/min
3. Stable running: Adopting the top world import fiber lasers, stable performance, key parts can reach 100, 000 hours;
4. High efficiency for photoelectric conversion: Compare with CO2 laser cutting machine, fiber laser cutting machine have three times photoelectric conversion efficiency
5. Low cost: Save energy and protect environment. Photoelectric conversion rate is up to 25-30%. Low electric power consumption, it is only about 20%-30% of traditional CO2 laser cutting machine.
6. Low maintenance: Fiber line transmission, no need reflect lens, save maintenance cost;
7. Easy operations: Fiber line transmission, no adjustment of optical path;
8. Super flexible optical effects: Compact design, compact and easy to flexible manufacturing requirements.
Applicable materials:
Mainly used for cutting carbon steel, stainless steel, aluminum alloy, titanium alloy, galvanized sheet metal sheet fast cutting.
Applications:
Applied in medical microelectronics, frames, subway spare parts, machine parts, handicraft, hardware tools, advertising, etc.
Laser cutting software(automatic nesting software) introduction
"Laser cutting design software" is set for flat cutting design software, whose main goal is to provide image processing, parameter settings, the custom cutting process editor, simulation, and idling sorting and processing
It supports the following data input mode
1. After time support DXF, PLT and other graphical data formats accepted international standard G code
Mater Cam, Type3, Wentai software generated DXF import graphics, text outlines AutoCAD direct extraction system transferred graphic image data, you can edit the layout (like zoom, rotate, align, copy, combination, smooth, merging operation) of the imported data to automatically check the legality, such as: Closed, overlapping, self-intersecting, distance between the detection of graphics, the cutting type (female cut, Yang cut), and external relations, interference relationship, automatic calculation of introducing cutting patterns, export line.
2. Process according to need, can be freely modified start position and graphics processing direction, while the system dynamically adjust the introduction of lead position, file import always automatically optimize the processing sequence, but also can be manually adjusted to reduce the processing time and improve processing efficiency select the graphic output, support anywhere in the processing of local data, particularly useful for feeding, while you can use the crop function, a graphics processing locally unique breakpoint, the process can go forward along the track, rewind, flexibility encountered each process case, according to the graphic processing, raw material size, automatic nesting
Specification
---
Model
KJG-1530 / IPG 1000w
Maximum cutting capacity
Mild steel
10mm
Stainless steel
4mm
Aluminyum
3mm
Copper
2mm
Laser Power
YLR-1000Watt
Max running speed
40/min
Work piece dimensions
1500 x 3000mm
Rapid traverse (X and Y axis)
105 m/min
Acceleration
1.2G (12m/s2)
Absolute positioning accuracy
± 0.03 mm
Max. load capacity
1550 kg
Fume extractor
1000 m3/hour
Laser Cutting Head
RayTools BM110 from Switzerland
Feed rate
Programmable up to 30 m/min.
Applied Materials
Thin mild steel, Stainless steel, Aluminum, Copper plate
Product Name
Sheet metal CNC fiber Laser cutting machine
compact laser cutting machine
,
small wood laser cutting machine
,
stainless steel laser cutting machine