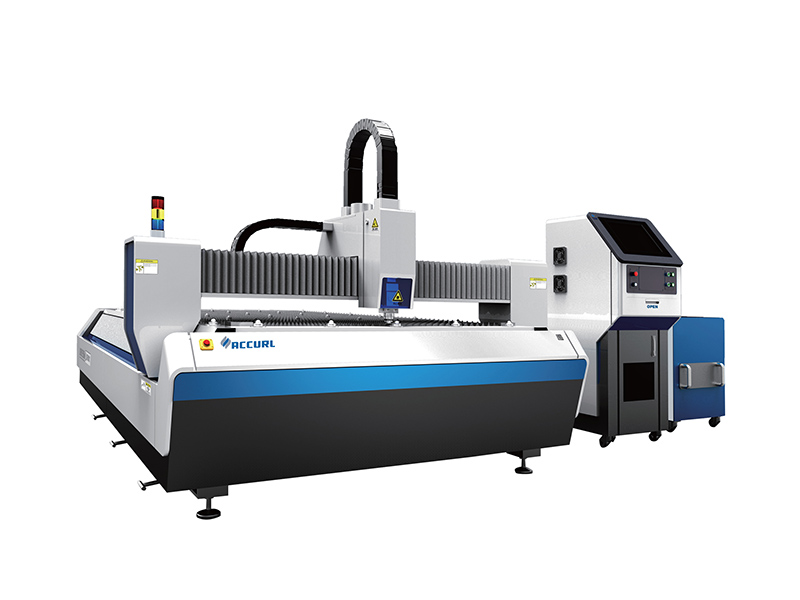 Detailed Product Description
---
| | | | |
| --- | --- | --- | --- |
| Model Number: | ECO-FIBER-1530-2KW ACCURL | Working Range: | 1500x3000mm |
| Laser Type: | USA IPG Fiber YLS-2KW | Linear Guide: | Taiwan HIWIN |
| Transmission: | Taiwan YYC Gear And Rack | Keywords: | Metal Tube Fiber Laser Cutting Machine |
Metal Tube Fiber Laser Cutting Machine 2000W Price for 8mm Stainless steel
Product Description
---
The ACCURL Fiber Lasers bring a cost effective, low-maintenance, low operating cost and environmentally
friendly solution to your organization. Our fiber laser machines provide quality cutting and tolerances with minimal productivity loss between jobs, equating to a higher return on investment.
1. Manufactured by people who use their own machines
2. Laser beam transmitted through a fiber optic cable rather than with mirrors and channel tubing resulting in negligible power loss.
3. The laser light source has a life expectancy of more than three times that of an equivalent CO2 laser.
4. Higher cutting speeds possible
5. Dual interchangeable tables allow for faster loading and unloading, reducing downtime
Fiber Laser Tube Cutting Machine Features
1. Capacity up to O.D. 152 mm
2. Cutting Lengths up to 2000mm or 3000mm (longer lengths by request)
3. Wall thickness from 0.6 - 6.0mm (Mild Steel)
4. Automatic Bundle Loading System with Material Alignment
5. Automatic Unloading System with Conveyor
6. Equipped with 1.0 kW (Standard) or 2.0 kW (Optional) Laser Resonator
7. Multi-Axis CNC Controls with Touch Screen Interface
8. SOCO CAD-CAM system for Tubes and Profiles with built-in Nesting
9. SOCO i2 ( Intelligent interface) 3D operation software
10. Cutting for round, square, rectangle and various profile shapes
STANDARD EQUIPMENT
1. 3 Axis (X, Y, Z)
2. FAGOR 8055 CNC control unit
3. Servo Motor
4. Auto - focus cutting head
5. Laser Source
6. Chiller Unit
7. Clean-dry air system
8. Safety Cabinet
9. Automatic-Dual Shuttle Table
10. CAD/CAM Software
11. Conveyor
OPTIONAL EQUIPMENT
1. Linear motor technology
2. IPG 0.5 kW, 1 kW, 2 kW, 3 kW, 4 kW and 6 kW laser source options
3. Automatic sheet loading system
4. Momentum Gen-3 G Force
5. Full Automatic sheet loading – unloading system (TOWER)
Packing & Delivery
1. Our wooden case is after fumigation treatment.Needn't timber inspection,saving shipping time.
2. All the spare parts of the machine were covered by soms softmaterials,mainly using pearl wool.
3. The outmost is wooben case with fixed formwork.
4. The botton of the wooden case has firm iron jack,covenient to hading and transport.
Detailed Images
1. Machine Parts
Name: Machine Body
Brand: ACCURL
Original: CHINA
1. the steady gantry framework provides an open worktable.
2. Synchronous X/Y/Z axes: The Z-axis can run 150mm, suitable for cutting many varieties of metal sheets.
3. High quality guarantees its durability and easier maintenance
2. Conveyor System
Name: Conveyor System
Brand: ACCURL
Original: CHINA
A special hard steel construction conveyor system, standard on our machines, is located under the workspace. The conveyor removes slag and small parts during the cutting process. The operator can choose the movement direction of the conveyor.
3. Main Features
Name: SINGLE CABLE SERVO MOTOR TECHNOLOGY
Brand: YASKAWA
Original: Japan
1.Accurl has 4 servo motors for all axial movements.These are the latest technology single cable servomotors.
2.Power and process data are transmitted in onestandard motor cable, significantly reducing costs.
3.This technology also gives more accurate positioningand more geometrically accurate parts.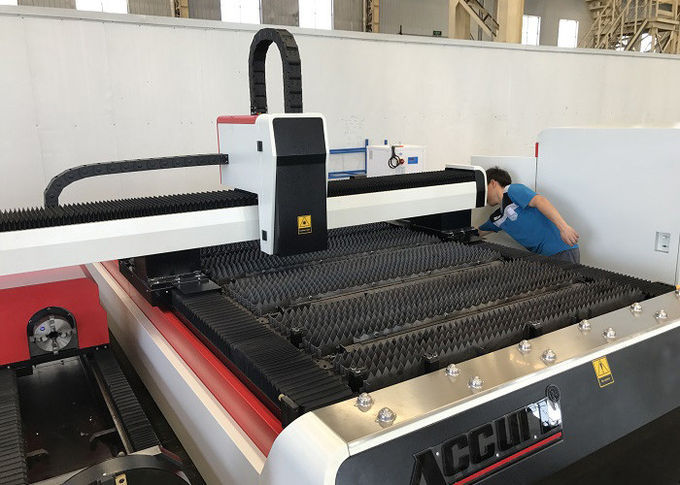 SPECIFICATIONS
Model
ECO-FIBER 3015 / 2KW
CNC Control Unit
FAGOR 8060 CNC System
X axis (Rack & Pinion)
3000 mm
Y axis (Rack & Pinion)
1500 mm
Z axis (Ball Screw)
100 mm

Maximum cutting capacity

Mild steel
16 mm
Stainless steel
8 mm
Aluminyum
6 mm
Work piece dimensions
1525 x 3050 mm
Rapid traverse (X and Y axis)
105 m/min
Acceleration
2.5G (25m/s2)
Vector speed
148 m/min
Absolute positioning accuracy
± 0.08 mm
Repeatability (X and Y axis)
± 0.03 mm
Max. load capacity
2450 kg
High Performance CNC System
FAGOR 8060 from Spain Brand
Laser power
IPG YLS-2 kW from Germany
High Performance Servo motor/drive
FAGOR from Spain Brand
Laser Cutting Head
PRECITEC from Germany
Motoreducer
STOBER from Germany
metal tube laser cutting machine