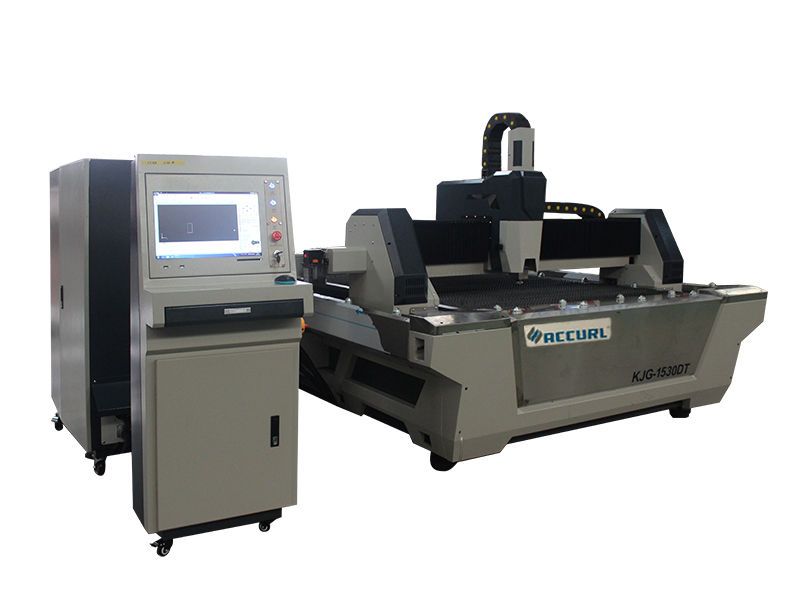 Description
---
Main component of machine--Advanced Control system Function
1 . Sheet material surface height tracking control (follow-up function);
2 . Laser power ramp control;
3 . Self-adaptive feedforward "ART" regulation technology;
4 . Rollback function;
5 . Breakpoint return function;
6 . Automatic frame-finding function;
7 . Height sensor automatic calibration function;
8 . Change to pulsing at corner cutting control function;
9 . Pause and deceleration at corner function;
10. Leader-line low start-up speed cutting function;
11. Other Functions.
Specifications
---
Laser source medium
Fiber
Cutting range(L*W)
4000 mm × 2000 mm
Z axle stroke
120 mm
Max positioning speed
120 m/min
X, Y axle Max accelerate speed
1.2 G
Cooling form
water cooling
Laser wavelength
1070nm
Output power of laser source
1500W / 2000W
2500W / 3000W / 4000W
(Optional)
Min. cutting gap
≤ 0.1 mm
Positioning accuracy of X, Y and Z axles
± 0.03 mm
Repeated positioning  accuracy of X, Y and Z axles
± 0.02 mm
Processing precision of work piece
± 0.1 mm
Kerf harshness
Ra 3.2 - 12.5 μm
Min setting unit
0.001 mm
Control System
Ahead Tech (USA)
Thickness of cutting material (according to material)
0.2-25 mm
Drive model
Imported servo motor
Power requirement
380 V, 50/60 Hz
Total installed capacity
20 - 25 KVA
Working temperature
5 - 45ºC
Continuous working time
24 Hours
Machine weight
About 8150Kgs
Outer dimension
8500mm x 3800mm x 2000mm
Total protection level of power supply
IP54
Features of Han's GS Laser Cutter
Low running and maintenance cost
Lower running cost compared with traditional CO2 laser cutting machine, the power consumption is 20%-30% of CO2 laser cutting machine.
Environmental protection, low power consumption which is just 20%-30% compared with traditional CO2 laser cutting machine.
The maintenance cost of fiber laser cutting machine is much lower since it's without reflective lenses.
Rational Structure and Easy Operation
Professional CNC laser control system with computer control which is more simple and convenient for operation.
Satisfied with flexible processing with small size and intense structure design.
Convenient operation with fiber transmission, laser route adjustment is unnecessary.
Gantry design with double drive structure, high damping machine tool with better rigidity which can stand higher speed and acceleration speed.
Adopt with alternative drive system and transmission system which are imported from abroad to ensure the high speed, high precision and high reliability.
The rack and guide is comprehensively sealed to prevent the friction without oil and dust pollution in order to make the drive system much longer service time and ensure the movement precision of the machine tool.
Stable performance with high cutting speed, precision , efficiency and protection
High speed: Capable to cut sorts of metal board with air blowed; the cutting speed can reach dozens of meters per min.
High precision: Adopt high precision drive structure with imported service motor, ±0.03mm positioning precision
High efficiency: Software with strong function, capable to design sorts of shapes, letters for cutting with easy and convenient operation.
High protection: the laser source and machine tool is comprehensively sealed to ensure the security of the operator, the whole working process can be viewed and inspected through the glass.
Laser Cutter Sample
---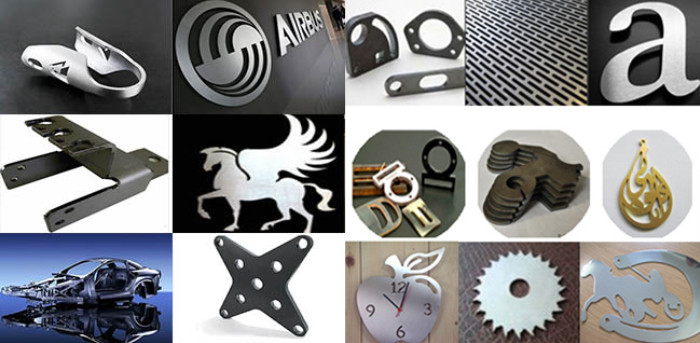 ---