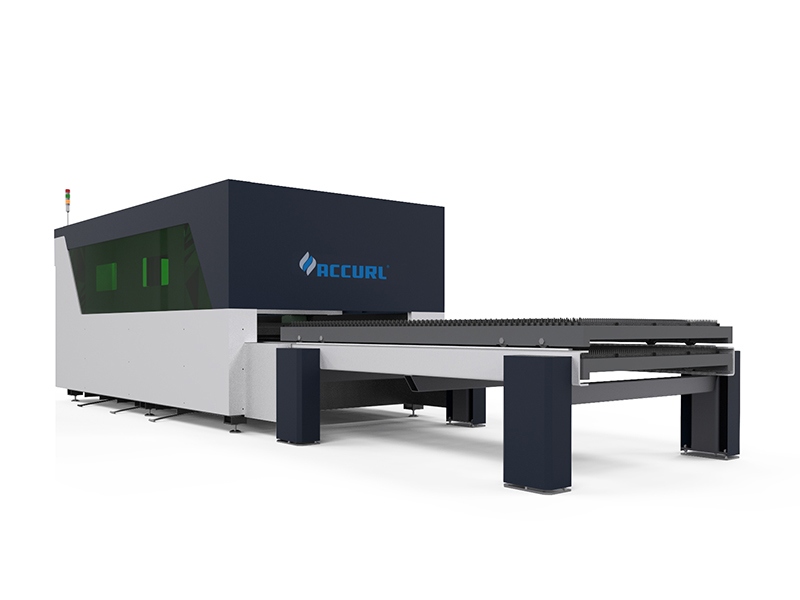 When you are watching this description, maybe you also wonder about which kind of laser cutting machine can solve your problems nicely due to there are various this kind of machines in the market. After searching online, you found fiber laser cutting machine in charge of the biggest market and growth rapidly in those year. But why like that? What is the difference between fiber laser cutting machine, YAG laser cutting machine, and CO2 laser cutting machine?Can fiber laser cutting machine meet your demands furthest? Please check below, you may have your answer:
---
1. Excellent Laser Beam Quality: Fiber laser has smaller focus diameter, high work efficiency and high cutting quality.
2. High Cutting Speed: Cutting speed is more than 24m/min, almost 2~3 times more than same laser power Co2 laser cutting machine.
3. High Stability: Using the best import fiber laser generator, and all critical components' lifetime up to 100,000 hours.
4. Save Cost: Low electric power consumption, it is only about 20%-30% of traditional CO2 laser cutting machine; Save gas, fiber laser cutting machine has unique air cutting technology, low gas consumption.
5. High Efficiency Of Photoelectric Conversion: Compare with CO2 laser cutting machine, fiber laser cutting machine have 3 times photoelectric conversion efficiency.
6. Easy Operation: Fiber line transmission, no adjustment of optical path and suitable for flexible manufacturing requirements.
7.Low Maintenance: Fiber optical transmission no need reflect lens and xenon lamps, save a lot of maintenance cost.
Processing Materials:
After watching that, we already have some cognition about the performance of fiber laser cutting machine. But we also need to know what kind of materials it can deal with. Actually it's able to cut various of sheet metals, such as: stainless steel, carbon steel, galvanized sheet, electrolytic plate, brass plate, aluminum, manganese steel, various alloy plates, rare Metal and other materials.
Application:
---
Due to fiber laser cutting machine can deal with varied materials, so it's widely used in electrical equipment, kitchen, elevator, advertising signs, auto decoration, sheet metal production, lighting hardware, display equipment, precision parts, metal products and other industries.
Once you make sure fiber laser cutting machine is what you want, it's time to introduce our machine to you.
Advantages
---
OUTPUT POWER
1500W
DRIVEN STRUCTURE
Duel-driven
CUTTING AREA (L*W)
3000*1500mm
DRIVEN MODE
Servo control
(X axis 1.8KW, Y axis 3KW)
MAX CUTTING THICKNESS
14mm CS; 6mm SS (N2)
X AXIS STROKE
3020mm
MAX CUTTING SPEED
330mm/s
Y AXIS STROKE
1520mm
POSITIONING ACCURACY
±0.03 mm
Z AXIS STROKE
150mm
RATED IDELING SPEED
80m/min
COOLING
Water chiller
RE- POSITIONING ACCURACY
±0.02 mm
AMBIENT TEMPERATURE
5ºC-45ºC
CUTTING GAP
0.1-0.3mm
BEARING WEIGHT OF TABLE
1500Kgs
CONTINIOUS WORK TIME
24H
PROTECTION LEVEL
IP54
POWER SUPPLY
AC380V±5%(50Hz/60Hz)
TOTAL GROSS WEIGHT
10Ton
TOTAL POWER
<14KW
TOTAL DEMENTION(L*W*H)
12.5*4.2*1.9m
Product Features:
---
1. Even though using either medal sheet or pipe to form machine body is more economic and consume less time, we still decide to combine those two materials only because we want make sure the machine body more sturdy and not easy to be deformed;
2. The machine body will through standard annealing process in high-temperature, to ensuring precision in long-term;
3. Abrasive blasting, this process can extend the lifetime of paint, and make it more colorful;
4. Imported original fiber laser generator with super beam quality and stable performances, laser passes through fiber without reflectors, maintenance free, service life up to 100,000 hours;
5. Imported motion parts and servo motors, which support high-speed running;