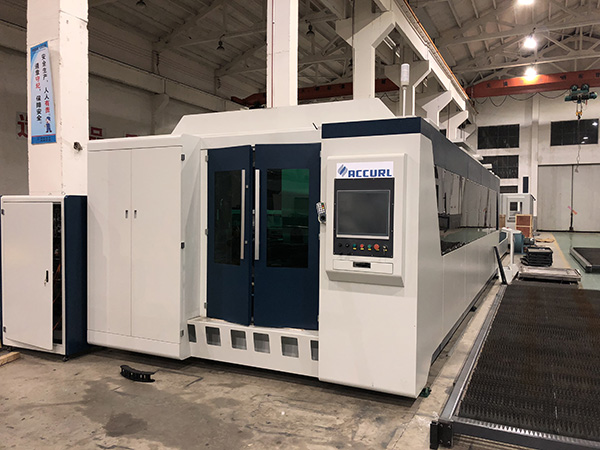 Product Description
---
The super high photo-electric conversion efficiency can be up to about 30%. So the machine runs with very low power consumption.
Assisted with laser beams of good quality, the focus spot is small, and the cutting seam is very fine.
The working efficiency is high, and the quality is good by using double-clad fiber (DCF).
The light spot enjoys good quality. And the machine distorts just slightly. Besides, work pieces have even cutting seams.
The completely enclosed light path is totally composed of fiber laser and fiber laser units.
Fiber laser and fiber laser units are combined together based on cable splicing technology. And the whole light path is enclosed in fiber laser waveguide.
No need of mirrors in laser generator. No working gas in laser generator. And no need to maintain laser generator when the machine runs.
Fiber optic transmission requires no need of reflector mirrors. The machine saves maintenance costs greatly.
The efficiency is very stable and reliable by adopting the diode pump laser module.
It's quite convenient to operate and maintain the machine. No need to adjust the light path with fiber-optic transmission system.
With the very long working life, key units can work one hundred thousand hours without maintenance.
Equipment name
Fiber laser cutting machine
Fiber laser cutting machine
Fiber laser cutting machine
Fiber laser cutting machine
Model
ACCURL40B
ACCURL50B
ACCURL100B
ACCURL200B
Laser power
400W
500W
1000W
2000W
Laser wavelength
1070nm
1070nm
1070nm
1064nm
Cutting range
3000mm ×1500mm
3000mm ×1500mm
3000mm ×1500mm
3000mm ×1500mm
Repeat positioning accuracy
0.02mm
0.02mm
0.02mm
0.02mm
Positioning
0.03mm/
0.03mm/
0.03mm/
0.03mm/
accuracy
Max.cutting
Stainless≤2mm
Stainless≤3mm
Stainless≤4mm
Stainless≤8mm
thickness
Middle steel≤3mm
Middle steel≤5mm
Middle steel≤8mm
Middle steel≤14mm
Dimension of main machine(L×W×H)
4380x2500x1970
4380x2500x1970
4380x2500x1970
4380x2500x1970
Transmission system core accessories
Rack: YYC (original imported)
Linear guide: ABBA (original imported)
Servo motor: Japanese Yaskawa
Control system
International professional metal laser cutting machine dedicated software
Laser cutting head
Original imported from America
Automatically follow focusing system
Original imported
Graphic format
DXF/DWG
supported
Aimed at
Red instructions, CNC adjustment
position
Our Services
---
QUALITY MEASURE
1). Quality assurance system
Company organizes the production as per ISO9001:2008 standard. From design control, process control, inspection control to delivery, installed and service, the whole process control. The running of quality system performs quality manual, procedure files, work instruction and related technical and management standard together with standard and regulation layout by company strictly. Quality system realizes whole screw and whole procedure control completely.
2). Quality assurance procedure for important out-source parts.
a. Mainly out-sourced parts: control system, cylinder, hydraulic components, motor, pump etc.
b. After evaluation, select qualified suppliers as business partners.
c. Purchasing according to plan, purchase contract, quality requirement, technical standard and inspection standard.
d. Receiving inspection on site either in supplier or our company with related technicians.
ECHNICAL SERVICE &. OPERATOR TRAINNING
1). Design examine
When designing and manufacturing the machines, manufacturer should be as per ISO9001 standard strictly to assure the system be performed effectively. According to contract requirement, to supply quality eligible, meet the professional design standard.
2). Operator training
During the installing and commissioning period, supplier arrange time to training buyer's operator including operation, maintenance etc. supplier should solve the buyer technical questions about operation, maintenance and technics etc. Operator trained by supplier should do his commitment independently.
INSTALLATION, SETTING &. AFTER-SALE-SERVICE
1). Installation and setting;
Manufacturer is in charge of the machines installation &. commissioning. User is request for in charge of the round tickets &.boarding &. necessary salary of the engineers.
2). After-sale-service;
Manufacturer will in charge of the technical service for the whole using life of the machine.
laser cutting machine supplier