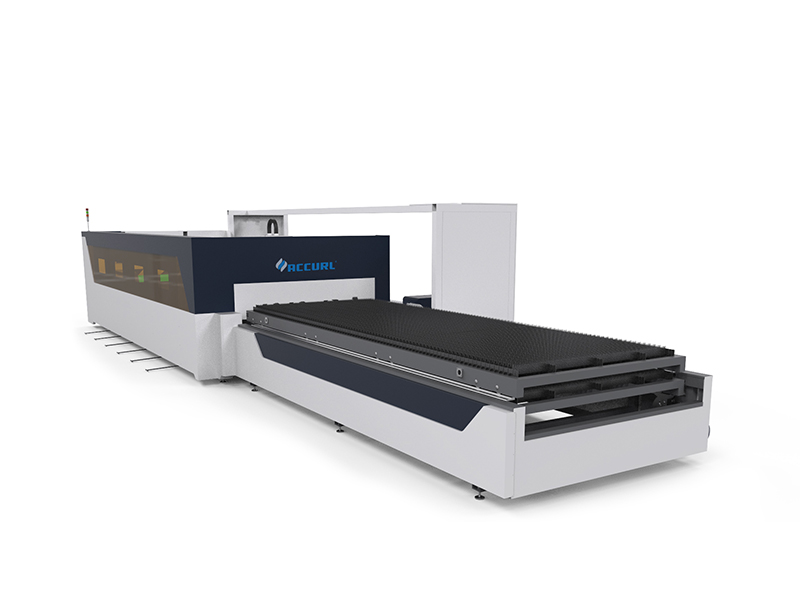 Detailed Product Description
---
| | | | |
| --- | --- | --- | --- |
| Model Number: | KJG-1530DT-1000W ACCURL | Working Range: | 1500x3000mm |
| Laser Type: | China Raycus Fiber YLS-1000w | Linear Guide: | Taiwan HIWIN |
| Chiller: | S & A For Laser Source And Cutting Head | Keywords: | 1000w Fiber Laser Tube Cutting Machine |
1000w Fiber Laser Tube Cutting Machine for Metal Sheet of Aluminum Alloys 3mm
Accurl's introduces its newest generation in tubes and profiles processing technology – the Fiber Laser Tube Cutting System. With over 30 years of experience in design and manufacturing experience in tube cutting technology, Accurl is specialized in solutions for the Tube and Pipe industries, and the new Laser Tube Cutting Line is the ultimate solution for joining multiple machining processes in one system for maximum flexibility, automation and performance.
Fiber Laser Tube Cutting Machine Features
1. Capacity up to O.D. 152 mm
2. Cutting Lengths up to 2000mm or 3000mm (longer lengths by request)
3. Wall thickness from 0.6 - 6.0mm (Mild Steel)
4. Automatic Bundle Loading System with Material Alignment
5. Automatic Unloading System with Conveyor
6. Equipped with 1.0 kW (Standard) or 2.0 kW (Optional) Laser Resonator
7. Multi-Axis CNC Controls with Touch Screen Interface
8. SOCO CAD-CAM system for Tubes and Profiles with built-in Nesting
9. SOCO i2 ( Intelligent interface) 3D operation software
10. Cutting for round, square, rectangle and various profile shapes
11. Enclosed Workstation for maximum safety
STANDARD EQUIPMENT
1. 3 Axis (X, Y, Z)
2. Safety Cabinet
3. Automatic-Dual Shuttle Table
4. CAD/CAM Software
5. Conveyor
6. Warning Lamp
7. Nozzle Set
8. Nozzle cleaning and height calibration table
OPTIONAL EQUIPMENT
1. Linear motor technology
2. IPG 0.5 kW, 1 kW, 2 kW, 3 kW, 4 kW and 6 kW laser source options
3. Extraction unit.
4. Light protection barrier
5. Pneumatic sheet support system for easy sliding
6. Air conditioner for automation panel
7. Metalix, Almacam etc. CAD/CAM software
8. Nozzle changer
Fiber Laser Tube Cutting Machine Working Processes
1. Automatic Tube Bundle Loading
2. Automatic Material Alignment
3. Automatic Feeding and Rotation
4. Fiber Laser Tube Cutting
5. Unloading
Product Features
1. High output power, 500-2000 watts is optional.
2. Can cut inclined truncation surface at the end of tubes.
3. Can cut intersection line of branch pipe, which is intersected with circular main pipe.
4. Can cut off square pipes and do 360 degree turning cutting.
5. Can cut square holes, waist type holes on tubes.
6. Can do various graphic cut on square tube, oval tube, U tube and rectangular tube etc.
Standard Euipment
1. CUTTING TABLE
The dual cutting table system is designed for in-creasing your workflow and reducing time spent on placing and removing materials. Cutting table exchange speed can be adjusted according to thickness of materials.
2. NOZZLE CLEANER
Keeping your machine cutting quickly and cleanly is important. Our nozzle cleaner helps improve the life of your nozzles so your cuts stay consistent, longer.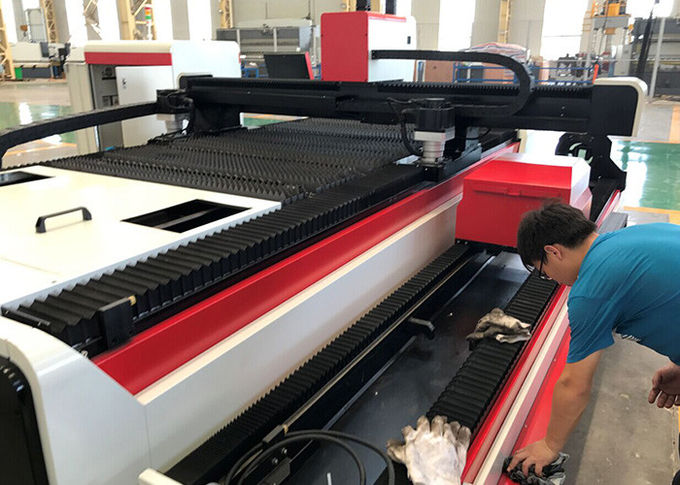 SPECIFICATIONS
Model
KJG-1530 / IPG 1000w
Maximum cutting capacity
Mild steel
10mm
Stainless steel
4mm
Aluminyum
3mm
Copper
2mm
Laser Power
YLR-1000Watt
Max running speed
40/min
Work piece dimensions
1500 x 3000mm
Rapid traverse (X and Y axis)
105 m/min
Acceleration
1.2G (12m/s2)
Absolute positioning accuracy
± 0.03 mm
Max. load capacity
1550 kg
Fume extractor
1000 m3/hour
Laser Cutting Head
RayTools BM110 from Switzerland
Feed rate
Programmable up to 30 m/min.
Applied Materials
Thin mild steel, Stainless steel, Aluminum, Copper plate
laser cutting pipe machine
,
square tube cutting machine