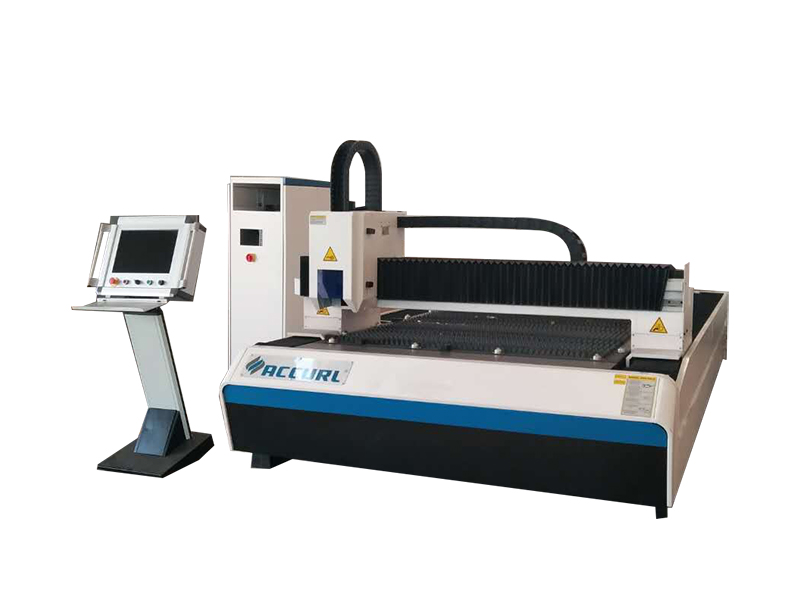 Detailed Product Description
---
| | | | |
| --- | --- | --- | --- |
| Model Number: | KJG-1530DT-700W ACCURL | Working Range: | 1500x3000mm |
| Laser Type: | USA NLIGHT Fiber YLS-700w | Reduction Gears: | French MOTOREDUCER |
| Transmission: | Taiwan YYC Gear And Rack | Keywords: | Laser Cutting Machine For Sale |
Accurl Band Laser Cutting Machine 700W for 2.5mm Aluminum Alloys for Sale
Product Introduction
Our ACCURL team now introduces its newest generation in tube and profile processing technology – the fiber laser tube cutting system. Technological innovation has brought us the Smart KJG Series. With exceptional reliability and high beam quality, our fiber laser cutting machines continue to be leaders amongst the competition.
The Accurl@ Fiber Lasers bring you a cost effective, low-maintenance, low operating cost,environmentally friendly solution to your organization. We deliver a machine that providesquality cutting and tolerances with small productivity loss between jobs, equating to higher returnon investments. Our fiber laser cutting machines are developed and sold based on these criteria.
STANDARD EQUIPMENT
• lUser friendly Cypcut Windows CAD/CAM CNC control unit.
• lUnique features:
• Very easy to operate.
• Quick and easy installation.
• Low investment and operating costs.
• The most cost-efficient solution for every requirement.
• Flexible beam path
• High output power
• High optical quality
• Up to %300 faster cutting
• High wall plug efficiency (>%30)
• Copper, brass cutting ability
• Advanced Raytools cutting head (with air cross blast).
• High performance and high accuracy rack and pinion system.
OPTIONAL EQUIPMENT
• FAGOR 8055 CNC System(Servo motor)
• Shuttle Table and Clean Room
• Table size 1500x4000mm
• Table size 2000x4000mm
• Pipe cutting system(φ220mm / 3000mm)
• Cutting Head from PRECITEC- Manual(500w-1500w)
• USA.IPG / nLIGHT / China.Raycus Fiber Laser Power(500w-2kw)
Packing & Delivery
1. Our wooden case is after fumigation treatment.Needn't timber inspection,saving shipping time.
2. All the spare parts of the machine were covered by some soft materials,mainly using pearl wool.
3. The outmost is wooden case with fixed formwork.
4. The bottom of the wooden case has firm iron jack,convenient to Handling and transport.
OPTIONAL FIBER LASER POWER
USA.IPG Fiber Laser Power
China.Raycus Fiber Laser Power
USA.nLIGHT Fiber Laser Power
Advantages :
1) Excellent beam quality: Smaller focus diameter and high work efficiency, high quality.
2) High cutting speed: Cutting speed is more than 20m/min
3) Stable running: Adopting the top world import fiber lasers, stable performance, key parts can reach 100,000 hours;
4) High efficiency for photoelectric conversion: Compare with CO2 laser cutting machine, fiber optic laser cut has three times photoelectric conversion efficiency
5) Low cost & Low main tenance: Save energy and protect environment. Photoelectric conversion rate is up to 25-30%. Low electric power consumption, it is only about 20%-30% of traditional CO2 laser cutting machine. Fiber line transmission no need reflect lens, save maintenance cost;
6) Easy operations: fiber line transmission, no adjustment of optical path;
7) Super flexible optical effects: Compact design, easy to flexible manufacturing requirements.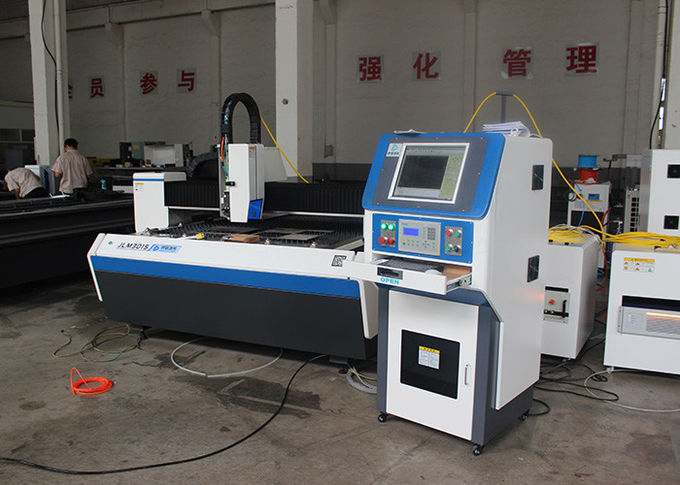 Techincal Parameter
Model
KJG-1530 / IPG 700w
Maximum cutting capacity
Mild steel
8mm
Stainless steel
3mm
Aluminyum
2.5mm
Copper
1.5mm
Laser Power
YLR-700Watt
Max running speed
40/min
Work piece dimensions
1500 x 3000mm
Rapid traverse (X and Y axis)
105 m/min
Acceleration
1.2G (12m/s2)
Absolute positioning accuracy
± 0.03 mm
Max. load capacity
1550 kg
Fume extractor
1000 m3/hour
Laser Cutting Head
RayTools BM110 from Switzerland
Feed rate
Programmable up to 30 m/min.
Applied Materials
Thin mild steel, Stainless steel, Aluminum, Copper plate
compact laser cutting machine