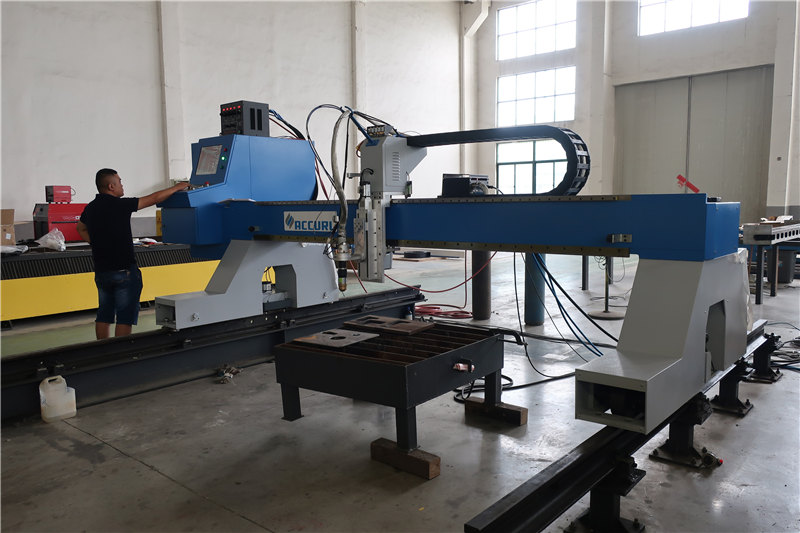 Features of the gantry cutting machine for palte and pipe :
The gantry CNC plasma and flame cutting machine for plate and pipecan cut metal plate and pipe in one machine ,it is characterized of high automation and efficiency,easy operation and long service time.
This CNC plasma and flame cutting machine is gantry structure with double-driven system, working size can be customized upon requirement.It can be used for cutting carbon steel, stainless steel and non-ferrous metal in any 2 d graphics,this is widely used in metal cutting fields.
Advantage of gantry cutting machine :
1.Have own workshop
We produce the machine frame , torch movement, rail groove other small parts all by ourselves. That will be more reliable and cheap .While others are purchasing this and assembling .
For delivery time and quality can control by ourselves , with enough guarantee .
2.Machine structure
For gantry cutting machine , most important is machine frame ,it effect the using life and cutting precision .
All steel frame is 8mm thickness , the front apron is 20mm , they are disposable by large CNC milling machine . So that can make sure the working stable and cutting precision ,can extend its life .While others using rectangular pipe , will easily go deform .
3.Hollow design
It can take away the heat when cutting ,also can decrease the power from different directions . Adopt this design can increase the intensity , to avoid deform, extend its life.
4.Bilateral rack and pinion transmission without engagement gap
This can make the machine running smoothly when the ground base deformed. It had experienced by our customers and feedback good .we use steel wire rope,it is hard broken and easy to buy in your local, while others use slider,it is easily go broken , only to buy from manufactures ,delay production
5.The torch movement is equipped with eccentric wheel
Tthis configuration with low failure rate,easy to detect. Can realize the user's own adjustment if the mobile body tilt after the long time use.
Machine parameter of gantry cutting machine for plate and pipe

Cutting Area
(2500- 7500mm) by (4000mm-20000mm) or customized
Pipe Diameter
50-600mm ,length 5m/10m/15m
Input Power
220 ± 10%V AC 50Hz /60 Hz
For Servo Motors: 750 W
Cutting Modes
Plasma Cutting / Flame Cutting / Plasma Cutting+ Flame Cutting
Transmission Style
Rack & Gear
Drive Style
Servo Motors Double Sides Drive
Step Motors Double Sides Drive
Torch Lift Distance
200 MM
Torch & Number
One Plasma Torch / One Flame Torch /
One Plasma Torch + One Flame Torch
Two Flame Torches/One Plasma Torch+One Flame Torch
Plasma Cutting Thickness
Depend On Plasma source
Flame Cutting Thickness
Piercing Cutting: 5-80 mm
Edge Start: 5-150 mm
Torch height control
Plasma Automatic Torch Height Control /
Flame Capacitance Torch Height Control
Cutting Speed
For Servo Motors: 0-10000 mm / min
For Step Motors: 0-4000 mm / min
Cutting Table
(We can supply drawing of the cutting table with the machine for free.)
Positioning Accuracy
≤±0.2 mm /m
Repeatability
≤±0.3 mm /m
Why choose us?
1. We specialized in the production and sales of CNC cutting machine,plate cutting machine , pipe cutting beveling machine , h beam cutting machine ect .
2. We have a professional sales and service team , can provide the installation and training
3.Our products, quality guarantee,CE certificate, they are exported to more than 40 countries around the world, Such as Hungary ,Poland ,Spain ,India ,Belgium. French. Indonesia. Korean. Australia . Romania. Russia. Iraq and so on.
4.For machine frame all made by ourselves , quality and delivery time have enough guarantee .
FAQ
1. Are you factory or foreign trade company?
We are factory ,do both domestic and froeign market
2. What shall we do if don't know how to operate your machine after bought from you?
We have detailed installation and operating instructions attached, also comes with video, it is very simple. We have telephone and email support at 24 hours a day.
If you need our engineer go to your factory installation and training , that all no problems
3. What's the quality of your products?
For the machine frame all made by ourself , quality and delivery time have enough guarantee . Also our products passed CE certification, exported to lots countries around the world, such as Russia, Iraq, Belgium, Kazakhstan, Korea, etc. You can rest assured with the quality absolutely.
4. What to do if the machine has a problem?
24 hours timely response of mail and phone calls. If the parts broken belong to non-artificial factors within 12 months, we offer free replacement. If beyond 12 months, customers should bear the freight back and forth and accessories cost.
5. What other things also need after we bought your machines?
(1) With flame cutting: you just need to access to oxygen and fuel gas. (2) With plasma cutting: need plasma power source and air compressor. You can match plasma power supply by yourself, or buy together with the cutter from us, it's optional. If you buy from us, we will connect the wires of plasma power source and CNC cutting machine together, then more conveniently to use.
6. What's the leading time after payment?
The leading time is according to your ordered products and quantity.Gantry cutting machine need 15 days ;pipe cutting machine need 30 days ;h beam cutting machine need 60 days .It should be confirmed by the communication with our sales staff.
7. What are your payment terms?
We support T/T, L/C, Western Union and so on. Other ways can also be received after we both sides discussion and agreement
cnc flame plasma cutting machine
,
gantry plasma cutting machine