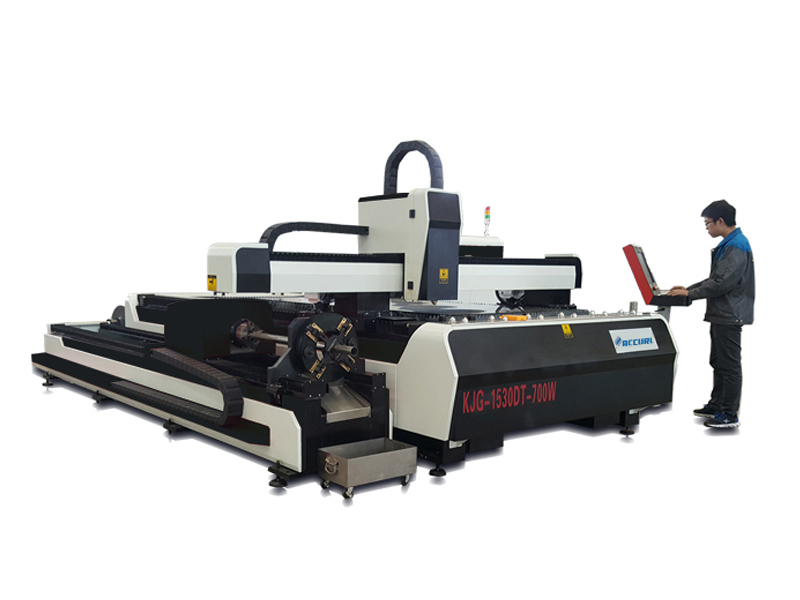 Technology parameter
---
| | | |
| --- | --- | --- |
| aser wavelength | 1080mm | 1080mm |
| lasing midium | YVO4 | YVO4 |
| min line width | <0.15mm | <0.15mm |
| drive | dual drive | dual drive |
| max travel speed | 60m/min | 60m/min |
| max working area | 3000*1500mm | 3000*1500mm |
| Z axis | 120mm | 120mm |
| carbon steel cutting thickness | 6mm | 8mm |
| voltage | 380V/50HZ | 380V/50HZ |
Fiber laser machine collocates with the advanced laser generator which emits laser beam with high energy density. The laser beam is focused on the surface of workpiece as an ultrafine focus facula and causes the irradiated area instantly melted and vaporized. The CNC system automatically controls the laser cutter to achieve the cutting mission.
The laser equipment is constituted with the advanced laser technology, CNC technology and mechanical technology. It's applicable to processing metal sheets such as stainless steel, carbon steel, copper, aluminum and metal pipes. It has been widely used in plate processing, machinery manufacturing, and precision processing, etc.
---
1) Excellent beam quality: Smaller focus diameter and high work efficiency, high quality.
2) High cutting speed: Cutting speed is more than 45m/min
3) Stable running: Adopting the top world import fiber lasers, stable performance, key parts can reach 100,000 hours;
4) High efficiency for photoelectric conversion: Compare with CO2 laser cutting machine, fiber laser cutting machine has three times photoelectric conversion efficiency
5) Low cost & Low maintenance: Save energy and protect environment. Photoelectric conversion rate is up to 25-30%. Low electric power consumption, it is only about 20%-30% of traditional CO2 laser cutting machine. Fiber line transmission no need reflect lens, save maintenance cost;
6) Easy operations: fiber line transmission, no adjustment of optical path;
7) Super flexible optical effects: Compact design, easy to flexible manufacturing requirements
8)Dual drive:different the traditional one drive machine,dual drive power is more large,speed is more fast and high procession
Applied materials of Fiber Laser Cutting Machine:
Mainly used for cutting carbon steel, silicon steel, stainless steel, aluminum alloy, titanium alloy, galvanized steel sheet, pickling board, aluminum zinc plate, copper and many kinds of metal materials cutting and so on.
Applied Industries of Fiber Laser Cutting Machine:
Applied in sheet metal processing, aviation, spaceflight, electronics, electrical appliances, subway parts, automobile, machinery, precision components, ships, metallurgical equipment, elevator, household appliances, gifts and crafts, tool processing, adornment, advertising, metal foreign processing various manufacturing processing industries.
---
| | |
| --- | --- |
| Laser Power | 500W/800W/1000W/2000W |
| Laser Source | MAX/IPG/Rayco/SPI(It's option) |
| Laser Type | Fiber Laser |
| Laser Technology | Germany Technology |
| XYZ Working area | 1500*3000 mm*130mm |
| Max. Cutting Thickness (Carbon Steel) | 6 -8mm |
| Max. Cutting Speed | 0-45 Meters / Min (up to materials) |
| Laser wavelength | 1080nm |
| Minimum line width | ≤0.15mm |
| Location precision | ≤±0.05mm |
| Re-location precision | ±0.02mm |
| Max. moving speed | 60m/min |
| Supporting Format | PLT, DXF, BMP, AI |
| Power demand | 380V/50Hz |
| Cooling Way | Water Cooling |
| Worktable max. load | 1000KGS |
| Transmission Method | Ball Screw Transmission |
| Table-driven system | Japanese Imported Panasonic Servo Motor & Driving System |
| Focus Method | Following and Automatic Adjust Focus |
| Control Method | Offline Movement Control |
| Control software | Cypcut  Laser Cutting Software |
compact laser cutting machine
,
fiber laser cutting machine manufacturers