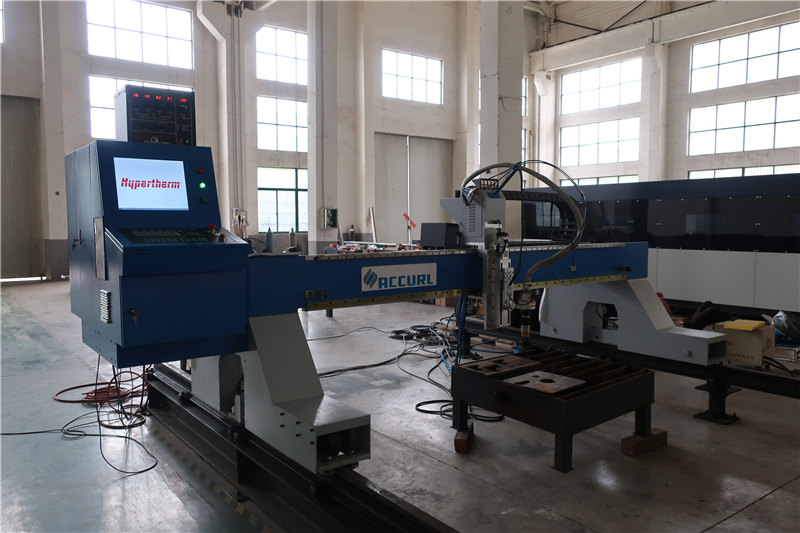 Product Description
---
CNC series of gantry type drilling and cutting machine is a newly developed product by ACCURL. It combines the advantage of drilling and cutting together. Due to the CNC plasma and flame cutting machine does not perform well in cutting holes in small dimension, especially in situation the diameter of the hole is smaller than plate thickness. In such case, we introduce a CNC drilling unit to finish the holes instead of the plasma or flame cutting. Plasma marking and zinc powder marking are available on the machine as well to mark the cutting path, drilling position and welding path before practical application. CNC drilling and cutting machine is very practical, economic and efficient in metal sheet processing, especially for the required parts with small holes.
1. Easy and quick operation
Pioneering field adjustable cutting torch height control, over the cutting torch raised control body design has all the necessary movement and control keys, to mobile operators in the cutting torch counterpoint is very convenient. Humanized design, more efficient operation.
2. Professional design, beautiful and atmosphere, more durable
All keys, all adopt the top design of crystal buttons, relative to other enterprises film button, button always ensure that clear bright, never wear. At the same time, the host body all adopt the technique of the lacquer that bake, colour is beautiful and durable.
3. Simple and straightforward way of graphics programming
Complex graphics CAD design is used in the office, the U disk into the cutting machine, simple graphics can also be on the cutting machine using a very simple and straightforward way programming input directly, such as "straight line, the fourth quadrant, X40, Y30". This way of programming, ordinary operators are very easy to learn.
4. A fool type operating mode
Screen below a reminder of various operating methods, the operator can do not need training, does not need to look at the instructions.
♦ Drilling and cutting the work piece automatically after programming, dispense further positioning the holes on work piece, high precision on drilling finish.
♦ Gapless gearing transmit, stable and smooth running in high speed, smart, fine surface finish quality.
♦ Integrated auto-ignition with automatic height controller, keep the height between the ACCURLand work piece, achieve the best cutting quality.
♦ Able to process multi-torch mirror image cutting or synchronism cutting, improve cutting efficiency.
♦ Low use cost, dispense with special maintenance, friendly operator inteface, easy to learn.
♦ Utility CNC system, reliable and safe, automatic programming, optimization nestling and piercing patch, save the steel effectively.
Quick Details
---
Condition: New
Place of Origin: China (Mainland)
Model Number: cnc
Voltage: 50hz 220v\380
Rated Power: 8.5kw
Dimension(L*W*H): 5.2m*1.5m*1.4m
Weight: 1200kg
Certification: CE ISO
Warranty: 1 Year
After-sales Service Provided: Engineers available to service machinery overseas
Machine dimension (mm): Maximum 12 meter in width and not limited in length
Suggested cutting thickness (mm): Stainless steel:1-50mm and Carbon steel:6-160mm
Drilling capacity (mm): Maximum 140mm in depth and 35mm in diameter
Drilling power: 8Kw (25hp) 1Kw=1.36PS=1.34HP
Drilling feed: 10m/min (400ipm)
Drilling torque: 200 N.M. (150 ft-lb)
Borehole pressure: 11000 N (2500 lbf)
Cutting Speed (mm/min): 50-9000
Running speed (mm/min): 12000
Technical Specification

Model
CNC
Machine dimension (mm)
Maximum 12 meter in width and not limited in length
Effective processing area (mm)
1 meter less in width and 2 meter less in length than machine size
Suggested cutting thickness (mm)
Stainless steel:1-50mm and Carbon steel:6-160mm
Drilling capacity (mm)
Maximum 140mm in depth and 35mm in diameter
Drilling power
8Kw (25hp) 1Kw=1.36PS=1.34HP
Drilling feed
10m/min (400ipm)
Drilling torque
200 N.M. (150 ft-lb)
Borehole pressure
11000 N (2500 lbf)
Cutting Speed (mm/min)
50-9000
Running speed (mm/min)
12000
Basic components
Cutting Mode
Oxy-fuel/ Plasma/ High definition plasma/ Laser
Drive mode
Servo motor, Dual-side
Guide track
Straight ball-guide
Cutting Torch Number
Customer specified
Driving Motor
Panasonic from Japan
NC Controller
Micro EDGE pro, Shanghai KP, SJTU-SK
Plasma Power
Victory (Thermadyne), Kjellberg, Hypertherm, JIAXIN LGK
Programming software
FASTCAM
Gearbox
SEW or Neugart from Germany
Other Data
Working temperature
- 10°C -45°C
Humidity
<90%, no condensation
Surroundings
Ventilation, vibrationless
Power voltage
3×380V±10% 50Hz/ according to user's local condition
Operation language
Multilingual and English available
Options
Powder marking
available
Under water cutting
available
Beveling torch
available
Strip cutting torch
available
Heating and cooling system
available
Integration dust extraction
available
Thin plate processing device
available
cnc plasma cutting and drilling machine
,
gantry plasma cutting machine
,
small cnc plasma cutting machine