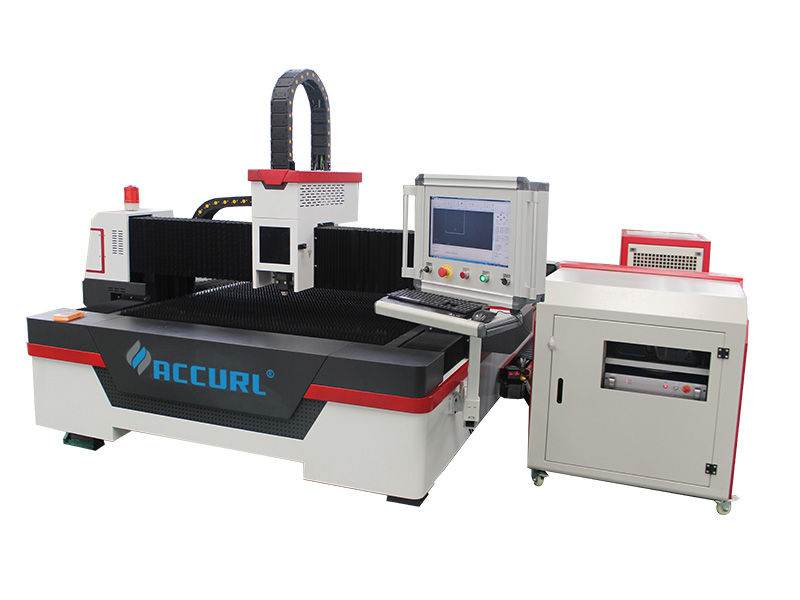 Tube Laser Cutting Machine P2060A Main Features
---
tube laser cutting machine P2060A adopts most sophisticated fiber laser N-light / IPG, combining self-design Gantry CNC machine and high strength welding body. After high temperature annealing and precision machining by large CNC milling machine, it has good rigidity and stability with imported high precision and high speed, linear guide drive,high-speed servo motor.Aluminum beam, advanced heat treatment process, high strength, light weight, good rigidity. It is mainly for cutting tube under 20mm metalin high speed and high precision. Fiber laser has a series of advantages, such as high beam quality, high brightness, high conversion rates, maintenance-free, stable and reliable operation of low cost and small size, etc. Air-assisted cutting is the most advanced level of laser cutting, which is particularly suitable for stainless steel,carbon steel,alloy,brass,copper, titanium and other metal materials precision cutting. It is widely used in metal products,bicycle, metal furniture,fitness equipment,sports equipment,farm machinery,display shelf,fire control.
Quick Details
---
Application: Laser Cutting
Condition: New
Laser Type: Fiber Laser
Applicable Material: Metal, stainless steel,carbon steel,mild steel,aluminum,copper,brass,iron
Cutting Thickness: 0-20mm metal
Cutting Area: tube length 6m,8m; tube diameter 20-300mm
Cutting Speed: 72m/min
CNC or Not: Yes
Cooling Mode: Water Cooling
Control Software: Cypcut / Germany PA HI8000
Graphic Format Supported: AI, BMP, DST, DWG, DXF, DXP, LAS, PLT
Model Number: P2060A laser cutting machine for metal pipe
Certification: CCC, CE, GS, ISO, SGS, UL
After-sales Service Provided: Engineers available to service machinery overseas
Laser source: N-light / IPG
Laser power: 1000W /1200w/ 2000W / 3000W
Laser head: Raytools laser cutting head
Working table: fixed working table
Position accuracy: ±0.03mm
Repeat position accuracy: ±0.01mm
Maximum position speed: 70m/min
Acceleration: 1g
Electric power supply: AC380V 50/60Hz
Keyword: tube laser cutting machine
Machine Technical Parameters
---
Pipe Automatic Bundle Loader features
1.Automatic bundle loader for option which saves labor and loading time, achieve mass production purpose
2.Round pipe, rectangular pipe and other pipes can be fully automated loading, without human intervention.
3.Other shapes pipe can be semi-automatic feeding artificially.
4.Max Loading Bundle 800*800mm
5.Max Loading Bundle Weight 2500kg
6.The tape support frame for easy removal
7.Bundles of tubes lifting automatically
8.Automatic separation and automatic alignment
9.Robotic arm stuffing and feeding accurately
Automatic collecting device:
1.Automatic elevating support, receive tube and scrap into the basket
2.Visual scale support can adjust support diameter quickly according to pipe diameter
3.Visual scale adjustable support lifting device saves feeding time, ensures concentricity, prevents pipe swinging
Automatic collecting Device
Large stroke two together on the dynamic air chuck:
1.Chuck by changing the gas path, the usual four-jaw chuck linkage, optimization Cheng stroke power chuck double acting.
2.Cutting different diameters, the shape of the pipe in the travel range (bilateral stroke 80mm),no need to adjust the jaw easy setup and centered.
3.easy switching of different diameters, a substantial saving setup time.
Lift adjustable support system:
The cutting of pipes of different diameters, by adjustable support system to quickly and accurately find concentricity pipe and claw, to achieve rapid feeding, care feeding purposes, saving setup time cut-out.You can assist chuck support, reducing the swing pipe.
Integration bed:
1.As a whole plate welded bed, the whole length of 8 meters.
2.Integration bed can better ensure concentricity of equipment, vertical, precision installation fast and efficient.
3.The whole structure is compact precision.
3D user interface:
1.Intuitive interface, better compatibility with Solidworks, Pro / e, UG software, convenient and easy to operate.
2.radical departure from the traditional CNC operating software code programming style complex method of operation.
3.Reduce the operator's requirements.
Online diagnostic function:
CypTube have received servo feedback function cutting head, laser and other components, is available online diagnose the failure point device.
Laser Cutting Machine Live-action In The Fire Control Industry
---
The Fiber Laser brings a cost effective, low-maintenance, low operating cost and environ-mentally friendly solutions to your organization. Our laser machines provide quality cutting and tolerances with minimal productivity loss between jobs, equating to a higher return on investment. Our fiber laser cutting machines are developed and sold based on these criteria below:
• Manufactured by people who use their own machines.
• The resonator comes with a 100,000 hour (more than 5 years) warranty from the manufacturer (N-light),which also supports cutting high reflective metal materials.
• Higher cutting speeds possible,and high effective cutting ability
• Dual interchangeable tables allow for faster loading and unloading,automatic feeding and collecting device reducing production time.
• Reduction in cutting variables or tribal knowledge
• Fiber Laser is extremely efficient, equates to very low power consumption
• Low cost of operation, energy cost reduced, no laser gases requied to produce beam
• High cutting flexibility (Steel, Stainless Steel, Brass, Copper, Titanium, Aluminum,Carbon steel,Galvanized steel,Alloy steel)
• Laser beam transmitted through a fiber optic.cable rather than with mirrors and channel tubing resulting in negligible power loss.
Laser Cutting Machine Better Performance, More Rigid and Durable Construction
A. Top quality components
B. Integrated circuit (professional circuit board)
C. Rigid machine tool and mass loading working
Laser Cutting Machine High Efficiently
A. Travelling speed increases utmost
B. Cutting software functions improved
C. Nesting software optimized cutting patch (can directly read CAD)
Laser Cutting Machine More Safe and Save Labor
A. Machine structure and electric circuit design and assembly conform with CE and FDA
B. Assistant loading system and wireless remote control handle
C. Lubrication system
Laser Cutting Machine More Optimized Technique
A. Different laser cutting heads and optimized nozzle
B. Three gas source and dual-pressure gas route
C. Strong software support
Laser Cutting Machine Higher Precision
A. Fully closed loop controlling system
B. Cutting compensation
C. Top accuracy testing device
laser cutting pipe machine