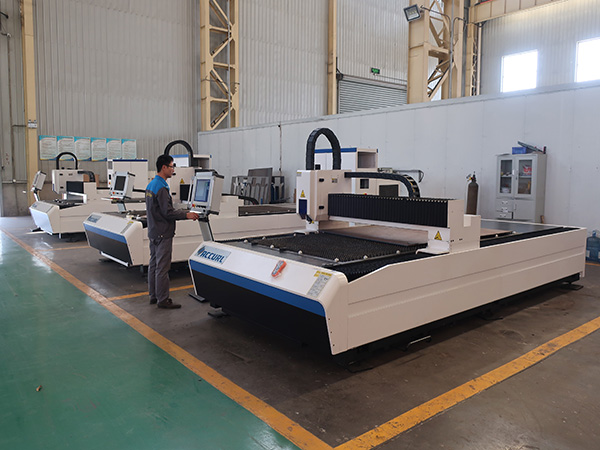 Product Application
---
Laser cutting is ideally suited for making complex shapes because it is not limited by part geometry. Because the laser cutting tool does not rely on touching the part, it can be oriented to make any shape or form. Because the laser beam does not have any physical presence, it makes no contact with the material. It does not push, drag, or impart force that might bend a part or cause flex that would have a negative impact on process control. Fiber lasers also offers minimal thermal input, with fine control over how hot the work area gets. This is important because small parts heat up quickly and might otherwise overheat or deform. Fiber lasers are highly focusable to about 15 microns, which is about 1/6th of the width of a strand of human hair. This makes it feasible to remove the minimum amount of material to make the cut, resulting in extremely high precision and accuracy.
SPECIFICATIONS FOR 1000W  FIBER LASER CUTTING MACHINE

Engine model

IPG

Type

Output Power

1000W

Working table

Size(L*W)

3000mm*1500mm

X,Y axis working speed (max)

80m/min(Depend on material)

X,Y axis accuracy

Working(±0.03mm/m)

Repeated(±0.02mm)

Cutting material

Stainless steel, carbon steel, manganese, nickel and other metal plate.

Coolant

Water coolant

Distilled water

Power

380V/50HZ

Customized
Main Features
---
1) Relatively low cost.
2) Exceptional beam quality for excellent cut quality.
3) Small narrow kerf width (0.002") provides high cut resolution.
4) High focused power density maximizes cutting speeds.
5) 50,000 to 100,000 hours of maintenance free operation.
6) Electrical power to laser conversion efficiency-30%.
Machine Parts
Name: Laser engine
Brand: IPG
Original: Imported
IPG Photonics is the leading developer and manufacturer of high-performance fiber lasers and amplifiers for diverse applications in numerous markets.
Main Parts
Name: Cutting head
Brand: Raytools
Original: Switzerland
Advanced optical configuration and smooth effective airflow design. Knob type focus regulation, accurate and flexible. 20mm range and 0.05mm accuracy. Both collimating mirror and focusing lenses are equipped with cool down system, bearing power up to 4kw.
Machine Parts
Name: Water coolant
Brand: Tongfei
Original: Domestic
Equipped with domestic top brand laser cool down machine, stable and accurate. Two control lines can control different temperature of laser machine and cutting head to keep the stable of laser machine and cutting head. Functions including water pressure alert, temperature alert, voltage alert and other faults alert.
Sample products
Application industry: sheet metal, rail transit, ship, auto, engineering machine, agriculture machine, elevator, household appliances, grain machinery, fabric machine, tools machining, petroleum machine, food machine, kitchenware, bathroom, advertisement and other service for machine tools industry.
Cutting material: high carbon steel, low carbon steel, stainless steel, aluminium alloy, copper, pickling board, galvanized steel, silicon steel plate, electrolytic plate, titanium alloy, manganese alloy, nickel plate and other metal materials.
FAQ
---
Q: Is your company a real manufacturer?
A: Our company is a professional manufacture specialized in making laser cutting machine, press brake, shearing machine and rolling machine. We welcome you to visit our factory at any time.
Q: How about your product quality? Do you have warranty?
A: 1) Our quality is used for professional buyers. With 15 years of experience in producing and exporting machine tools, we have independent research and development department. Not only the quality of all products can be ensured, but also all the devices are customized.
2) All our machines have one year warranty while laser cutting machine has two years. We offer free fix and replace service during warranty time.
Q: Is the price negotiable?
A: Yes, the price is negotiable. The price we give is based on the cost and it is quite reasonable. Normally price depends on your quantity and quality demand.
Q: What is your delivery time?
A: It depends on your order item and quantity, 25-35 working days accordingly.
laser cutting machine products