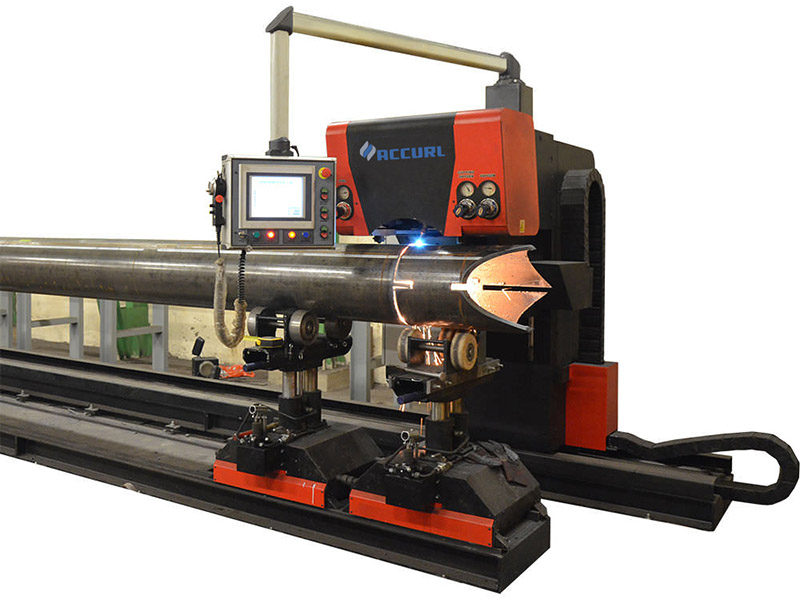 Product Description
---
Product Application
Sheet metal cutting area: 3015(3mx1.5m), 4015(4mx1.5m), 4020(4mx2m), 6015(6mx1.5m)
Metal tubes cutting width: round pipe diameter 25mm-150mm
square pipe 25mm×25mm -100mm×100mm
Metal tubes cutting length: 4000mm/6000mm
Laser output power: 500 / 700 / 750 / 1000 / 1500W
                                                                                      Technical Parameters      

Model

ACCURL3015IEAT-500

ACCURL3015IEAT-700

ACCURL3015IEAT-700

Power

1000W

1500W

2000W

Cutting area

3000mmx1500mm

3000mmx1500mm

3000mmx1500mm

round pipe diameter

25mm-150mm

square pipe 25mm×25mm -100mm×100mm

round pipe diameter

25mm-150mm

square pipe 25mm×25mm -100mm×100mm

round pipe diameter

25mm-150mm

square pipe 25mm×25mm -100mm×100mm

Cutting thickness

sheet 0.2-12mm
tubes 2mm

sheet 0.2-16mm
tubes 3mm

sheet 0.2-18mm
tubes 3mm

Cutting speed

0-30m/min

0-45m/min

0-35m/min

Cooling way

Water cooling

Water cooling

Water cooling

Power supply

380V/50HZ

380V/50HZ

380V/50HZ
ACCURL series laser cutting advantages
---
1. The novel appearance
Stable machine tool structure, modern appearance and function fused together made it beautiful and practical.
2. The good layout
Adopts integrative structure, reduce coverage, and exposed circuit, convenient to troubleshoot, make working environment clean and tidy.
3. Elaborate clamp device
Equipped with sophisticated clamp and lifter device.
4. Reasonable laser protection
Unique laser environmental control system, make the fiber laser is always under a safe working environment.
5. Automatic compensation
Equipped with environment temperature automatic compensation device, decease the influence of thermal deformation of machine tool, to ensure the high precision and stability cutting.
6. Flexible configuration
Optional pipe cutting function (4 m, 6 m).
Configurations
---
The world toped IPG fiber laser source and laser power supply
HE's fiber laser cutting machine adopts the world-toped IPG laser source, service life of vital components up to 100,000 hours.
Red light indicating system
The red light collimator is used to help the operator to calibrate working point in the whole metal sheet.
German fiber laser cutting head
German technology cutting head, wih capacitor non-contact automatic tracking system adjust the best focal length to ensure the best cutting effect, quality and cutting lines even the material surface is not smooth; lowest 0.2mm high-speed capacitive sensing cutting space improve cutting performance and reduce gas consumption.
Control system
Laser cutting machine adopts high efficient HE numerical control software. Which with powerful function, strong compatibility for NC document, DXF, PLT, Al and other mapping software formats, can draw any flat graphics on computer, produce any products without molding, saving time and costs.
Machine tool system
The machine adopts gantry structure, the compact structure, small coverage, easy operation and maintenance can meet the 24-hour production needs.
Cooling system
Low-power water chiller is just needed to meet the working requirements, achieves lower energy consumption.
Exhaust Fan
The centrifugal blower remove the dust to maintain a good working environment and reduce the harm to personnel safety and equipment.
Rotary Clamp
Rotary clamp can hold round pipe and square pipe, with thickness 3mm, length 6000mm. The clamp can feed automatically with stable long-time feeder work.
Cutting Samples
---

Quick Details
---
Condition: New
Place of Origin: Anhui, China (Mainland)
Brand Name: ACCURL
Voltage: 380V
Rated Power: 5.5kw
Dimension(L*W*H): 3880*2150*2000mm
Weight: 4000kg, 6000kg
Certification: CE ISO SGS FDA
Warranty: 1 Year
After-sales Service Provided:Engineers available to service machinery overseas
Application: sheet metal and metal tubes cutting
Laser Wavelength: 1070nm
Laser Medium: diode-pumped continuous yb-doped fiber
Driving System: Imported servo motor
Power Requirement: 380V/50HZ
Cutting Range Of Round Tubes: round tube: diameter 150mm, thickness 3mm, length 6m
Cutting Range Of Square Tubes: square tube: 100mm*100mm, thickness 3mm, length 6m
Continuous Working Time: 24 hours
Cutting Thickness: 0.2-8mm (depends on material)
---
cnc pipe cutting machine
,
compact laser cutting machine
,
laser cutting pipe machine
,
square tube cutting machine