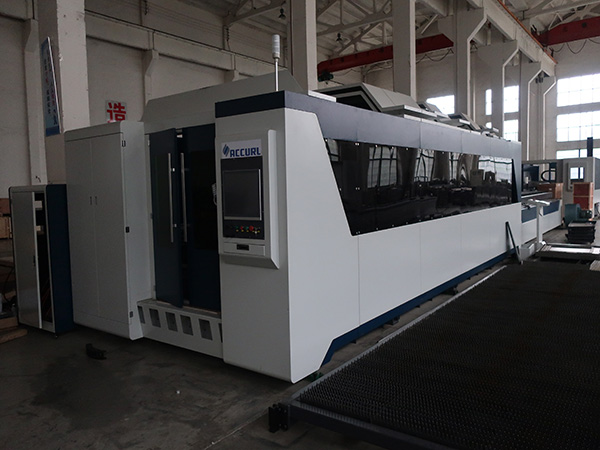 ---
| | | | |
| --- | --- | --- | --- |
| No | Main Parts | Specifications | Note |
| 1 | Laser power | Water cooled laser power, standard with Raycus 750w power source | Wuhan Raycus or Max from Shenzhen or IPG From USA can optional |
| 2 | Cutting head | BT210 | Raytools China |
| 3 | Chiller | Dual-temperature dual-controlled chiller | S&A China |
| 4 | Body structure | Industrialize welded machine structure, annealing treatment, one time made by CNC gantry machining center molding | SIWEI |
| 5 | Transmitting rack | High-precision grinding helical rack | JINGANG |
| 6 | Reducer | SHIMPO | JAPAN |
| 7 | Linear rail | LAPPING high grade linear rail | Taiwan |
| 8 | Servo | Delta | Taiwan |
| 9 | Low-voltage electrical parts | Delta | Taiwan |
| 10 | Cable | High flexible towline dedicated shielded cable | GERMANY, ECHU |
| 11 | Control system | Laser cutting software | CYPCUT/NC STUDIO(OPTIONAL) |
---
| | |
| --- | --- |
| Power | 700-750W |
| Laser wavelength | 1080nm |
| Operating temperature | 10~40℃ |
| Working humidity | <70% |
| Minimum seam width | 0.1mm |
| Working size | 1300*2500mm |
| Repeat precision | ±0.03mm |
| Running speed | 80m/min(according to different thickness of material) |
| Occupied size | 3400*4300mm |
| Voltage | 3P 380V/50HZ 32A |
---
4.1 Machine body structure
Using high-quality high-strength steel and welded steel frame structure, the high temperature annealing tempering process, to ensure long-term stability of the machine tool accuracy. All the linear rails and the mounting surface of the rack are machined by a large CNC gantry machining center, which ensure the installation precision and makes the machine have excellent shock resistance, high rigidity and stability in high-speed operation.
4.2 Transmitting parts
Domestic exclusive use of Taiwan LAPPING high-precision level, the width of the linear guide, supporting grinding helical driver, with the Taiwan Delta servo system, comparing with other equipment, our machine have fast speed, higher processing accuracy and longer service life.
4.3 Control& follow system
Using advanced professional fiber laser CNC system, with high-precision servo controller, user-friendly, easy to learn, with path optimization algorithm to ensure that in all cases can be perfect cutting. Compatible with a variety of file formats, easy to operate. The control system has the following
4.4 Fiber laser power
Optimum reliability and maintenance-free professional fiber laser, the output range of precision adjustable, photoelectric conversion efficiency of >30%, to ensure that the thickness of the plate cutting quality. Low energy consumption, energy saving, machine power consumption is the same power VAG 1/4, sheet cutting speed is YAG4 to 5 times, can significantly reduce the power consumption at work and reduce operating costs. And the laser does not need to produce gas, can be used air cutting sheet.
4.5 laser cutting head
the use of high-quality laser cutting head, with QBH collimator to ensure the beam quality, the use of imported focus lens to ensure that the cutting seam delicate. Focus is simple and accurate, sealing performance. Protection of the lens to facilitate replacement, no need to re-focus after the replacement, simple and efficient, with the imported servo drive and motor, screw drive, and the use of high-sensitivity capacitive sensor regulator, for the uneven material can automatically adjust the cutting head height, so that the laser focus and the distance between the cutting material is always consistent, to achieve perfect cutting.
4.6 Low- voltage electrical appliances and cables
Easy primary brand high flexible towline dedicated shielded cable, durable, safe and reliable, anti-interference ability.
4.7 Chiller machine
Dual-temperature dual-use large cooling capacity industrial chiller, laser and collimator and focusing mirror were controlled separately, can effectively prevent condensation and other phenomena, chiller with compressor over-current protection, flow alarm, over-temperature alarm, deionization and water temperature heating function, automatic temperature control, control accuracy within 1℃, safe and reliable.
cutting material
---
Can be cut a variety of sheet metal, pipe(pipe cutting pipe plus a device can be), mainly for stainless steel, carbon steel, galvanized sheet, electrolytic plate, brass plate, aluminum, manganese steel, various alloy plates, rare metal and other materials of the rapid cutting(materials need to configure a different fiber transmitter).
Applications
---
Electrical equipment, electrical equipment, hotel kitchen equipment, elevator equipment, advertising signs, car decoration, sheet metal production, lighting hardware, display equipment, precision parts, metal products and other industries.