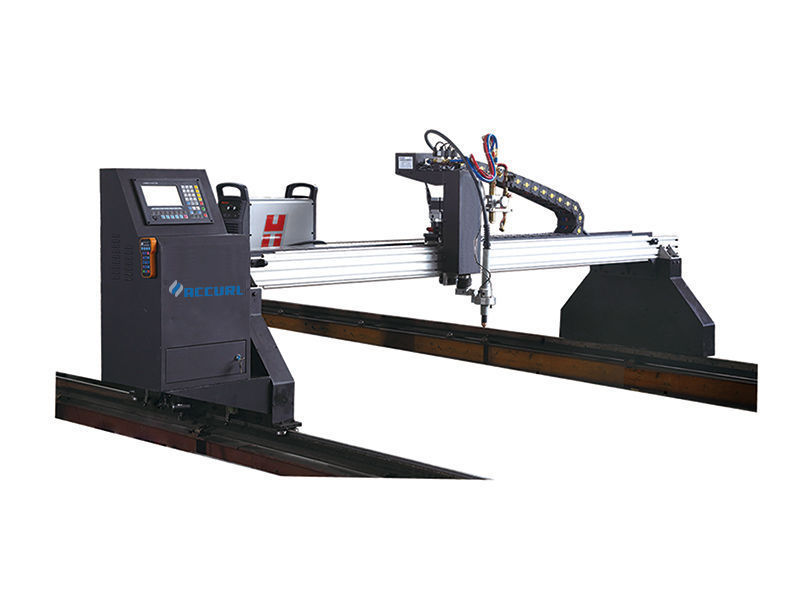 Detailed Product Description
---
| | | | |
| --- | --- | --- | --- |
| Model Number: | GSII-PS2028-PMAX-105A | Plasma Power: | Hypertherm Powermax105 USA |
| Gantry Type: | Table | Effective Cutting Area(Length): | 2200 X 28800mm |
| Transverse Effective Cutting: | 800 Shorter Than Track Span | Keywords: | CNC Flame Plasma Cutting Machine |
Accurl brand portable cnc flame/plasma cutting machine from China 2200 x 28800mm
Brief introduction
The ACCURL CNC flame cutting machine is specially designed for metal plate cutting,it is characterized of high automation and efficiency,easy operation and long service time. This CNC plasma and flame cutting machine is gantry structure with double-driven system, working size can be customized upon requirement.It can be used for cutting carbon steel, stainless steel and non-ferrous metal in any 2d graphics,thus is widely used in metal cutting fields.
Host longitudinal rails imported precision dual axis linear guides, horizontal transmission by a precision aluminum extrusions and components, transmission stability, high accuracy Can cut any complex plane figures for oxyfuel flame cutting and plasma cutting machine, free to move, not accounting for fixed venue. Widely used in automotive, shipbuilding, petrochemical, boiler and pressure vessel, engineering machinery, light machinery and other industries, especially for single-piece contoured surface and mass production.
Features
1. Steel hollow beam design ensures good heat dissipation without deformation.
2. The gear-rack driving motions without engagement gap ensure the machine running smooth at high speed.
3. Fully functionalized CNC system and optocoupler device enhance the super anti-jamming capability of the plasma system.
4. World's top branded components and circuits ensure long service life.
5. Multiple cutting torches can be configured. Both flame and plasma torches are optional to meet the needs of cutting different materials in a range of thickness.
STANDARD COMPONENTS
1. Make up of gas decompression valve and pressure gauge.Clear to check the whole machine pressure.
2. Adopt U71 heavy-duty rail by fine machining.
3. According to user's requirement,assemble CNC flame single torch,power-spray scribe torch,stamping unit,plasma mechanical torch or linear
triple cutting torch,and also fit auto igniter and auto height controller.
4. To ensure the beam won't deform,it is designed in welded square structure,tempered to eliminate mechanical stress,and then processed by precision machinery.It has high mechanical strength and good rigidity.High-precision and fine-grinded guide rail,gear wheel and gear rack in high steel quality are assembled on top of the beam.Therefore,the accuracy of latcral movement can be guaranteed.The transverse track is bolted on the beam for the convenience of replacement and adjustment.
5. Used in the tracheal cable transmission of numerical control cutting torch,it can work continuously without generating mechanical fatigue.
6. To achieve synchronous motion of two supporting plate by steel strip.
THE MAIN CHARACTER
1. High stability and one-time cutting shape process.
2. Adopt new technology for free of maintenance supporting no lubrication, exempt from dust
3. Use South Korea's Samsung industrial level low power core to control the power consumption below 1500W to be environmental protection and energy saving
4. The machine apply HONGYUDA series arc voltage automatic height adjusting device to ensure the advantage or free of maintenance , high precision in height level control and also the reliability of the product. The machine has equipped with POWERMAX 105 plasma cutting electronic power, good in cutting effect, long life in consumptive components and material to prevent the worry for the exchange for the electrode cutting nozzle.
5. Customer-tailored service for the equipment in demand for example alternative for full step drive type or combination drive machine. And also can choose single fire, single plasma or combination with fire and plasma cutting etc.
6. Optional for wireless remote control function to easily control any emergency when the operator is far away from the machine, can control the start, stop, rise, down, forward or backward within 100M.
Detailed Images
1. Machine Parts
Name: 7-inch color screen CNC cutting system
Brand: JIAODA CNC SYSTEM
Original: China
Display:7 inch high resolution 800*480 16000000 color high brightness LCD screen
Memory:64M SDRAM
User space program:256M
400MHZ system clock frequency
USB:USB 1:1interface front
Keyboard:electronic PCB film keyboard or standard industrial keyboard
Case:whole steel structure completely shielded ,can really achieve anti-electro magnetic radiation,anti-static,anti-interference.
2. Main Features
Name: Aluminum integral steel rail
Brand: CHD
Original: China
Aluminum steel rail which make the machine is more light and less cost.
Effective cutting length up to 11500MM.
3. Machine Parts
Name: Automatic lifting torch
Brand:CHD
Original: China
4. Main Features
Name: Plasma torch function interface
Brand: CHD
Original: China
Reserved plasma cutting function interface, support for plasma cutting.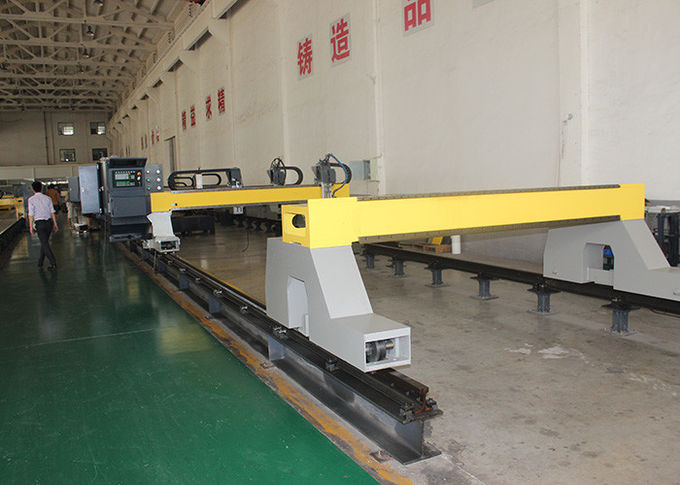 Technical specifications
| | |
| --- | --- |
| Type | ACCURL PS - 2028 |
| Product Name | CNC Flame Plasma Cutting Machine |
| Cutting Table | 2200 x 28800 mm |
| Machine Width | 4250 min-1 |
| Machine Lenght | 30200 mm |
| Machine Height | 2200 mm |
| Table Height | 750 mm |
| Table Width | 2200 mm |
| Table Lenght | 27200 mm |
| X Axis Stroke | 2800 mm |
| Y Axis Stroke | 28200 mm |
| Weight | 25000 kg |
cnc flame plasma cutting machine