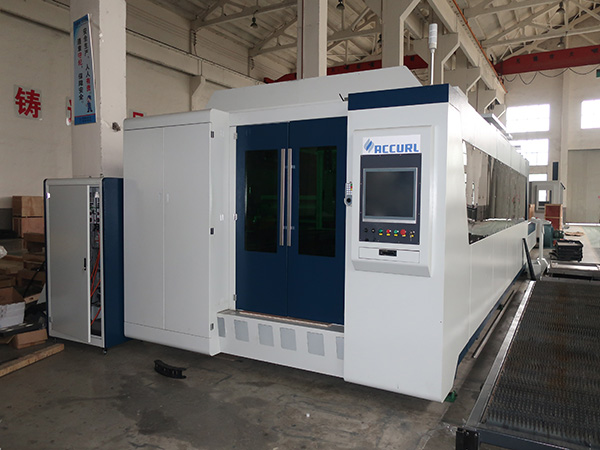 Product Description
---
ACCURL-3015 CNC fiber laser cutting machine is an economic laser cutting equipment. It's an optical-mechanical-electrical integrative product composed of fiber laser generator, light guiding and focus system, automatic following system, water chilling unit, fiber cutting head, cutting bed, controlling system and air system. metal laser cutting machine
1. IPG fiber laser source, Panasonic AC servo motor, HIWIN guiderail, Precitec laser head; 12 meters gantry milling finish. We are striving to offer reliability and accuracy in long time operation.
2. Compact but reliable open type gantry structure saves more room; 600℃ heat treatment, 24 hrs cooling in oven, 2 times stress relief ensure 20 years running without structure deforming.
3. Advanced capacitive auto-follow processing technology, which passes the challenge of focus changing caused by uneven plate.
4. Low cost on operation and maintenance. Its cost is only 1/10 of the high power CO2 laser cutting. Assist gas can be air, oxygen or nitrogen.
5. Automatic feeding unit is optional to set up flexible cutting system. Extra-large bed, large bed, medium bed or small bed can be customized flexibly.
6. Powerful software function, easy operation, automatic programming, compatible with AI, DXF, PLT graphic files etc.
configurations
---
(1) 700W / 1000W / 2000W / 3000W500W / 1000W / 2000W / 3000W fiber laser generator from Germany IPG.
(2).AC servo Motor from Japan Panasonic.
(3).High precise pinion and rack,double-drive transmitting system and linear guide rail from HIWIN.
(4).Laser head from Germany Precitec.
(5).Lens from USA II-IV
(6).Cypcut professional operation system
Application
---
1) Applicable material:
Metal plates and tubes, especially appropriate for processing on stainless steel and iron plate, diamond saw blades, works perfectly with high hard and brittle alloy. In metal forming industry, the laser cutting can some way replace CNC punching and wire cutting. It's mainly used for laser cutting on metal plate and tube, e.g., stainless steel, carbon steel, alloy steel, silicon steel, spring steel, aluminum, aluminum alloy, galvanized plate, pickle plate, galvalume plate, copper, silver, gold and titanium etc.
2) Applicable industry:
It's widely used in various industries, such as metal forming, aviation, aerospace, electronics, appliance, subway spare parts, automobile, grain machinery, textile machinery, engineering machinery, high precision accessories, vessel, metallurgy, elevator, arts and crafts, tool processing, decoration, advertising, metal processing service etc. metal laser cutting machine
tech data
---
| | | |
| --- | --- | --- |
| Model No. | ACCURL-3015CE | ACCURL-4020CE/ACCURL-6020CE |
| Laser Power | 500W-8000W(Optional) | 500W-8000W(Optional) |
| Working Area | 3000*1500mm | 4000*2000mm/6000*2000mm |
| Total Power Consumption | 10Kw<60KW | 10Kw<62Kw |
| Transmission Mode | Rack and Pinion, Dual Drive | Rack and Pinion, Dual Drive |
| Voltage and Frequency | | 380V 50Hz(60Hz) |
| Dimension | | 10000*3500*2000mm/15100*3500*2000mm |
Service and Support
---
1- Fast response to customer's request .
2- One year warranty , lifetime service, and supply parts at low price .
3- Supply the necessary video for assisting customer to intall and utilize the machine, on line assistant.
4- We are able to train the technicians & operators in Glory Laser or in customers' places .
5- Any question will reply you within 24hrs.
FAQ
---
1. How do I determine which cutting method to use?
In order to determine the best cutting method for your process, conduct a careful examination of your production needs. All cutting methods have their advantages and disadvantages. Typical criteria used for most process evaluations should include the following:
. Material To Be Processed
. Range of Material Thickness
. Accuracy Required
. Material Finish Required
. Production Rate Desired
. Cost of Technology
. Operating Costs
. Operator Skill Requirements
2. What are the advantages of using a laser cutting machine?
There are many reasons to choose a laser cutting machine. There is almost no limit to the cutting path of a laser—the point can move in any direction. This means that very complex designs can easily be performed without expensive tooling costs or long lead times. Small diameter holes that cannot be made with other machining processes can easily and quickly be performed with a laser. The process is non-contact and non-force, allowing very fragile parts to be cut with little or no support, and the part keeps its original shape from start to finish. Lasers can cut at very high speeds. Lasers do not have parts that will dull and need to be replaced, or that can break easily. Lasers allow you to cut a wide range of materials, and produce a high quality cut without requiring secondary processes. Laser cutting is a very cost effective process with low operating and maintenance costs and maximum flexibility.
3. How does a laser compare to a router?
In general, routers provide a low cost method for a variety of capabilities. Face milling on a router produces a smooth, clean finish. A router offers strong drilling performance, and is good for cutting thick plate, or several thin sheets of material clamped together.
However, with a router you need to find a way to hold down the material. Our products have a vacuum cutting bed that provides material hold-down. A router needs to be sharpened and replaced over time, while the laser is "permanently sharp." With a router, variations will also occur as the blade gets duller while cutting, and parts are limited in the complexity of the design. With lasers, the focused area is very small, so detail is vastly greater-—anything you can draw, you can cut. Routers are also unsafe due to small pieces that can fly loose, while our machines are enclosed and have a powerful vacuum bed that captures small pieces. Finally, routers are very noisy (to the point where safety equipment must be worn), but that is not the case with lasers.
4. How does a laser compare to a steel rule die?
In terms of dies, the cost of the tooling in a steel rule die is one of the lowest in all die technologies. The blades can also be changed easily, relative to other dies, when necessary. It takes 3 to 5 days to have the dies made, which is short compared to other die technologies, but tremendously long compared to laser cutting machines, where cutting is instantaneous.
Dies are great when accuracy is not required, such as for boxes or garments. Overall, however, there is a major lack of accuracy and fine detail. Designs are limited to complexity—the more complex the part, the more it will cost to produce and the longer it will take. Large dies are even more expensive, and the lead time even greater. In some circumstances, especially for short-runs, the job may not even be worth the costs. Lasers, on the other hand, have a very small focus, so you are not at all limited by design or size—anything you can draw can be cut quickly and accurately. If any changes need to occur to the design, dies are difficult and expensive to change—it needs to be completely retooled. With a laser cutting machine, you need only make the changes to your design and save them to your file. This makes it easy, cost-effective, and efficient to make modifications with a laser.
Dies wear out and have to be sharpened, while lasers do not encounter this problem. You will also require a lot of space to store the dies for your customers. The only space you need for your laser machine is for the machine itself. Finally, though it is possible to kiss-cut parts with dies, it is much more difficult and less accurate than with laser cutting.
5. How does a laser compare to water jets?
Water jet cutting works well for certain types of materials, such as titanium, granite, marble, concrete, and stone. Cut edges are clean with minimal burr. Problems encountered with other methods, such as crystallization, hardening, and reduced machine- or weld-abilities, are eliminated. Parts remain flat and there is no tooling to design or modify. Costs associated with secondary processes also do not exist.
In general, however, a water jet has lower precision than a laser because the focus is larger and it can not get the same level of detail that a laser can. Many materials cannot be cut by a water jet because they will shred or flutter. There are also lots of problems associated
hobby cnc plasma cutting machine