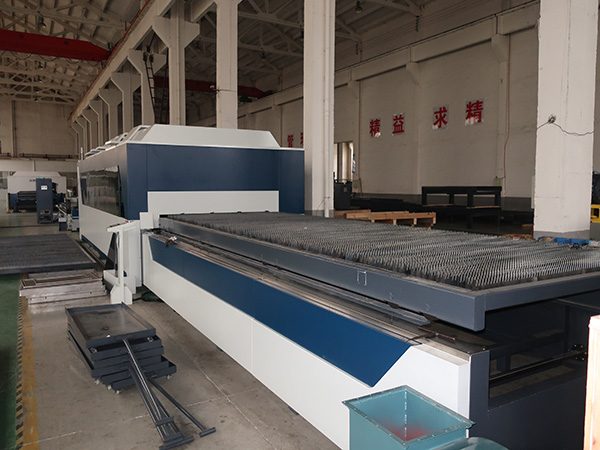 Fiber Laser Cutting Machine Technical Parameters

Laser Type
Fiber laser
Laser Brand
IPG / Raycus/ MAX
Laser Power
500W (750W / 1000W / 2000W optional)
Working Table
Fixed Working Table
Control System
PMAC full-closed loop servo control
Driving Mode
Double gear rack driving
Positioning Accuracy
0.05mm
Protection System
Enclosure protection
Laser Head
Precitec / Laser Mech / XT Laser
Power Supply
AC220V ± 5% 50 / 60Hz / AC380V ± 5% 50 / 60Hz
Total Power
7KW~11KW
Floor Space
5.6mX3.2m (fixed table)
Standard Collocation
Metal nesting software, dual-pressure gas route of 3 kind gas sources, dynamic focus, remote controller, etc.
Software
CutMax Laser Cutting Software or PA8000 software, Metal Nesting Software
Supported Format
PLT, DXF, BMP, AI, DST, DWG, etc.
Note: As products are constantly updated, please contact us for latest specifications.
Integrally formed, reject splicing
---
Using flake graphite cast iron, the lowest tensile strength of which is 200MPa. High carbon content, high compressive strength and high hardness. Strong shock absorption and wear resistance. Good casting and cutting performance. Excellent lubricity, corrosion resistance and dimensional stability. Low thermal sensitivity and bed gap sensitivity reduce the loss of equipment in using, so the machine accuracy could maintain for a long time, and no deformation in a life cycle.
Free your hands, enjoy auto focus
(1)Auto-focus
Applicable to various focal lengths, which are controlled by machine tool control system. Focal point will be automatically adjusted in cutting process to achieve the best cutting effect of different thicknesses sheets metal.
(2)Free
Focal length is controlled by operating system. We don't need to do manual regulation,which effectively avoids errors or faults caused by manual operation.
(3)Fast
It can automatically adjust the most appropriate focal points in working process, greatly improving cutting speed;
When replacing different materials or different thicknesses sheet, manual focus laser head needs to adjust focal length manually, very inefficient; auto focus laser head can read system storage parameters automatically, very efficient;
(4)Accuracy
Increasing perforation focus length, separately setting perforation focal length and cutting focal length, enhance cutting accuracy.
(5)Durable
Built-in double water-cooling structures can ensure constant temperature of collimating and focusing components, avoid lenses overheating and extend service life of lenses.
Increasing collimation protective lens and focus protective lens, carefully protect key components.
3.Operating system display
Elegant appearance curve
The first one to use UI design in the world which lets display respond to processing table, making processing more intuitive. Elegant curves precisely fit machine body. Strong waterproof breathable system creates the best space, making operation more convenient. Diamond cutting process and HD plasma tempered glass make screen more exquisite and comfortable to use.
4.Cast aluminum crossbeam
Integral steel mold pressure casting, light, flexible and efficient
After artificial aging, solution treatment and finishing, crossbeam owns good integrity, rigidity, surface quality, toughness and ductility. Aluminum alloy's metal characteristics of light weight and strong rigidity are helpful to high speed movement in processing, and high flexibility is beneficial to high-speed cutting of various graphics based on high accuracy. Light crossbeam can give equipment a high operation speed, improving processing efficiency to ensure processing quality.
5.Cypcut system
Independent R&D operating system, perfectly combines high efficiency and simplicity with inclusiveness
The operating system can realize intelligent layout of graphics cutting and support the import of multiple graphics, optimizing cutting orders automatically, searching edges smartly and automatic positioning. Control system adopts the best logic programming and software interaction, provides stunning operation experience, effectively enhancing the utilization of sheet metal and reducing waste. Simple and fast operation system, efficient and accurate cutting instructions, effectively improve the user experience.
6.Appearance design
Aesthetics was introduced to industrial ID, perfect combination of technology and aesthetics
Powerful hockey stick shaped decorations adopt black acrylic with thickness of 30mm, ice film drawbench silver design of the same car and alpine white sheet metal, the international design style is accepted by global consumer groups.
With precise cast iron bed, the whole machine is as firm as a rock. The most reasonable golden ratio and the greatest parts layout make the whole machine more stable, comfortable, accurate, and technological.
PC head capsule design through vacuum hot deformation processing makes Z axis so light.
Crossbeam adopts ribbon design elements, giving crossbeam limitless velocity space.
Machine Application Field
---
1.Application Materials: Fiber Laser Cutting Equipment is suitable for metal cutting with Stainless Steel Sheet, Mild Steel Plate, Carbon Steel Sheet, Alloy Steel Plate, Spring Steel Sheet, Iron Plate, Galvanized Iron, Galvanized Sheet, Aluminum Plate, Copper Sheet, Brass Sheet, Bronze Plate, Gold Plate, Silver Plate, Titanium Plate, Metal Sheet, Metal Plate, Tubes and Pipes, etc
2.Application Industries: BODOR Fiber Laser Cutting Machines are widely used in manufacturing Billboard, Advertising, Signs, Signage, Metal Letters, LED Letters, Kitchen Ware, Advertising Letters, Sheet Metal Processing, Metals Components and Parts, Ironware, Chassis, Racks & Cabinets Processing, Metal Crafts, Metal Art Ware, Elevator Panel Cutting, Hardware, Auto Parts, Glasses Frame, Electronic Parts, Nameplates, etc.
acrylic laser cutting machine
,
laser cutting machine products