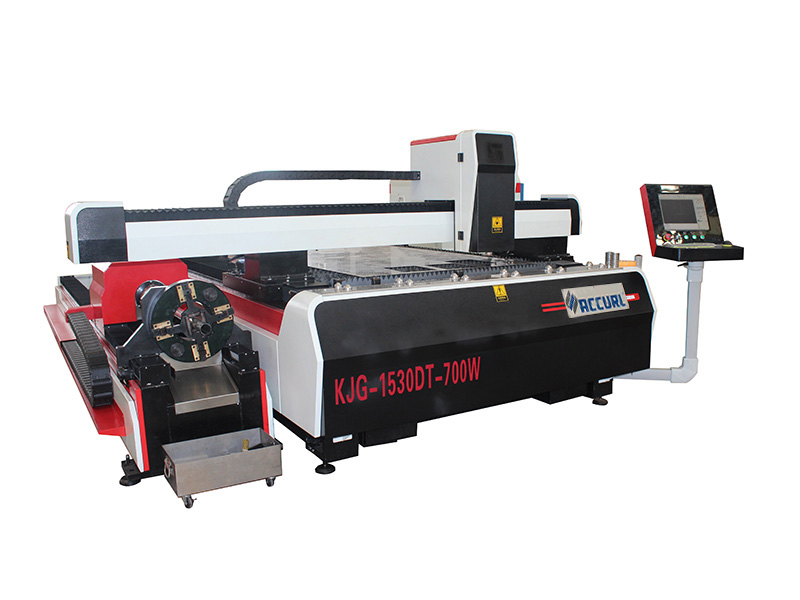 Product Description
---
Stainless steel laser cutting machine/laser cutting machine for metals
1, Machine's main features
Machine consists of machine host, computer control systems, fiber laser cutting head, chillers, auxiliary decency components.
Machine gantry structure, using Japan YASKAWA servo motors drive rack and pinion feed, high precision and fast speed, dual-drive gear and rack transmission instead of the traditional ball screw transmission which makes the machine empty moving speed up to 40-50meters/Min.
Bed gantry, machine welded structure, aging treatment after annealing, roughing, finishing, can completely eliminate stress welding and machining, rigid, high precision, can be maintained long-term use not deformed( at least 20 years).
X, Y axes are imported Japan YASKAWA high precision servo motors, high speed, high torque, and high inertia, stable and durable. Ensure the machine's high speed, high precision and acceleration.
Special cutting software, integration of a number of laser cutting control specific modules, powerful, good man-machine interface, easy operation. The cutting head selection of Swiss brand high quality Ray Tools brand fiber laser cutting head as well as dedicated capacitive sensing, high precision sensor, responsive, performance of the most stable and reliable.
Control systems; Use of computer-controlled electric table translation is complete work piece cutting and so on. Cutting can be done in any graphic editor and sports plane.
Machine main parts adopt the Europe, Japan and Taiwan famous brand, its China's price but European machine quality.
2, Machine main technical advantage
2.1 Machine tool
ACCURL-FC3015 series bed with gantry design, machine welded structure, beams constructed of cast aluminum after annealing aging treatment, and then roughing, finishing, can completely eliminate stress welding and machining, rigidity, precision high, can be maintained long-term use at least 20 years not deformed.
Machine Beam gantry with the overall Aluminium casting parts which can reduce weight beams, to ensure good stability, high-speed operation can meet the machine.
Machine weighing 4 tons, variable analysis technique using structural dynamic design principle and finite element method designed machine base has excellent static and dynamic performance.
ST-FC3015 machine's technical parameters
Floor area
About 4650 * 2520mm (excluding loading and unloading area)
Allow material Maximum cutting area
1500*3000mm
Machine Gross weight
4000KG
Power supply requirements
380V/ 50Hz
Total power
20KW
Environmental requirements
Temperature range: 10-35 ºC Humidity range: 40-85%
1, 000 meters above sea level, the use of environment non-flammable, explosive, magnetic, strong earthquakes
Equipment moving system parameters
Cutting speed, acceleration
0-50m/min

0-3000mm/s2

Air-way speed, acceleration
0-50m/min
Positioning accuracy
<0.03mm/m
Drive System
Adopt Japan YASKAWA servo motors drive
Transmission
All use high precision helical rack and pinion
Feedback and transport control systems
Dedicated transport and control system
Ventilation system
Fixed lower ventilation
Workbench Type
Rack Workbench
Circuit and protection system
Standard Design
3, Our fibe laser cutting machine main laser cutting functions
ACCURL-FC Series Laser Cutting macine main function
No.
Function
Description
1
Height Follow-Up
Torch Move Up And Down According To Plate Height
2
Power Control
Laser Power Control According To Slope
3
Reverse Function
Reverse To Execute NC Program
4
Breakpoint Return
Return To Breakpoint After Recovery
5
Multi Piercing
Pulse, Blasting, Progress, High-Speed
6
Lead Line
Set Lead Line Parameter
7
Auto Edge-Finding
Find Cutting Piece Coordinate Automatically
8
Leapforg Function
Leapforg To Improve Cutting Efficiency
9
Common Line
Common Line To Improve Cutting Efficiency
10
Marking Function
Mark Any Shape On Plate
4, Laser cutting thickness and speed for reference ( based on the laser power 800W)
Material
Thickness (mm)
Recommend Cutting
Speed(mm/min)
Max Cutting Speed(mm/min)
Power (W)
Cutting Gas
Gas Pressure
(kPa)
Focus (mm)
Nozzle Model
Defocusing (mm)
SS
1
10000
12000
700
N2
8
0
1.5
0.7
SS
1.5
5000
5500
700
N2
8
0.7
SS
2
2500
3000
700
N2
9
-1
1.5
0.7
SS
3
1500
1800
700
N2
9
-2
2
0.7
SS
4
1200
1400
700
N2
9
-2
2
0.7
SS
5
600
680
700
N2
10
-3
2
0.7
MS
0.5
9000
10000
700
O2
1
2
1.2
0.7
MS
1
8000
9000
700
O2
1
2
1.2
0.7
MS
1.5
6200
7000
700
O2
1.4
2
1.2
0.7
MS
2
3500
4000
700
O2
1.4
2
1.2
0.7
MS
3
3000
3600
700
O2
1.2
2
1.2
0.7
MS
4
1800
2000
700
O2
1.2
2
1.2
0.7
MS
5
1500
1800
700
O2
0.6
2
1.2
0.7
MS
6
1100
1200
700
O2
0.8
2
1.5
0.7
MS
8
900
1000
700
O2
0.6
2
1.5
0.7
MS
10
700
800
700
O2
0.7
2.5
1.5
0.7
5, Laser cutting software(automatic nesting software) introduction
"Laser cutting design software" is set for flat cutting design software, whose main goal is to provide image processing, parameter settings, the custom cutting process editor, simulation, and idling sorting and processing
It supports the following data input mode
6.1) After time support DXF, PLT and other graphical data formats accepted international standard G code Mater Cam, Type3, Wentai software generated DXF import graphics, text outlines AutoCAD direct extraction system transferred graphic image data, you can edit the layout (like zoom, rotate, align, copy, combination, smooth, merging operation) of the imported data to automatically check the legality, such as: Closed, overlapping, self-intersecting, distance between the detection of graphics, the cutting type (female cut, Yang cut), and external relations, interference relationship, automatic calculation of introducing cutting patterns, export line.
6.2) Process according to need, can be freely modified start position and graphics processing direction, while the system dynamically adjust the introduction of lead position, file import always automatically optimize the processing sequence, but also can be manually adjusted to reduce the processing time and improve processing efficiency select the graphic output, support anywhere in the processing of local data, particularly useful for feeding, while you can use the crop function, a graphics processing locally unique breakpoint, the process can go forward along the track, rewind, flexibility encountered each process case, according to the graphic processing, raw material size, automatic nesting:
6, Machine Rough Consumption costs ( based on laser power 800W machine)
A> Total Power Consumption 
Machine Part
Power
(kW)
Power Consumption
(kW/Hour)
Note
Laser Generator
5.8
<=21
Due to the power price is different in every country, so I can only give power consumption, couldn't give total price cost
CNC Table
5.8
Cooling Unit
5
Extraction Filter
4.4
B> Gas Consumption 
Gas
Consumption
(Minute/Bottle)
Note
Note
O2
60
Calculated based on
1mm MS Plate
Due to the gas price is different in every country, so I can only give gas consumption, couldn't give total price cost
N2
15
Calculated based on
1mm SS Plate
C> Consumables parts 
Consumables
Life(Hour)
Unit Price
(USD/Piece)
Total Cost
(USD/Hour)
Note
Protective Mirror
>=240
43
0.18
If working environment is good, then consumables'
Life will be longer
Nozzle
>=600
21.4
0.04
Ceramic Ring
>=1500
108
0.07
Total
0.29 USD/Hour
Total Consumption 
Item
Power
Consumption
Gas Consumption
(USD/Hour)
Consumables
Note
O2
<=21 kW/Hour
60 (Minute/Bottle)
0.29 USD/Hour
Calculated based on 1mm MS Plate
N2
<=21kW/Hour
15 (Minute/Bottle)
0.29 USD/Hour
Calculated based on 1mm SS Plate
aluminium laser cutting machine price
,
stainless steel laser cutting machine