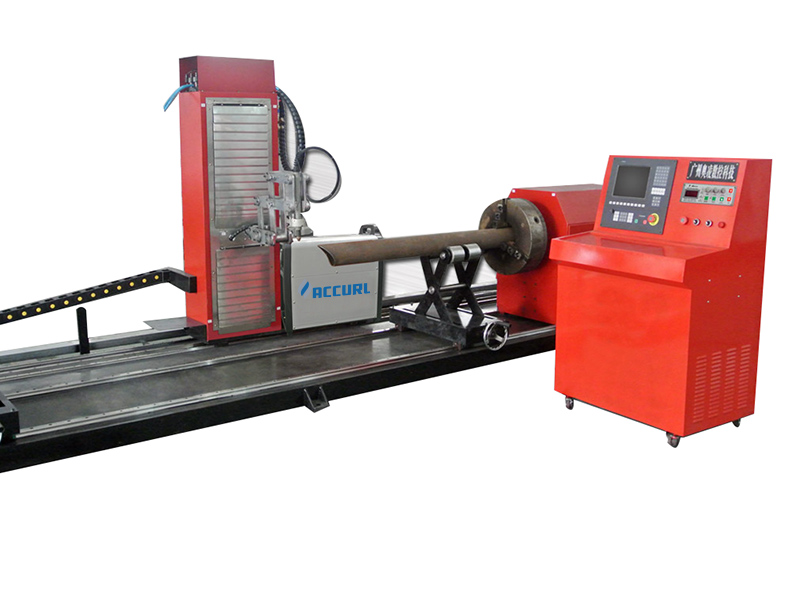 Technical parameters
---
Technical parameters
ACCURL355CNC
ACCURL425CNC
Sawing Range
Round pipe
Φ120 mm
Φ150 mm
Sqauare pipe
100×100mm
120×120mm
Rectangle pipe
130×60mm
160×70mm
Solid round pipe
Φ40mm
Φ50mm
Solid square pipe
30x30mm
50x50mm
Available Saw Blade Size
300/315/350/400mm
300/315/350/400/450mm
Hydraulic pump motor
4.0KW
4.0KW
Oil pressure(hydraulic)
4MPa
4MPa
Feeding servo motor power
1.0kw
1.0kw
Feeding length
0-1000mm (Can be customized)
0-1000mm (Can be customized)
Machine weight
1200KG
1600KG
Size
2200×1100×2000mm
2200×1400×2200mm
Main feature
s
---
1.Mitsubishi servomotor-driven in feed, PLC unit control, make the feeding accurate and steady.
2.Imported hydraulic system, cutting powerful and the saw blade durable.
3.Linear Guide Raids with lube and vertical slideway cutting make the cutting steady and accurate.
4.Separated control of cutting and clamping, special-designed clamping method make the clamping deformation very little, especially suitable for thin pipes and stainless steel pipes.
5.Robust design ensures low vibration, low noise and long-time working.
6.Automatic water cooling system makes the cutting surface smooth and of little flash and strain, also makes the saw blade long-time use.
7.The cutting scraps are treated together and the maintance is easy.
8.Easy to operate. Extremely powerful functions makes it ideal for small lot flexible cutting requirements.
9.Human/machine interface control provides user friendly operations.
10.Touch sensing screen. Numerically controlled, provides high cutting accuracy.
11.Using for  automobile fittings ( oil pipe for brake, muffler, seats), motorcycle, healthy equipment, air-conditioning,bicycle, steel furniture, sanitary wares and so on.
cnc pipe cutting machine