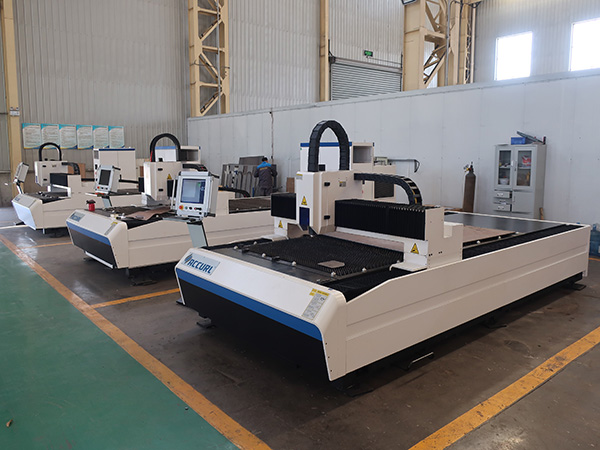 Product Description
---
1. Reasonable Gantry Structure, stable laser path
1)Our Solid Laser Cutting machine adopts Gantry Structure, cast Cross Beam, the whole structure is very firm, and it changes the old Cantilever formation, has smaller body, lighter weight, durable structure and high precision.
2)Laser device of this solid laser cutting machine includes two assemblies: mechanical following cutting head and laser device path. Laser Path of mechanical following head and laser device is a whole independence laser path system. This laser path system uses Germany technology design and has stable path, high efficiency. Laser Path of Gantry is more stable than that of cantilever.
2. Power supply controlled by control cabinet, easy to operate
control cabinet a unique design, including the entire operating system, change the past, independent power operation of complex design, and can control the system on the current, frequency, pulse width and other parameters.
Precise and rational design, optical adjustment for easy lamp and rod replacement
the solid-state laser cutting machine make use of cantilever structure therefore just move beam body to nailbed edge during adjustment of laser path, the operator can replace the side lights and rods behind the beam body
Japanese Panasonic servo motor to improve the cutting speed and stability.
XY axes with two 1500W Panasonic servo motor, the moving parts of Z-axis equipped with a 200W Panasonic servo motor, the three combination ensure the stability and efficiency.
The combine of high precision ballscrews drive system and advanced feed system.
The movement system adopt the drive system of high precision ballscrews and servo motor, and this assure the high precision of the cutting. Serrate platform and trim strip are very suitable for cutting metal sheets. The user can put in and take out the materials faster and easily.
There is a feeding shaft on the serrate platform, this special worktable can meet special requirements, enlarge the application of this machine, and operate more easily.
High power and big refrigerating capacity water chiller.
This water chiller adopt high power 5P water chiller, and it can cool the laser system continuately, adjust the temperature automatically, ensure working for a long time. The temperature of the water can be kept within plus-minus 5 degree. The constant temperature of water can keep the the laser power stable, work more steady and fast.
Advantages of Large format gantry laser cutting machine
---
1. With drawer to collect the garbage,easy to change the gas valve.
2. Low cost for using
It adopts laser equipment, the main consumables is electricity, cooling water, auxiliary gas and laser lamp. The average cost is 4 dollars every hours.
3. Higher cutting speed and efficiency
The largest speed for cutting carbon steel with this machine is 2m/min., according to average speed 1m / min, 1.2 U.S. dollars per meter and except for auxiliary processing time, it could create the value of 58.56 U.S. dollars per hour averagely, net profit up to around 51.24 U.S. dollars.With the resonable cost,get the higher profit,we assure the performance will be the same with USA or Germany equipment.
Number

Item

Parameter

Unit

       1
Model
                            HL-3515
2
Laser wavelength
1064
nm
3
Rated Power
                                500
W
4
Laser power injection
18
KW
5
Water chiller power
5
HP
6
Max. working area
                            1500*2500
mm

7

X-axis and Y-axis Location accuracy

±0.05

mm

8

X-axis  and Y-axis repeat location accuracy

±0.05

mm

9
Fast moving speed
5
              m/min
       10
Max. cutting speed
2
               m/min
11
Min. cutting line width
0.2
mm

12

Applicable material

Stainless steel, , aluminum, copper, titanium plate (3mm) ,Normal metal carbon steel etc (8mm)
Our Services
---
1.All machines have been tested by 48 hours before ship out.
2.All products have 2 year warranty.
3.Supported 24 hours online service. If any problems happen, our team will do our best to solve the problems.
4.If any component is damaged during guarantee time. we can send the component to the customer by DHL freely